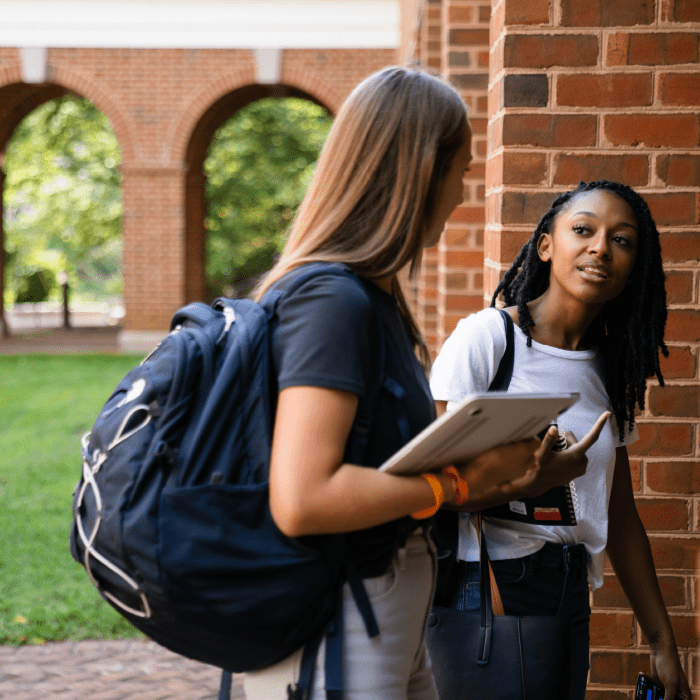 Undergraduate Admission
Undergraduate Admission
Explore our undergraduate degrees and learn how to apply to the University of Virginia's School of Education and Human Development.
Undergraduate Admission Pathways
We understand that each prospective student's journey to our School is unique. Our Office of Admission and Enrollment is here to help you with any questions you may have about our degrees and our admission process. We welcome applications from current UVA undergraduates, transfer students from other institutions, and students graduating from high school. Review the admission pathway below that applies to your unique background.
Current UVA Undergraduates
To join one of our majors, students must apply to transfer to the School of Education and Human Development from the College of Arts and Sciences. You may apply to Kinesiology, Youth and Social Innovation, or a Teacher Education major during your first or second year of study. The Speech Communication Disorders program accepts applications from second-year students only.
Admission for Current UVA Undergrads
Read more about the admission process for current UVA undergrads.
Transfer Students
For students at other institutions who are applying to study at the UVA School of Education and Human Development, find information on the transfer student admission process here for our B.S.Ed. programs in Kinesiology, Communication Science & Disorders, Youth & Social Innovation, and Teacher Education.
Admission for Transfer Students
Read more about the admission process for transfer students.
Admission for high school students
The UVA School of Education and Human Development only admits students directly from high school to our B.S.Ed. in Kinesiology program. High school students apply directly to our school using the Common App. 
Admission for High School Students
Read more about the admission process for current high school students.
Financial Aid for Undergraduates
All new and continuing undergraduates at the University of Virginia may be eligible for federal loans, grants, scholarships, work-study, and other categories of need-based financial aid. We encourage you to submit your application for financial aid no later than March 1, so that the Office of Student Financial Services can provide you with an estimate of your eligibility for the upcoming academic year. To determine your eligibility and procedures for applying for aid, visit the website of UVA's Student Financial Services. 
Student Financial Services
Contact Us
Engaging with prospective students and families on the process of applying to our school.
Ridley Hall 102

Monday-Friday: 8:30 am - 5:00 pm