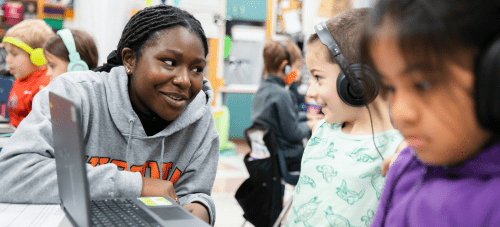 Elementary Education: B.S.Ed. - Bachelor of Science in Education
Elementary Education: B.S.Ed. - Bachelor of Science in Education
Do you want to be an elementary school teacher working with prek-6th grade students? Our top-ranked elementary education program prepares teachers to support the academic and social-emotional growth of young learners.
At a Glance
Program Results
B.S.Ed. - Bachelor of Science in Education
in Elementary Education
Initial licensure in Virginia with Elementary preK-6 endorsement
Best Suited To
Current UVA undergraduates or transfer students from another institution.
Program Type
Location
Estimated Length
4 years (or 2 academic years after admission into the program)
Application Deadline
Current UVA undergrads: February 1
Transfer students: March 1
Credits
120
About This Program
Our programs reflect the depth of our commitment to diversity, equity, and inclusion as we work together with our students toward actualizing a more just society. By drawing upon the expertise of experienced educators and community partners, we prepare teacher candidates to honor and grow the assets and resources that students bring to classrooms and schools. We lead with integrity, committed to student, family, and community success and well-being. We are equity-oriented teacher educators, collaborators, and innovators.
This top-ranked elementary education program's focus on applied learning combines foundational knowledge with significant experience in real classroom settings. 
In four years, aspiring preK-6th grade teachers can earn licensure, offering a more affordable pathway to becoming a teacher.
Students must transfer into this program and are invited to apply to this program as a first- or second-year student at UVA or if transferring from another institution.
Applicants must be on track to complete the teacher education general studies requirements, which are more specific than the general studies requirements from the College of Arts and Sciences or the School of Education and Human Development. 
Although you do not need to have all requirements done in advance, it is recommended you are nearly finished with these requirements if you are a second-year student applying to join us for your third year. 
Graduates from this program are eligible for guaranteed admission to select UVA master's programs for up to five years after graduation.