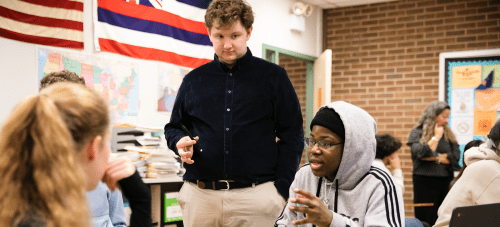 Global Studies in Education: Undergraduate Minor
Global Studies in Education: Undergraduate Minor
Students of global studies strive to understand the effectiveness of educational policies and practices in an increasingly interconnected world.
At a Glance
Program Results
Undergraduate Minor
A minor in global studies in education
Best Suited To
This minor is open to students across the University.
Program Type
Location
Application Deadline
Spring Entry: October 1
Fall Entry: February 1
Applicants accepted into the minor will be notified on October 15th and February 15th respectively
Credits
18
About This Program
The global studies in education minor is part of the School of Education and Human Development's social foundations of education program.
The minor provides an interdisciplinary view of social theories and comparative frameworks that stretch beyond traditional definitions of teachers and school administrators to delve into concepts of school and society; history, philosophy and culture; and educational policy, theory and practice.
By investigating global and national educational problems from different perspectives, students engage with real-world issues. They examine many of the most pressing concerns facing 21st-century schools, such as:
Poverty, inequality and human rights
The role of states, the international community, NGOs and civil society in policy-making and implementation
The influence of history, culture and tradition in schooling
Intersections among the economy, societal and social policy
This minor is appropriate for undergraduate students considering careers and/or further study in education, including:
Law
Policy-making
Business
Education leadership and social entrepreneurship
Non-profit work
Domestic and international NGO work
Teaching, including Teach for America or teacher certification programs
Government positions in education both in the US and abroad
The Peace Corps and other international development or education work
Declare the Global Studies in Education minor by completing the minor declaration form linked to the Apply Now button. Once you have completed the form and obtained the signature of the Social Foundations faculty member bring the form to your school's registrar to be entered into SIS. This minor is open to students across the University.