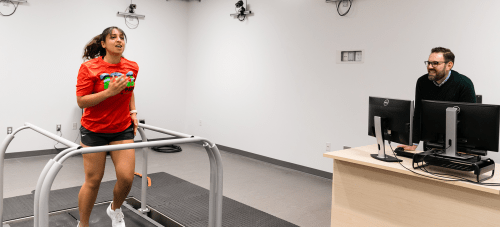 Kinesiology: B.S.Ed. - Bachelor of Science in Education
Kinesiology: B.S.Ed. - Bachelor of Science in Education
Turn your passion for physical fitness into a rewarding career that directly impacts people's health and wellness with a major in kinesiology.
At a Glance
Program Results
B.S.Ed. - Bachelor of Science in Education
Kinesiology 
Best Suited To
Current UVA undergraduates or students transferring to UVA from another institution.
Graduating high school students interested in majoring in kinesiology. 
Career Outcomes
Health-related fields like medicine, physical or occupational therapy, athletic training.
Fitness-related industries or professions such as cardiac rehabilitation, corporate wellness, strength and conditioning, or fitness specialist.
Program Type
Location
Estimated Length
4 years
Application Deadline
UVA undergraduates: Feb. 1, to start the following semester 
Transferring from another institution: Mar. 1, to start the following semester 
Graduating High School Applicants:
Early action: November 1 
Regular decision: January 1 
Credits
120
About This Program
Kinesiology is defined as the study of movement focused on the academic study of movement. At the University of Virginia our faculty and coursework target key aspects under the broad definition of Kinesiology. Our strengths lie in the study of exercise and disease prevention; modalities for the treatment and prevention of orthopedic issues; movement acquisition in individuals with disabilities; and nutrition to impact chronic disease. Our research and course content examine a range of populations across the lifespan including children, older adults, individuals with disabilities, athletes, and individuals with chronic disease. 
Experiential Learning
The blend of in-classroom preparation in conjunction with opportunities to engage in clinical and research practice is unmatched. As a Kinesiology student, there will be opportunities to learn and work alongside some of the preeminent scholars, clinicians, and practitioners in the field. 
The multiple learning settings will help prepare you for life after college. Whether your goal is graduate school, medical school, athletic training, or some other allied health field the major will prepare you to succeed. 
 
Program Life
Though you'll have a number of required courses, you'll also have opportunities to shape your coursework according to your career goals, including adding a second major or a minor inside or outside of the School of Education and Human Development. 
A faculty member from kinesiology will serve as your academic advisor, assisting you with the selection of classes. Your advisor will also help you consider optimal settings for gaining hands-on experiences in clinical, athletic, or school settings. 
As an undergraduate Kinesiology student, receive a liberal arts education in addition to Kinesiology specific coursework. Your general education will include selecting from a wide variety of courses in the humanities, natural and social sciences, and data analytics. Your Kinesiology specific course work will include fundamental core courses as well as electives in the major. 
Based on your own career goals, you'll take additional prescribed courses and electives. You have the freedom to choose from a wide variety of courses and experiences so that you can be exposed to the many different aspects of the field.