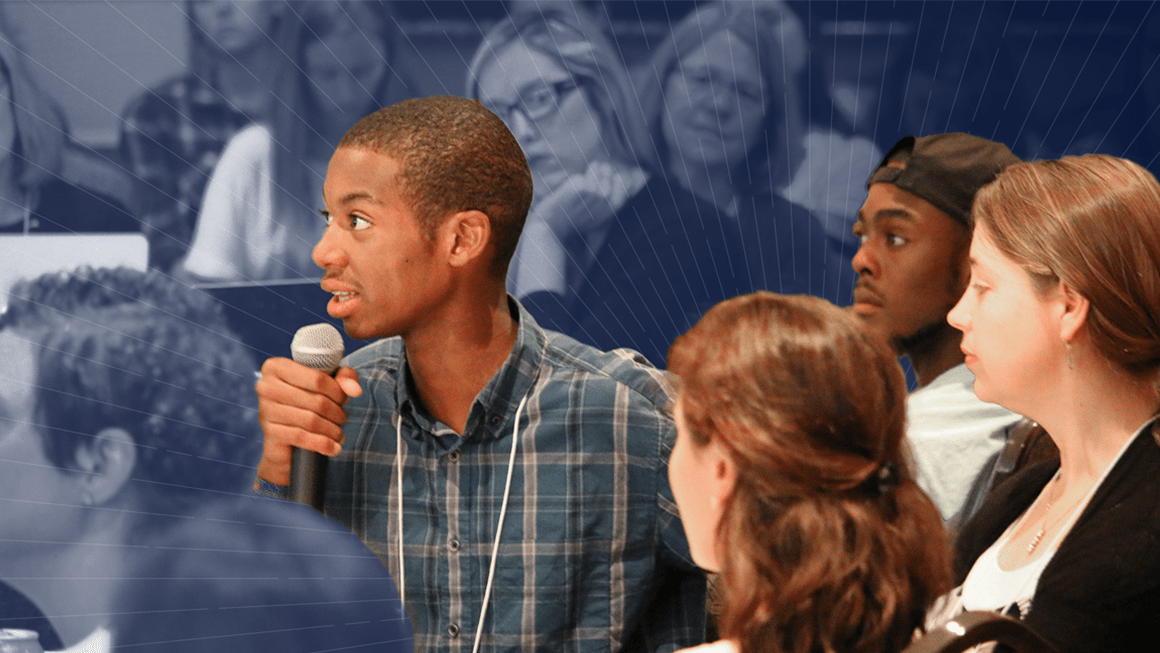 Remaking Middle School Listening Tour: Center Youth Voices
Remaking Middle School Listening Tour: Center Youth Voices
Initial results from the Remaking Middle School Listening Tour reveal an important theme: adults need to elevate and center the perspectives of youth.
Since its launch in 2019, the Remaking Middle School initiative of UVA's Youth-Nex research center, in partnership with the Association of Middle Level Learning, has reached a number of important milestones. From the recommendations of three design teams to a podcast launching its third season, the initiative is well on its way to building a movement to re-envision and remake the middle school experience. And yet, recent results from the first Remaking Middle School Listening Tour may well influence everything that comes next.
Over the course of a year and a half, a team of researchers interviewed and surveyed more than 100 individuals across the country, each with a stake in remaking and redesigning middle school. Those numbers included parents, educators, leaders, and a few young people themselves. Though the number of youth able to participate was smaller than researchers had hoped, the listening tour participants made one thing very clear: the need to include and center the perspectives of students across the middle school experience.
"The Covid pandemic has impacted education research in so many ways, and for us it impacted our ability to engage directly with students during the first year of the listening tour," said Ashlee Lester Sjogren, a postdoctoral research associate with Youth-Nex. "However, even with the limited number of youth in our first phase, it was clear that across the board, stakeholders believe adults should increase the ways and the extent to which youth have a voice in middle school."
The data revealed not that youth voice should be a part of the middle school experience, but that it should be at the center of it.
"Stakeholders overwhelmingly focused on elevating youth voice," said Faith Zabek, a Youth-Nex postdoctoral research associate working with Sjogren on this project.
The research team framed each listening session with two major questions: If you could create a middle school experience, what would it look like? Reflecting on your own experiences, what has been working and what has been challenging?
The listening tour data revealed that students' voices and their participation in decision-making processes should be welcomed and prioritized. It also highlighted how youth perspectives can be included at a school or division level as well as an individual or classroom level.
"On a school-wide level, students might form committees to help determine how donation drive funds are distributed or students may design and lead an assembly," said Zabek. "But individual practices matter, too. We heard teachers say they are listening to their students more during their classroom time and incorporating students' interests into curricula."
However, it is not enough to only create ways for students to offer their opinions. The practice is most effective when students know how their ideas are received and integrated.
"Soliciting students' ideas needs to be paired with a feedback loop, where adult decision-makers reflect what they have heard and can offer context for why they are or are not able to integrate that feedback into the decision," said Sjogren.
The researchers also saw that many educators, parents, and leaders were aware of the need to create opportunities for all students to offer their thoughts, not just those students in leadership roles, who may already have a voice in some elements of decision-making.
Other Themes
The initial findings of the listening tour also revealed three other topics on stakeholders' minds as they imagine the remaking of middle school. They expressed a desire for a curriculum designed more specifically around the developmental needs and assets of adolescents. The stakeholders expressed frustration with the limits imposed by physical spaces, including traditional classrooms. And they also hoped for a future middle school experience that supported middle school students' social-emotional needs, as well as their academic experience.
While these top four themes from the first year of the remaking middle school listening tour may sound daunting, the researchers expressed optimism that some schools are already implementing some changes.
"In some ways, the idea of remaking middle school seems enormous and requires more resources than we have," Sjogren said. "And while we are a ways off from a system-wide change where the majority of schools are implementing all of these ideas, we found that some schools are already implementing important changes."
Sjogren and Zabek also noted that the stakeholders with whom they spoke during the listening tour are motivated by a deep affection for students.
"They love middle schoolers," said Sjogren.
Conference on Youth Voice
Taking a cue from the listening tour, Youth-Nex's 8th conference, happening later this month, is focused on youth voice. Educators and others working with youth, alongside researchers, policymakers, and youth themselves, will gather around the topic, "Pass the Mic: Amplifying Youth Voice and Agency." This year's conference is co-chaired by Nancy Deutsch, Linda K. Bunker Professor of Education and director of Youth-Nex, and Wintre Foxworth Johnson, assistant professor of education with Youth-Nex.
According to Deutsch, there are two significant reasons for including and elevating the voices of youth. The first is that youth are more than just future adults who will one day be impacted by decisions made today; they are impacted now.
"It's not just that they have a stake in the future impact of the actions we take, they have an immediate stake in them too," Deutsch said. "That means they should have a say in how we think about social issues and what we do to address them."
Deutsch also believes that including youth voices yields better results.
"We need their ideas," Deutsch said. "Young people are better at brainstorming beyond boundaries. They engage in creative problem-solving in a way that can open new possibilities that adults don't see. Because adolescents are more open to novelty and risk-taking than adults are, this can make them more innovative problem-solvers."
Deutsch hopes that at the conference, the adults in the room really hear the youth voices that are present.
"I want all of us to take new looks at the issues we are talking about and to wonder about things that we may be missing, ways that youth could shed new light on an old quandary," Deutsch said. "I want adults to not only see but also engage youth as true partners in the work."
The conference aims to connect the young people who attend with a network of allies and amplifiers, people who are working toward change with them and can provide access to needed networks and social capital.
"I also hope that the connections between youth, practitioners, and researchers from different disciplines and backgrounds enrich the dialogue about the various topics we are covering at the conference," Deutsch said. "I want every person in the room to leave the conference with at least one thing that they are thinking about and will do differently as a result of what they heard."
Conference sessions will be recorded and available on the event website afterwards.
Opportunities for Youth
Youth-Nex is committed to centering youth voices and giving them agency in all their work.
The Listening Tour is still looking for youth voices. Do you know a teen who wants to share more about their middle school experience? They can still sign up to talk with this team and help shape this initiative.
Youth-Nex recently launched a Youth Advisory Council that is shaping the direction of the center and future research. Adults can make referrals or interested youth can sign up for future councils or to engage in other opportunities at Youth-Nex though this engagement form.
Deutsch, Sjogren and Zabek are part of a team of researchers, including former postdoctoral research associate Latisha Ross, program and outreach associate Detajha Woodson and director of strategy and engagement Abby Gillespie, that has been shaping this work at all levels of Youth-Nex.