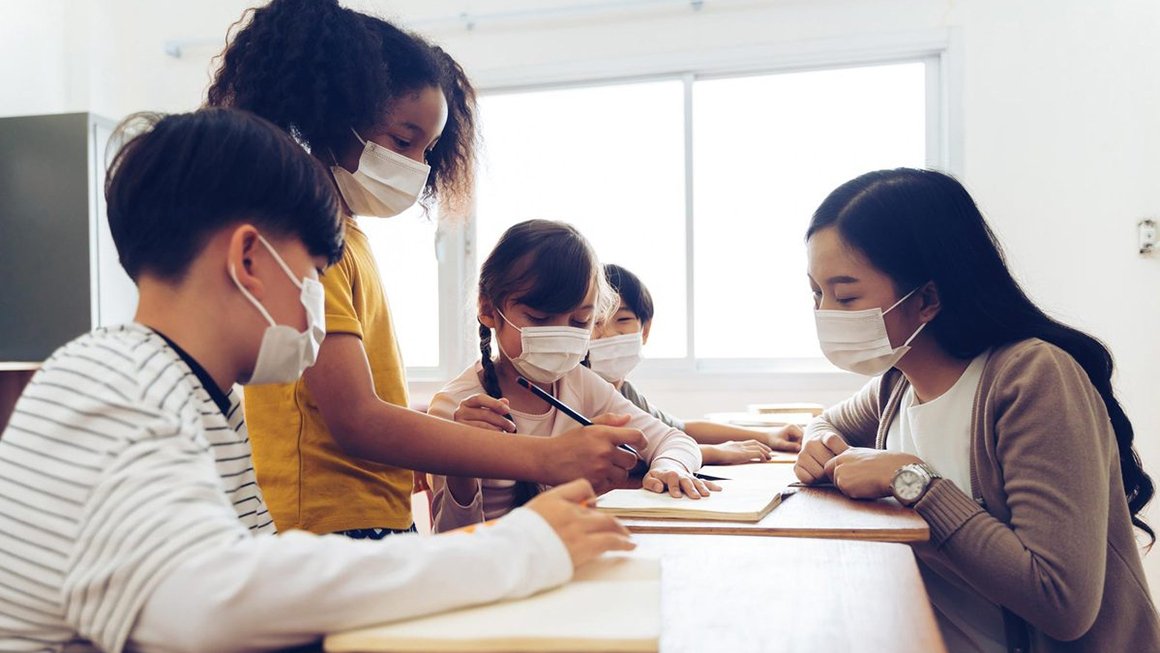 Pre-Pandemic Evidence Can Help Meet Current Student Needs
Pre-Pandemic Evidence Can Help Meet Current Student Needs
High-dosage tutoring, an evidence-based tool used in successful school turnarounds, can increase students' pandemic-related limited learning gains.
As student assessment data from last school year continues to accumulate, it is clear students will need ongoing additional support in the wake of the coronavirus pandemic, particularly the low-income students of color who were disproportionately negatively impacted. While researchers continue to measure the pandemic's impact on educators and learners and work to identify ways to mitigate it, there exists an opportunity to leverage the knowledge and resources already available to support students immediately.
In a new article, Beth Schueler, assistant professor of education and public policy at the University of Virginia School of Education and Human Development, elevates for state-level leaders the evidence that suggests high-dosage tutoring can provide increased learning gains in students, as well as have benefits on equity and well-being.
 "As we turn toward a new school year, it is important that we utilize every tool we know works to support students whose schooling was disrupted and who experienced other negative social, health, economic, or traumatic events during the pandemic," Schueler said. "An unusually large and rigorous evidence base confirms that high-dosage tutoring is one of those tools."
High-dosage tutoring is defined as high-frequency, one-on-one sessions between an adult and student. In her piece recently published by the National Association of State Boards of Education, Schueler identifies high-dosage tutoring as at least three 30- to 60-minute sessions each week. A second type of effective individualized instruction comes in the form of "vacation academies," intensive, small-group programs that take place during a one-week break from school, such as fall or spring break.
Both high-dosage tutoring and vacation academies have been evaluated using rigorous research methods and demonstrate substantial learning gains for students who have fallen behind academically.
According to Schueler, the largest documented positive effects were seen when tutoring was conducted by certified educators. But they were not the only ones who can make a positive impact.
"Programs using certified teachers are the most effective," Schueler said. "However, non-certified teachers can also generate meaningful gains and therefore could play an important role in staffing these programs."
Improving Equity & Wellbeing
The low student-to-tutor ratio, especially in one-on-one tutoring programs, can prove resource-intensive for schools and communities. According to Schueler, one way to use scarce resources would be to target supports in ways that would promote educational equity.  
"Families with more resources have historically been the ones who can fund more independent tutoring opportunities outside of school," Schueler said. "Given federal pandemic aid, we now have an opportunity to figure out a way to leverage this tool—that we know to be effective—for students who need it most. And those students are often the ones who lack the resources to access these programs in the private sector."  
The good news is that investing in these tutoring opportunities does more for students than improve their academic learning, especially those most impacted by the pandemic. Evidence suggests these tutoring programs are improving students' wellbeing, as well.
At a time when many students, especially Black and Hispanic students, as well as those from economically disadvantaged backgrounds, are managing the long-term impacts from COVID, the relationships developed through these programs can provide support beyond academic.
"These tutoring opportunities allow students to develop a significant connection with a caring adult, regardless of if the tutoring was one-on-one or in a small group," Schueler said. "And these connections result in increased wellbeing for students."
For example, one study Schueler conducted of vacation academy programs showed that participants who stayed with the same teacher for the whole program saw substantial reductions in the number of disciplinary incidents they experienced when they returned to school after the program was complete. 
With the already high levels of educational inequity being compounded by the pandemic, Schueler hopes that policymakers and education leaders will consider creative ways to connect these highly effective options to students who need the most support.
In an effort to provide as much insight into what elements of these programs are the most effective and, therefore, which to invest in, Schueler is partnering with Professor Matthew Kraft at Brown University to conduct a meta-analysis of the tutoring research base to identify what parts of the interventions are associated with the biggest gains and then map the costs of those specific components.
"Our hope is that this cost effectiveness study will allow decision-makers to identify, design, and implement the most scalable tutoring models that provide the greatest benefit for the cost," said Schueler.
The Roots of High-Dosage Tutoring
Both high-dosage tutoring and vacation academies first came to Schueler's attention as she researched school and district turnaround efforts in Massachusetts and beyond. She has long been interested in how low performing schools have been able to improve.
Focusing her early scholarship on Lawrence Public Schools turnaround efforts in Massachusetts, Schueler and colleagues identified the vacation academy programs as a key aspect of the reforms that helped to generate early gains in the historically low performing district. A later meta-analysis of turnaround program evaluations nationwide that she led, showed the positive effects that extended learning time—like tutoring programs—has played in improving outcomes for students in low performing schools.
"The work in Lawrence Public Schools was significant both for the academic turn-around the district saw, but also because they were able to implement reforms with more support from the community than is typical of a districtwide turnaround effort," Schueler said. Part of what helped to make the Lawrence reforms more politically palatable was the vacation academy programs, which helped generate immediate academic benefits for students and therefore a quick win for leaders seeking to gain public support for the broader reforms.
As an education policy scholar, the politics of school reform and now, efforts to support students in light of the pandemic, are not far from Schueler's mind.
Schueler suggested that in all of these educational efforts, leaders should aim for political viability because these efforts often require the energy and resources from across the community: teachers and principals, parents and caregivers, politicians and community leaders. "Public support is helpful in getting these programs off the ground and sustaining them," she said.
Schueler was just recently recognized for her research on school and district turnarounds by being named a 2022 National Academies of Education/Spencer Postdoctoral Fellow. With the support from this award, Schueler's focus will once again return to Massachusetts to examine whether the substantial gains made from the reforms introduced in Lawrence 10 years ago are continuing. Schueler will also be examining whether the effectiveness of those reforms was duplicated in three other school districts in Massachusetts that were targeted for improvement efforts in part based on the early successes in Lawrence. Schueler hopes the findings will provide useful lessons for educational leaders working to improve school districts nationwide.