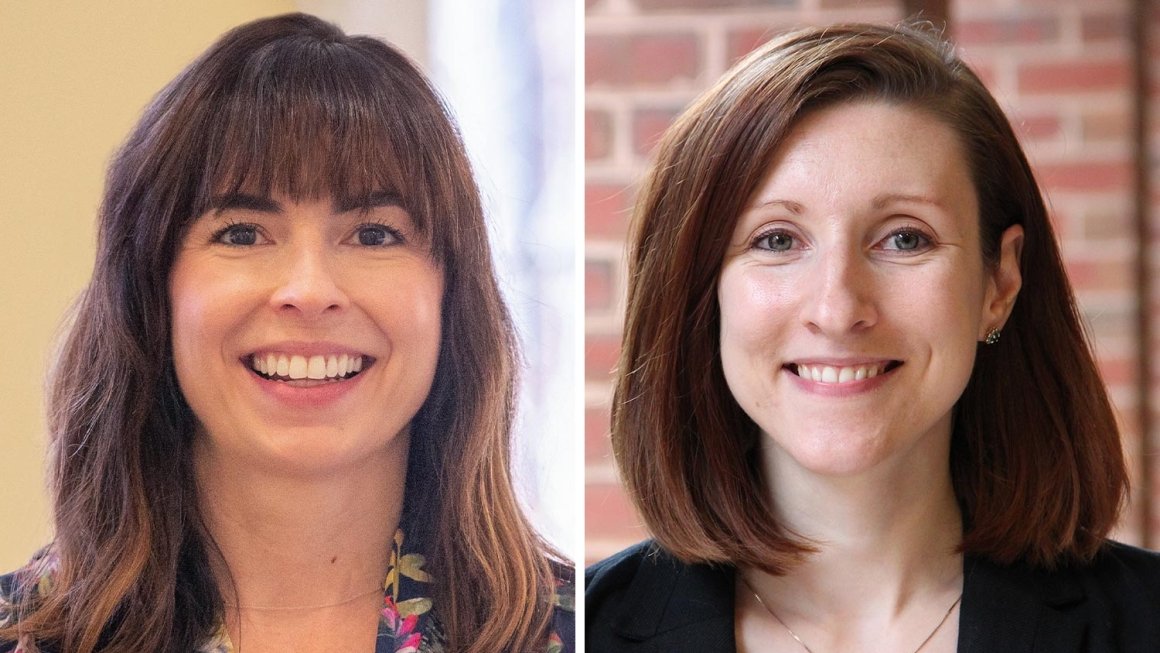 Help Coming for Caregivers of Developmentally Delayed Kids, Thanks to These Professors
Help Coming for Caregivers of Developmentally Delayed Kids, Thanks to These Professors
Using a telehealth system called "ECHO," School of Education and Human Development professors Gail Lovette and Rose Nevill have come up with a way to help the caregivers of children with developmental delays.
When the pandemic began in March 2020, University of Virginia assistant professor Gail Lovette and her husband, like many parents, found themselves trying to navigate the closing of schools for their three children, along with managing their own full-time jobs.
But the real curveball came that September, when Lovette's husband was no longer allowed to work remotely.
Suddenly, Lovette was the sole caregiver for most of the day. This meant, among many duties, overseeing virtual school from the family's basement on a daily basis. Even though she had years of experience as a classroom teacher and administrator before coming to UVA, having a first-grade son with attention deficit-hyperactivity disorder made it a major struggle. 
"Our parent-child relationship was very different than the relationships that he had with his teachers and specialists at school – so it made trying to fill both roles extremely difficult," Lovette said. "Our home environment was just not an effective proxy for the support that he typically received during the school day, and he no longer had in-person access to the specialists who normally worked with him, including occupational therapy."
Lovette, whose research interests focus on the preparation of teachers and administrators in literacy, spent hours every day sitting next to her son while attempting every strategy she knew to keep him engaged with school and to mitigate the challenging behaviors that he started showing due to the online format and the lack of structure.
It was an exhausting exercise for both.
The more frustrated and stressed-out that Lovette became – especially as she tried to juggle her own job responsibilities late into the night – the more amplified the behaviors became each day.
"Almost daily, we were both in tears by the afternoon, and it felt so unsustainable," Lovette said. "I remember feeling like I was hitting a breaking point very early in the fall of 2020 – and the school year had just begun."
It was with her own experience – and ones of other parents just like her in mind – that Lovette and UVA assistant professor Rose Nevill wondered if a telehealth system called ECHO – which had previously been used in autism research – might be helpful for caregivers of children with other global developmental delays, which are defined as impairments in language, behavior, learning and movement skills.
Nearly a year later, the answer has been a resounding yes.
UVA Today caught up with Lovette and Nevill – the latter a licensed clinical psychologist and board-certified behavior analyst – to learn more about the project, which was funded from a UVA School of Education and Human Development grant that provided caregivers with a stipend for their participation.
Q. How did you get the idea for this?
Lovette: Rose and I were introduced to Project ECHO by our School of Education and Human Development colleague, Micah Mazurek, who effectively utilized the ECHO model to increase medical providers' capacities to screen and diagnose autism. ECHO is primarily used in the medical field, and there is a lot of work to show that this model is effective at increasing medical providers' knowledge of specific conditions, along with their self-efficacy in working with a specific diagnosis or patient needs. 
We decided to adapt the ECHO framework for education here at UVA, with help from mentors at the University of Wyoming, and launched the UVA ECHO in Education network in the spring of 2019. Our first networks were formed with the goal of building educational leaders' and teachers' knowledge of autism, along with evidence-based ways to effectively support students with autism in their schools and classrooms.
When schools across Virginia closed for the school year in March 2020, we were forced to end our network of educators earlier than we planned. As the shutdown continued on, we began to learn about the significant barriers that families of individuals with global developmental delays were facing with accessing the educational and therapeutic supports that they received prior to the pandemic, myself included. Many of the in-person services that these individuals received in their schools, treatment centers and homes were immediately stopped.
Further, research published in the summer of 2020 showed that school-aged students identified with global developmental delays, along with their families, were at risk of serious negative outcomes, such as regression of skills, self-harm and aggression. Behavior is communication and I knew firsthand how incredibly difficult it can be to respond to challenging behavior effectively for already stressed-out and overtaxed caregivers of children with global developmental delays.
Given all of this, Rose and I had the idea to bring our ECHO in Education network to the caregivers of children identified with global developmental delays to support them during the 2020-21 school year.
Q. This seems like a Herculean task. How did you get everything off the ground?
Lovette: To start this work, we sent out a survey to interested families to see what kind of barriers they were facing with the prolonged shutdowns. We found that, due to the pandemic, children with global developmental delays lost a wide range of necessary supports, such as social skills interventions (38%), special education services and assessments (33%), screening and diagnostic evaluations (23%), occupational therapy (23%), among other services. More than half of caregivers responded that a major barrier for their child/ren with global developmental delays was that many of these services were not being offered virtually – or, if they were offered virtually, their children experienced significant difficulty engaging in these services. Caregivers also reported encountering extremely long waitlists for services that were offered in-person –  some over a year long.
On top of this, we found that children with global developmental delays were demonstrating multiple types of challenging behaviors at home on a daily basis - including defiance, verbal aggression, hyperactivity, self-harm, restricted and repetitive behaviors and physical aggression. In short, our survey clearly showed that many families were facing a pretty major increase in difficulties at home; some were in crisis, with little to no access to help.
Q. Can you explain to UVA Today readers the nuts and bolts of how the ECHO model works?
Nevill: The ECHO model uses a hub-spoke framework that virtually connects a multidisciplinary team of university-based specialists – the hub – with caregivers of children identified with global developmental delays – the spokes – to create a collaborative learning network. Project ECHO describes this as a "learning loop," because the hub often learns just as much from each session as the spokes, and that was certainly true for our project.
Each of our ECHO sessions began with a short presentation by one of our specialists around the principles of positive behavior support and behavior analysis more broadly, designed to increase our caregivers' knowledge of why challenging behavior occurs, what challenging behavior may be communicating, how to address it in a way that is meaningful and effective for both the child and family, and how to promote learning of positive replacement skills, like communication or dealing with frustration.
Next, one of the spoke participants presented a "case" about a challenging behavior that their child was demonstrating at home, without including any identifying information about the child to maintain their privacy. The hub and the other spokes then collaborated in making recommendations for effective ways to address the behavior, based on their own experiences and areas of expertise/specialty, with an emphasis on promoting evidence-based decision-making and practices.
Q. Can you tell us about your other team members and the important roles they played on the project?
Nevill: Our hub team was composed of several UVA [School of Education and Human Development] faculty and staff, along with a faculty member from the UVA School of Law and a colleague from the University of Washington. All told, our hub team specialists represented the following areas in our ECHO sessions: clinical psychology (Nevill), board-certified behavior analyst (Katherine Bateman, University of Washington), school psychology (Genevieve Bohac), family navigation and parent representative (Karen Orlando), special education (Lovette) and special education law (Katie Ryan).
Moreover, our incredible ECHO coordinator, Keith Page, was in constant contact with our caregivers throughout each cohort network, reminding them of our meetings, providing Zoom technical support before, during and after each ECHO session, and answering their questions.
Because of the wealth of expertise across all of our specialists, we were able to provide recommendations and guidance to our caregivers in many important areas: How to set up successful home environments, respond to their child's behaviors, promote learning, prevent challenging behavior, pursue additional evaluations and support services, advocate for their child's educational needs and prioritize their own self-care.
We know that best-practice guidelines state that children with global developmental delays should receive interdisciplinary care to provide a well-rounded approach to support and treatment, and by providing virtual access to an interdisciplinary team, our ECHO network was able to help fill that gap.
Q. What were some of your main results and findings? Any major takeaways? And what kind of feedback have you received from the families who participated?
Lovette: During the 2020-21 school year, our team facilitated three ECHO in Education networks, with roughly 10 families in each cohort: one in the fall, one in the winter, and one in the spring. Each network was eight sessions long and we met weekly on Thursday evenings – from 7 to 8:15 p.m. – as most of our caregivers were facilitating virtual school for their children and/or handling child care during the day.
Over 30 caregivers participated across all three cohorts with children aged 5 to 20 years (average age of 9) suspected of, in the process of being identified with, or already identified with global developmental delays, including autism, ADHD, intellectual disability, OCD and other emotional disabilities. All of the caregivers reported that their child/ren were demonstrating challenging behaviors at home during the COVID-19 pandemic. Our participants were a mix of biological, adoptive and foster caregivers; were located in nine states; and their child/ren were attending school in all different forms (in-person, hybrid, virtual).
We knew that our ECHO network was having a positive impact on caregivers based on informal comments they would make during the ECHO sessions or in the Zoom chat during the network sessions. We also asked each of them for feedback after each session and we received notes like the following:
"We have implemented suggestions and seen changes."
"Just wish it [the ECHO network] was available to us a lot sooner."
"I hope more parents can have this experience to learn and to find that we are not alone in this journey."
"There is a strong sense of community that comes from being in the group. The week that I presented my case, it was both hard from an emotional standpoint but also cathartic in a lot of ways. The struggles my kids have are often unseen outside of our house, and in many ways they are socially unacceptable, meant to be hidden and to feel shame about. Being in this ECHO community for a few weeks helped me to stay motivated to keep engaging with my child's needs even when I'm often the only person in her life willing to do so."
"I feel more confident in handling my child's problem behaviors. If questions arise, I have tools and resources to help me address problem behaviors."
Nevill: Even though we already suspected that our ECHO network was making a difference for our caregivers, we were absolutely blown away by our statistical results. Our data showed that participating in the ECHO resulted in significant and large increases in caregivers' knowledge of how to manage challenging behavior, their confidence in their own ability to manage challenging behavior, and their sense of empowerment as caregivers of a child with global developmental delay.
We also found that caregivers had a better understanding that challenging behavior in many instances is learned. This knowledge is important for caregivers to be aware of, as it enables caregivers to help their children learn positive, safe behaviors to perform instead of the challenging behaviors.
Finally, we found that caregivers self-reported being more calm and relaxed when their child engages in challenging behavior, and being less sad, angry or anxious when these behaviors occur. For caregivers during a time as stressful as the ongoing COVID-19 pandemic with so much uncertainty ahead, we think that this is a pretty important result.
Q. What surprised you the most during the course of the project?
Lovette: The caregivers who participated in our networks formed an almost instant community with each other – and with us – over the eight sessions. Caring for children who demonstrate challenging behavior while navigating the uncertainty of the pandemic can be extremely isolating, so spending a little over an hour each week together allowed us all the opportunity to support each other. With each cohort, we shared laughs, saw lots of pets and shed some tears. During the final session of each cohort, I was always struck by how connected we all felt to each other and many of us would comment about how we would miss our time together.
Even though I was in a formal role as the facilitator of the network, I would sometimes share with everyone that I, too, was struggling with addressing my son's challenging behaviors during the day. Being a part of ECHO, and meeting with other caregivers, also helped me to feel less isolated and frustrated.
Q. With the Delta variant wreaking havoc and the pandemic continuing to wear on, what would be your advice to caregivers of children with global developmental delays who are facing barriers in service access, or might in the future?
Nevill: One thing we learned through our ECHO is that caregivers need to be empowered, particularly those of young children who are newly identified with a global developmental delay – they know their child best and they know what their family's priorities need to be. As such, families are their child's best advocates for the right services, supports and goals. As families face the potential of losing services again, or experiencing a change or reduction in services due to the ongoing pandemic, honing in on the supports that target your biggest priorities for your child is crucial – whether that be their safety, communication goals or managing anxiety associated with major changes like masking mandates or hybrid/virtual school.
Secondly, something positive that has come out of the pandemic is that many families and professionals have started to make a lot of really great resources available online or for free to help families cope during these prolonged shutdowns. Our team is working to make an easily accessible database of resources that includes online, free resources related to a wide range of topics. Although this database has an autism focus, many of the resources are also applicable for children (and adults) with broader global developmental delays.
Q. How do you hope to build off the work you've done? What's the next step?
Nevill: We've already presented some of our preliminary findings at international conferences and next plan to write these results up for publication, so that this model can be used with caregivers of children with global developmental delays more broadly. We are also exploring how to use the ECHO model to support people with autism and related global developmental delays in other contexts, such as inpatient psychiatric hospitals, community mental health clinics and early intervention settings.
Q. Is there anything else you'd like to add?
Lovette: The past 17 months of this pandemic have been incredibly difficult for all families – especially those with children identified with global developmental delays. We see you, caregivers, and we want you to know that you are definitely not alone.
To learn more about our UVA ECHO in Education work or to participate in future ECHO networks, visit our Find Your ECHO page.
ECHO
ECHO is a teleconferencing model based on the idea of "Moving Knowledge, Not Patients."