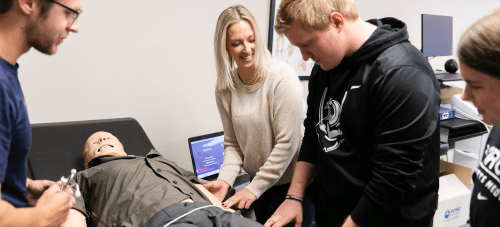 Athletic Training: M.S. - Master of Science
Athletic Training: M.S. - Master of Science
The M.S. Athletic Training goes beyond athletics, it's part of the broader healthcare profession. As such, this degree prepares student to work as an athletic trainer and provide a continuum of care along the five domains of athletic training.
At a Glance
Program Results
M.S. - Master of Science
Athletic Training
Career Outcomes
Clinical athletic training positions in a variety of health care settings including (but not limited to) colleges, high schools, professional sports, sports medicine centers, military, physician offices, and clinical settings.
Best Suited To
Individuals who have completed a bachelor's degree with a minimum GPA of 3.0.
Current undergraduates completing their last year of coursework (degree must be completed prior to starting this degree program in June of the matriculating year).
UVA undergraduates currently in the B.S.Ed. in Kinesiology program may qualify to complete the M.S. in Athletic Training program through an accelerated track.
Program Type
Location
Estimated Length
2 year, year-round program
Application Deadline
February 1 through ATCAS (the Athletic Training Central Application System)
Applications will be accepted until March 1 on a space-available basis
Credits
67
About This Program
Become an athletic trainer and work with a physically active population across a spectrum of settings, ages, and activities.
This program gives healthcare professionals the ability to build close working relationships with patients, and ultimately improve their health-related quality of life. If you're looking to join a dynamic profession where workdays are seldom the same, apply today.

This degree prepares the student to work as an athletic trainer and provide a continuum of care along the five domains of athletic training practice:
Injury/Illness Prevention & Wellness Protection

Examination, Assessment & Diagnosis

Immediate & Emergency Care

Therapeutic Intervention

Healthcare Administration and Professional Responsibility