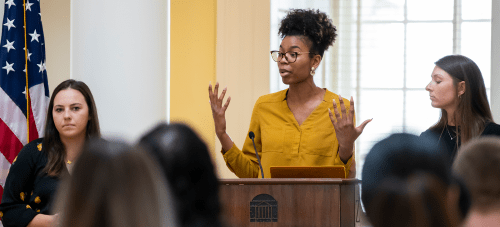 Higher Education: M.Ed. - Master of Education
Higher Education: M.Ed. - Master of Education
This program is designed to prepare students for success in a variety of professional positions within higher education: student affairs, intercollegiate athletics administration, general administration, and more.
At a Glance
Program Results
M.Ed. - Master of Education
Student Affairs Practice in Higher Education 
Program Type
Location
Estimated Length
Full Time: 1 year 
Part Time: 2-3 years 
Application Deadline
Summer entry (full or part time): January 15
Fall entry (part time only): April 15
Spring entry (part time only): November 1
Credits
34
About This Program
Our M.Ed. program prepares students for professional practice in higher education by focusing on: 
Theoretical Foundations: An integration and application of the theoretical foundations of higher education; this may include sociology, psychology, politics, economics, leadership and organizational theory 
Principles of Practice: Coursework that develops and refines core competencies for a diverse variety of postsecondary settings 
Reflective Professional Experience: Professional internships that lead to successful work in specialized functional areas of higher education. 
After completing initial required coursework, students in the M.Ed. program work with their advisor to choose their own specialization within higher education, in areas such as: 
Higher Education Administration 
Student Affairs  
Intercollegiate Athletics Administration 
Diversity, Equity, & Inclusion 
Assessment 
And many other options! 
All through their Master's program experience, students meet with their advisor to select coursework that will meet their academic and professional goals