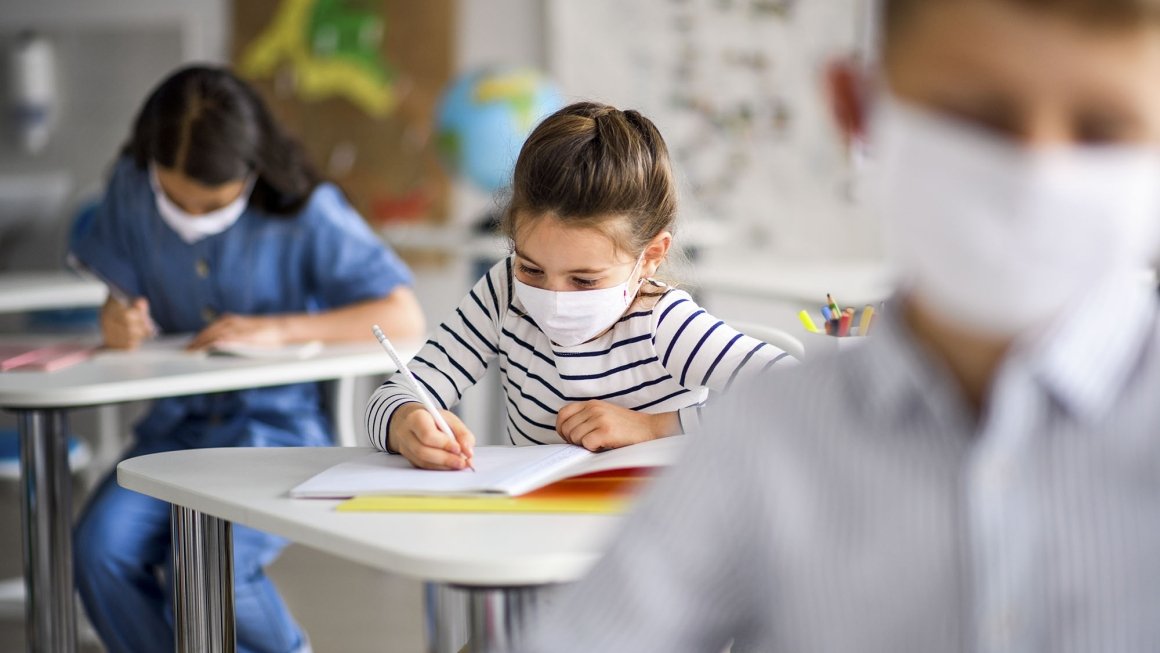 What Immigrant Youth Can Teach Us About School, Post-COVID
What Immigrant Youth Can Teach Us About School, Post-COVID
Researchers studying the impact of disrupted formal learning in American students due to immigration status, chronic health problems or other reasons, offer insight into what comes next for post-COVID education.
With the school year winding down, policymakers and education leaders are focusing their attention on what needs students will have once they return to the school buildings on the other side of the coronavirus pandemic. One central concern will be anticipating and understanding the impact of interrupted formal learning.
For most students across the United States, COVID-19 significantly disrupted school routines, resulting in a spectrum of learning experiences ranging from part-time, school-based learning to live, online learning to disconnection from schools and teachers entirely.
"The scale of learning disruption that students have experienced this past year or more will bring with it specific challenges that deserve the attention of educators and policymakers," said Chris Chang-Bacon, assistant professor at the University of Virginia School of Education and Human Development, "but it should not be called 'unprecedented."
Chang-Bacon's scholarship focuses primarily on English language learners and includes research that can speak directly to the challenges that come with interruptions to formal education. In a published paper last month, Chang-Bacon argues how this research on students with interrupted formal education can offer insight into what students need as we recover from the pandemic. 
"As we begin the hard work of recovering from the pandemic and reconnecting students to schools, it is important that we don't treat students as 'broken,' or only through the lens of 'loss,'" Chang-Bacon said. "There is an important body of research that examines this exact phenomenon."
Researchers working to understand and improve inequities for English language learners have long been examining the impacts of interrupted formal learning. "Students with interrupted formal education" is the term often applied to immigrant youth who experience a gap in formal schooling as a result of family migration or instability in their original country of residence. Additional research explores other reasons students experience disruptions in formal learning, including housing insecurity, school suspensions, natural disasters or chronic health issues.
Researchers have identified a series of resources students need as they re-enter a formal learning environment. Among the most important is a responsive curriculum that takes into consideration where students are and not where teachers and policymakers think they "should be." This curriculum should come paired with policy and programmatic accommodations.
"This is no small ask of schools and school leaders," Chang-Bacon said. "It may mean bringing teachers, students and families together to really rethink what a curriculum should look like and who it is designed to serve. But we are failing students if we measure them against the standard of a normal school year and not one where they have experienced the upheaval of a pandemic."
Chang-Bacon also identifies the need for significant social-emotional supports as critical for students returning to formal in-person learning. Instead of considering this work as prioritizing students' wellbeing over academic efforts, research shows that when an emphasis is placed on students' social-emotional health, students often excel on curricular standards.
"If you bring students back to in-person schooling, tell them they are 'behind,' and just make them grind to meet some admittedly arbitrary norm without processing any of what has happened this year, we're going to lose them – academically and emotionally," Chang-Bacon said.
Chang-Bacon also highlights the impact that collaborating with community partners has on students returning to formal learning. What he identifies as "wraparound services," Chang-Bacon argues that connections across teachers and departments within schools, with families, and efforts to connect schools with other social service and health organizations can make a positive impact on students.
Chang-Bacon hopes this line of thinking can turn us away from merely talking about getting back to "normal," and instead begin questioning how desirable that "normal" was in the first place.
"It may sound counterintuitive," Chang-Bacon said. "But if we focus less on learning loss and instead try to recognize what students have gained this past year – like new knowledge about health, community care and independent learning – it might help us to better recognize the resources students bring to schools every year, both now and in the future."
While Chang-Bacon recognizes that students forced to flee their homes due to physical or economic violence are not the same as students experiencing temporary school closures, the awareness the pandemic has brought to the impact of disrupted learning brings with it an opportunity to improve experiences for all students.
In his paper, he argues that this body of research mirrors the realities of the pandemic in that the disruptions to formal learning are not equal across all students. This year, most schools and policymakers have granted substantial accommodations to students experiencing interrupted schooling due to the pandemic that have historically been denied to similar students, such as distance learning or suspension of standardized testing.
According to Chang-Bacon, the pandemic offers the opportunity to rethink what is possible for future generations of students who experience schooling interruptions.
"The good news is that we have a knowledge base that can inform how best to respond to millions of students recovering from the pandemic's disruptions," he said, "and we can leverage all of the lessons we've learned this year to improve outcomes for future students who will experience disruptions in formal learning."
News Information
Published
Author
Audrey Breen
Featured Faculty
News Type
Research News
News Topics