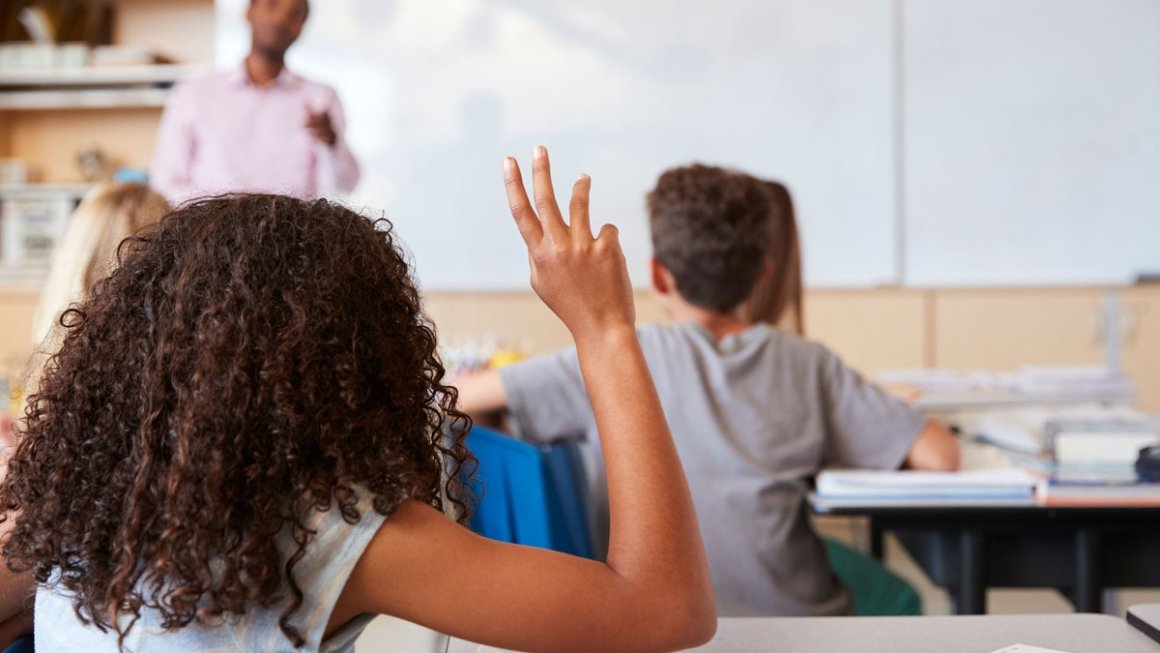 UVA Helps Educators Wrestle With How to Appropriately Teach Current Events
UVA Helps Educators Wrestle With How to Appropriately Teach Current Events
A team of faculty and students from the School of Education and Human Development worked with practicing educators to launch a new online resource hub, "Educating for Democracy."
In the coming months and years, educators will grapple with how to most appropriately and effectively teach about recent events that illuminate the deep, troubling divisions in America and the history from which they emerged. As they engage with these events, many set against the backdrop of increasingly urgent calls for racial equity in America, teachers of all grade levels will need to elevate diverse perspectives and confront issues of race and injustice in age-appropriate ways.
To address this need to support K-12 teachers throughout the U.S., a team of faculty and students from the University of Virginia School of Education and Human Development, alongside practicing educators, have collaborated to launch a new online resource hub. Educating for Democracy offers a range of teaching tools, including developmentally appropriate lessons that interrogate issues of race, justice and human welfare in the U.S. by connecting the full story of the past with current events.
Johari Harris, a research assistant professor at the School of Education and Human Development helping lead this work, is quick to point out that this new initiative sits in a larger body of work focused on race and justice in the classroom.
"There are already a number of excellent and robust resources for teachers on how to teach about race in America," she said. "We wanted to add to this rich body of work with resources that provide new insight into how these lessons can be most appropriately introduced at specific grade levels.
"Children understand justice in different ways at different ages. Research on child and adolescent development has informed our ability to zoom in on how they think about the world around them and the ways they conceptualize justice and fairness over time." 
The focus on developmental alignment is a unique feature of this project and is the structure for all of the resources on the site, allowing educators to identify lessons and units of lessons most appropriate for the grade they teach.
"Educating for Democracy is a critical resource that will help to meet all students where they are and to give them the tools to learn about their past in order to stand up for democracy and democratic values in our present," John Hobson, social studies facilitator for Albemarle County Public Schools, said.
Kindergarten and Elementary School
Imagine a kindergarten class standing in a single-file line as they walk down the hall of their elementary school. According to Harris, young elementary students are able to differentiate that the teacher's rule asking them to stand in line is different from the rule asking that they not hit their classmate.
"At a very young age, a child can differentiate between rules that reduce harm to one another from those that are used to create an organized environment," Harris said. "However, they are not yet able to understand how those rules expand beyond one person at a time. For example, they cannot yet appreciate the ways rules impact a community or entire society."
The resources on the website were created for elementary schools with this in mind. They use fiction and non-fiction stories to examine the thoughts and feelings of those who have been marginalized because of their racial-ethnic identity. Accompanying lesson goals focus on developing students' abilities to understand different perspectives. According to Harris, encouraging children to look at multiple perspectives supports students' empathy development.
Lessons include stories about Native American boarding schools, civil rights or immigrant families. The lesson plans differentiate between resources for kindergarten through second-grade students and those for third- through fifth-graders.
"The kinds of questions a teacher might ask kindergartners after reading one of these stories would focus more on empathy: How do you think this character might feel at this moment?" Harris said. "Meanwhile, the fifth-graders might engage in a conversation about the pros and cons of a particular situation."
Middle and High School
As children grow into middle and high school, their abilities to understand complex social issues becomes more sophisticated.
"Once they enter adolescence, students begin to see the dynamic interplay between self and society," Harris said. "They can see real and potential conflicts between individual rights and social norms, and then think of ways to resolve them."
While the elementary school lessons are stand-alone topics, the lessons for the middle and high school students are packaged in groups called inquiry units. Middle school units provide students with rich historical content and challenge them to consider possible solutions when social norms around race and racism interfere with justice and human welfare. High school units look closely at race and the legal system, considering the law is a major driver in how we understand and deal with race and racism in America.
For example, one high school inquiry unit looks at affirmative action and the law. Beginning with the 14th Amendment, students will examine cases that begin to shape the legal system's designation of race as a category of legal status. They will continue to make their way through opinions and dissents of key Supreme Court cases that impact college admissions through affirmative action.
"We specifically chose this topic for high school students, as college admissions is a very important topic to them," Harris said. "And it is an example of a topic that has a wide variety of implications and perspectives and provides an opportunity for students to engage in all sides of the issue."
According to Harris, a key element of the entire project is to link historical context to current civic engagement. For example, the final activity for this unit is for the students to write what their suggestion would be for college admissions offices as it relates to affirmative action.
"These culminating activities serve as an opportunity to show students how these historic injustices of marginalized communities are very much a part of civic discourse and decision-making today," Harris said.
Building a Resource Hub
The Educating for Democracy website includes information on the child and adolescent development research that guided the project, K-12 lesson plans and units, and professional development resources on race and teaching for educators.
"We believe our curriculum will be an excellent resource for teachers and school leaders looking for ways to successfully integrate issues of race and justice into their pedagogy and curricula," said Derrick Alridge, professor of education and director of UVA's Center for Race and Public Education in the South. "Over the next few years, the curriculum will evolve and updates will be provided to make it even more effective."
Alridge also notes "our curriculum uses a 'critical historical lens,' which illuminates the narratives of largely unknown historical actors and historically marginalized groups and people."
The website is also home to a resource or "consumer guide" that links educators to resources created by other institutions and organizations.
"The work we are doing in creating a set of curricula informed by child and adolescent development is one piece of a large portfolio intended to support teachers in this critical work," Harris said. "We thought it was important to represent the importance of those other efforts and link to them from our website."
The Educating for Democracy website was made possible by a $1 million gift from the Bank of America Foundation in the fall of 2018, with additional funding from the Charlottesville Area Community Foundation. The Educating for Democracy initiative is a collaboration between the Center for Race and Public Education in the South, the UVA Center to Promote Effective Youth Development (Youth-Nex), and the school's Curriculum, Instruction and Special Education department.
"We look forward to the ways in which these resources can now be put to use in the classroom and can expand and grow in their richness and reach," Harris said.
All resources and more information about the project are available at educatingfordemocracy.education.virginia.edu. For more questions, email [email protected].