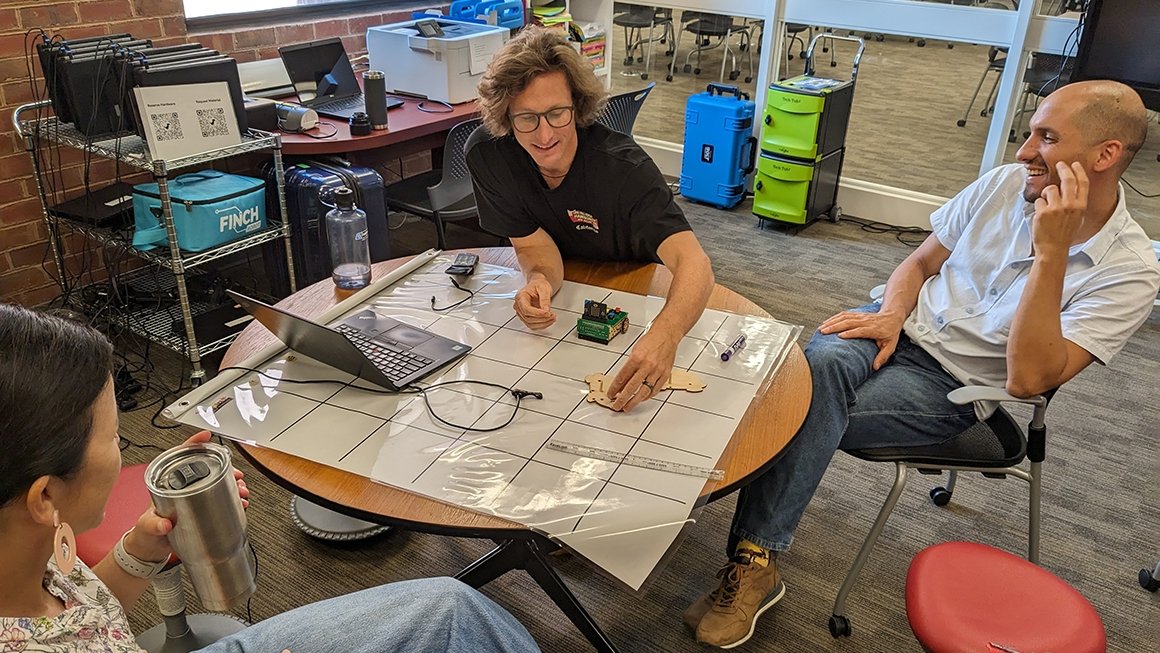 Robots In School: UVA-Designed Device Supports Computer Science Education Worldwide
Robots In School: UVA-Designed Device Supports Computer Science Education Worldwide
A UVA-based team is testing a robot used to increase young learners' exposure to computer science skills in areas from southwest Virginia to rural Colombia.
Photo: Jennifer Chiu sits with Eric Bredder and Camilo Vieira working on their robot design.
When Camilo Vieira arrived at the University of Virginia in the fall of 2022, he looked forward to all that he would bring back from that experience to his home in Colombia, South America.
What the Fulbright Scholar didn't know is that he would create partnerships that would continue well after his time here. And that he would return home from one of his visits with the parts to 50 robots.
During his visit, Vieira connected with Jennifer Chiu, associate professor at the UVA School of Education and Human Development and her then-doctoral student, Kim Wilkens, both of whom shared his passion for providing hands-on opportunities for young students to engage with computer science.
The idea was to create a tool that not only worked for multiple grades but was inexpensive for schools with limited financial resources. 
Their collaboration resulted in the creation of the Global Center for Equitable Computer Science Education, which brings together faculty at the Education School, the Department of Computer Science, the School of Data Science, the University of Virginia College at Wise, and Universidad del Norte, where Vieira teaches. The center works to expand how computer science is integrated into pre-K, elementary, middle and high schools.
The center's project will be an improvement over what is available now because, Chiu said: "Most of the devices currently designed for elementary settings are relatively inflexible and more than $100 each."
Tools introducing computer science to students often require expensive equipment paired with reliable Wi-Fi. But for many rural and low-income urban students, that equipment and infrastructure is not readily available. The solution was to create a low-cost, open-source robot with expanding functionality that can be used by students in multiple grades. The team hopes that lowering the price and expanding the robots' functionality will make them more accessible to rural and low-income communities.
With funding from the UVA Center for Global Inquiry and Innovation, the team, including education doctoral student Eric Bredder, got to work designing the robot. While robots exist that expose young students to concepts of computer science, they often remain out of reach to under resourced schools, and do not provide much flexibility in terms of how they look, the concepts and skills that can be taught with them.
The team's design is sophisticated enough to be programmed in multiple ways, with increasing complexity. The robot is built around the "micro:bit," a computing device developed specifically for K-12 educational settings. 
"Because we use the micro:bit, the robot is adaptable for use in kindergarten settings up to middle school and beyond in a 'low-floor and high-ceiling' functionality and customization," Bredder said.
The current version of the robot can be built for $25, excluding the micro:bit, and all project designs will be freely available to the community through Github, an online software platform, and the center.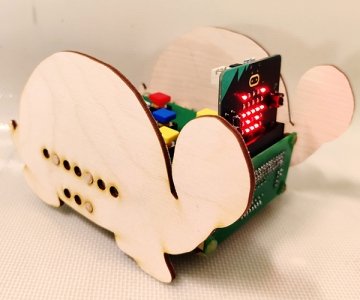 The robot looks rudimentary, but along with its expandable functionality, the look of the robot can also evolve with the students using it. The team created the robot to be compatible with LEGO® bricks and decorated with materials already in classrooms, allowing students to use their creative touches to customize the machines. 
All that is left is to see what happens when they are in the hands of teachers and students. That part of the project took off when Vieira landed in Colombia.
"The robot prototype is in its third iteration, and we now feel that it's ready to actually work with teachers," said Wilkens, who now serves as the project's education and outreach director since graduating in May. "So, Camilo took parts for 50 robots this summer back to Colombia, to assemble and actually get it into the hands of 15 teachers."
The robots are a computer science education tool but the students and teachers are at the heart of the work for Chiu and her team. Understanding how children learn and supporting teachers to integrate computer science into their classrooms are critical parts of their research. 
"We're studying how computing concepts, like algorithms and debugging, develop at young ages and how this might influence general cognitive skills that have influence over STEM success," Chiu said. 
They are also embarking on a large-scale professional development effort for teachers from Southwest Virginia and across 10 Latin American countries.
The teachers participated in a professional development program that UniNorte and the Colombian National Academy of Science designed with seed funding from the OAS Red Interamericana de Educación Docente, also known as the Intermaerican Network of Teacher Education.
As part of Vieira's Fulbright at UVA, the Global Center team re-designed this program, and launched a new cohort in September 2022. The need was immediately clear: Within three weeks, more than 700 teachers signed up from Colombia, Honduras, Costa Rica, Argentina, Peru, and other Latin American countries.
Three months later, more than 2,000 teachers from 10 different countries registered for the program. Three new sessions were added to the schedule for 2023. 
Chiu said it shows that huge swaths of communities and students are being underserved. 
"A lot of computer science research is done in the Global North, in relatively privileged settings," Chiu said. "We are focused on expanding research in the Global South and in under-resourced areas, so that we can begin to understand the different strengths and assets that different contexts bring to computing and how to support them."