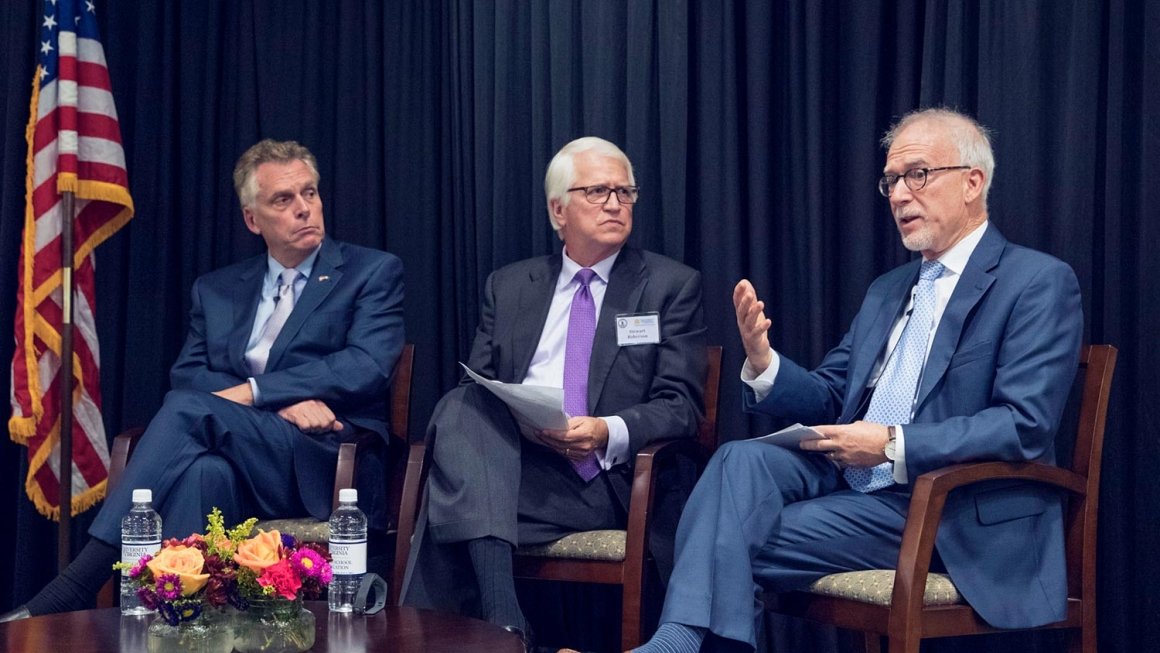 Leaders Gather on Grounds to Tackle Next Governor's 'Single Biggest Challenge'
Leaders Gather on Grounds to Tackle Next Governor's 'Single Biggest Challenge'
Virginia Governor Terry McAuliffe and education leaders from across the state gathered Tuesday at the Curry School of Education to seek innovative solutions to the teacher shortage.
Education leaders and policymakers from throughout the commonwealth gathered Tuesday at the University of Virginia's Curry School of Education to address one of the biggest problems facing school districts nationwide: a shortage of teachers.
The full-day event was co-hosted by Gov. Terry McAuliffe, state Secretary of Education Dietra Trent, the Curry School, Curry School Dean Robert C. Pianta and the UVA K-12 Advisory Council. They convened a broad range of constituents – including superintendents, higher education leaders and state policymakers – with the goal of turning discussions into actionable solutions.
Why Don't We Have Enough Teachers?
Pianta called the teacher shortage an "emergency situation." Since the so-called Great Recession caused a sharp drop in the number of qualified teachers, schools across the country have been struggling to close a widening gap – made even worse by a growing student population.
The problem has become acute in recent years. A recent report by the Economic Policy Institute found the country is now short as much as 327,000 teachers.
Virginia is no exception. In October 2016, the commonwealth had more than 1,000 vacant teaching positions – fully funded jobs that there weren't enough teachers to fill. That's a significant increase from 800 unfilled positions the year before. The need to increase diversity among teachers was also a focus of the summit.
"The single biggest challenge that the next governor will have to face is teacher shortage," McAuliffe said.   
The reasons for the shortage are complex. Factors include low salaries, as well as the many tests and licensure requirements – and corresponding costs – that make teaching a less attractive career path. Recruiting, training and retaining enough effective teachers is a multifaceted problem that requires a complex network of solutions.
But it's a crucial issue. When there aren't enough teachers to go around, schools must rely on substitutes and underqualified teachers, or have teachers lead larger classes –  factors that have been shown to cause lasting disadvantages that disproportionately affect low-income and minority students.
"Without highly effective and available experienced teachers, the negative impacts to citizens and society are evident," Pianta said. "Not just in the absence of these citizens and healthy youth and adults, but an actively negative force against the public good. Expert and experienced teachers are a resource to society, and when we shortchange that resource, we shortchange the life of a community long-term."
Local Solutions to a National Problem
While the teacher shortage impacts schools across the country, its contributing factors – such as salary, classroom autonomy and what kinds of credentials are required – vary widely among states and even school districts. It's a national problem that demands targeted, local solutions.
That was exactly the purpose of Tuesday's summit: finding solutions. "We're not just here to talk about the problem and observe it," Pianta said. "We're here to solve it."
Attendees split up into breakout sessions covering several focus areas, including re-imagining teacher recruitment, retaining high-quality educators, innovation in school divisions, state policy changes and building stronger partnerships between K-12 schools and institutions of higher education.
Partnerships between school districts and teacher training programs help funnel teachers to where they're needed most. But Pianta sees another responsibility for those in higher education: making useful information available to policymakers. In order to develop the best solutions, researchers have to look beyond broad trends – drilling into the data to determine which districts need science teachers and which need elementary teachers, for example.
"If you're going to solve a problem, you have to have the right information available to you," he said. "One of our roles in solving this is to create a data foundation for policy decisions – and then to use that data foundation to evaluate the impacts of those policies."
The need to increase teacher salary was a focus of many discussions, as well as the need to implement a range of creative, local solutions, like recruitment programs at the high school level and expanded opportunities for advancement and recognition within the field.
Another potential solution is to loosen regulations to create more flexible paths into the profession, making it easier for teachers to get the credentials they need. Programs like professional internships, transfer guarantees and summer institutes could remove barriers and bring more teachers into the pipeline.
However, one of the most significant takeaways from the summit was strong support for condensing teacher training programs from five years to four. Teachers in Virginia are required to earn a master's degree, which is typically a five-year process.
McAuliffe said he would "wholeheartedly endorse" removing unnecessary requirements, streamlining the process and moving to a four-year program instead – a switch that would reduce debt and get teachers into schools faster.
The measure received support from higher education leaders, too. "We are absolutely convinced we can do it in four years," Pianta said. "We actually think we might be able to do it better in four."
The Next Step
Teacher shortages can't be fixed in a day – but it's a start. Attendees left the summit armed with legislative and regulatory agendas, as well as ideas for how to facilitate and grow partnerships across the commonwealth.
To close out the summit, McAuliffe joined Pianta for a "fireside chat" in which they reiterated priorities and urged attendees to take action.
"Everyone here has the opportunity to turn this conversation into action by being engaged with legislative efforts during this upcoming session," McAuliffe said. "You're all going to have to lean in with the next governor. Don't assume this just happens – it doesn't. You all have to be part of it."
Speakers urged attendees to leave the summit and bring other constituents, including parents and local business leaders, into the conversation.
"School divisions need support from their local boards and local constituents to solve this problem," Pianta said. "It can't just be leaders and superintendents who are working on it. It has to be the public, too."
Both Pianta and McAuliffe outlined a vision of state education leaders working together to develop evidence-based solutions that will make a difference throughout Virginia – and make Virginia a national leader in addressing teacher shortages.
"This is a collective action problem that demands a collective action solution," Pianta said. "We've articulated the map of stakeholders here, and every one of us has a role. Today is a remarkable start on that path."
News Information
Featured Faculty
News Type
News Topics