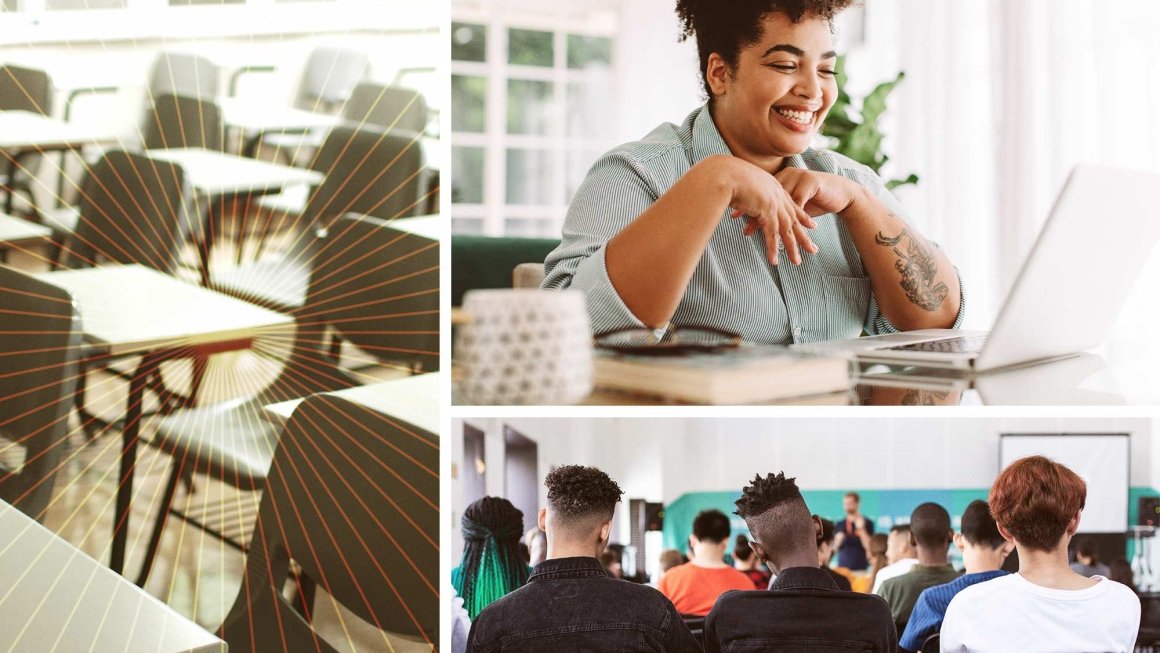 Amid a School Mental Health Crisis, a New Training Approach Shows Promise
Amid a School Mental Health Crisis, a New Training Approach Shows Promise
A new study from the UVA-led Virginia Partnership for School Mental Health found promising results testing a virtual professional development program for school mental health providers.
In the mental health field, getting the latest insights from research to the practitioners who need them is a constant challenge. High-quality research often operates on a timeline of months, if not years. Practitioners on the ground, however, "have a problem with a kid right now," said Michael Lyons, an assistant professor of clinical and school psychology at the University of Virginia. "And they need solutions to that problem."
The "research to practice gap," as it's known, is not unique to mental health research. But as schools face what experts have called a national emergency in child and adolescent mental health, addressing it is more critical than ever.  
One new study, led by researchers in the UVA School of Education and Human Development, tested a new, low-cost way that could help narrow the gap. 
The study is centered on a telementoring model called Project ECHO, or Extension for Community Healthcare Outcomes. Created by researchers in 2003 at the University of New Mexico, the technology was designed to connect doctors in rural and under-served areas (the "spokes") to teams of researchers (the "hub") to consult on complex cases. Project ECHO has since been used to address numerous health care concerns, including HIV prevention, substance abuse and autism diagnosis. 
This study tested it in a new context: schools. As part of a state-wide initiative called the Virginia Partnership for School Mental Health, mental health staff from four Virginia school divisions participated in a professional development program. The partnership is co-directed by Lyons and Julia Taylor, an assistant professor of Counselor Education at UVA. All participants had access to online training modules, while some also had access to monthly ECHO sessions with a "hub" team of faculty with research and applied experiences in the fields of a school psychology, school counseling, school social work, and school nursing. 
By bringing researchers and practitioners together in one virtual space, said Lyons, a co-author of the study, ECHO attempts to address research-to-practice barriers. Time-strapped practitioners are often unable to sort through all the available resources to find which new research will be relevant and helpful for their unique situations. ECHO brings the researchers directly to them. 
"The ECHO experience is intended to address the research-to-practice challenge by having researchers and mental health specialists in the room working directly with providers so that they're able to immediately, as a network, collaborate on solutions," Lyons said.  
During each session, one participant presents a specific case, then the full team discusses and shares recommendations. Topics cover a range of mental health concerns, including trauma in schools and the mental health needs of high-achieving students. Hub team members would reference resources in the modules, helping participants apply it to a real-life scenario. 
"The ECHO sessions provide student mental health professionals with an opportunity for rich interdisciplinary collaboration and supervision," said Julia Taylor, a co-author of the study. "Each field (school counseling, psychology, social work, and nursing) brings a unique perspective to case conceptualization, prevention, intervention, and postvention. This is extremely valuable when working through challenging cases. Furthermore, the ECHO participants are from school divisions across Virginia, so it is helpful to hear learn about other policies and procedures from a variety of stakeholders." 
The group that participated in ECHO sessions showed higher engagement with the training modules, and higher satisfaction with the program, compared to the participants who only interacted with the modules. 
While these findings are preliminary, the research team has several follow-up studies in the works. Researchers said upcoming studies currently under review suggest that ECHO could also affect participants' knowledge and confidence, which is the ultimate goal.  
"What we want folks to do is sustain the learning and distribute it over time," Lyons said. "We're starting to see this in later studies, but the hope is that it actually changes the way that they understand their role, and school mental health evidence-based practices, and then change the team's behavior to promote better student mental health outcomes." 
Importantly, ECHO also delivers the best of both worlds on the spectrum of professional development: it is virtual and easy to access, like an online resource bank, but personal and intensive, like one-on-one coaching. That makes ECHO a potentially impactful but low-cost and easily scalable way to support school mental health providers. This is particularly important for rural and low-resourced communities. 
And in all communities, the needs are urgent.  
The emerging data tracking post-pandemic student mental health are grim. According to a CDC report, mental health-related emergency room visits increased 31 percent among adolescents from 2019 to 2020. One recent study from UVA Health found that suspected suicide attempts by poisoning among children ages 6 to 19 increased 26.7 percent between 2015 and 2020.  
"Student mental health has plummeted and the pandemic has disrupted almost every aspect of their lives," Taylor said. "It is not plausible to simply bounce back from this." 
The study, and the ongoing ECHO sessions, are one part of a much larger initiative to improve school mental health in the commonwealth. The Virginia Partnership for School Mental Health began in 2019, bringing together school divisions and universities to increase the number of school mental health professionals who provide evidence-based services in Virginia.  
Another focus of the partnership is training graduate students in mental health leadership. At UVA, with grant funding from the partnership, six school counseling students graduated in May having engaged in more than 700 hours of fieldwork in a high-need school division, supervised by practitioners trained by the partnership. They also participated in a semester of ECHO sessions and took extra course credits focused on school mental health. 
"They worked tremendously hard in their two years at UVA and I could not be prouder of their flexibility, curiosity, and determination," Taylor said. "Their counseling skills are polished, their case conceptualization skills are seasoned, and they exemplify the term leader. I have no doubt they will make an incredible impact on the youth they serve in Virginia's public schools." 
In the past two years, the partnership has continued to expand – recently adding Old Dominion University, William and Mary, Radford University, James Madison University, and Virginia Tech, as well as Hampton City Schools and Roanoke City Schools. The team also hopes to explore how to widen the community involved in the partnership. 
"School mental health really is a whole school and community problem to tackle," Lyons said. "So there's interest in thinking about how to engage other allied professionals, families, and community partners to create an even more robust, integrated network to support student well-being." 
Lyons said participants in the ECHO sessions shared that the experience worked because it helped them feel like part of a team. For Lyons himself, participating in the ECHO sessions brought the partnership's vision – of a strong local community of school mental health professionals working together to support students – to life. 
"In real time, you see how a network of people working together can come up with solutions that no one person would have come up with alone," he said. "And that's an amazing thing to be a part of." 
News Information
Featured Faculty
News Type