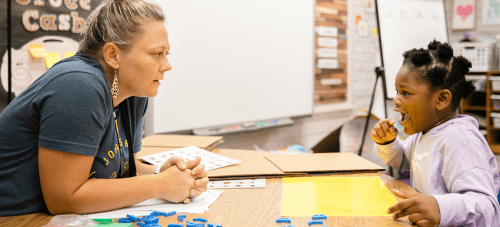 Communication Sciences and Disorders: M.Ed. - Master of Education
Communication Sciences and Disorders: M.Ed. - Master of Education
A full-time clinical degree program with a long, successful record of producing clinicians who are fully prepared for a rewarding career as a speech-language pathologist.
At a Glance
Program Results
M.Ed. - Master of Education
Communication Sciences & Disorders
Career Objective
Speech-Language Pathologist
Best Suited To
Anyone who is interested in becoming a speech-language pathologist, regardless of prior undergraduate background.
Program Type
Location
Estimated Length
5 semesters (Blue Track) 
7 semesters (Orange Track) 
Application Deadline
Fall semester: December 1
Credits
69 (Blue Track), 82 (Orange Track)
About This Program
The M.Ed. in Communication Sciences & Disorders (CSD) program consists of both academic preparation and clinical training. Both components are focused on developing the knowledge and skills needed for a career as a practicing speech-language pathologist (SLP). 
Students begin the graduate program by attending classes at the University of Virginia in Charlottesville, Virginia while simultaneously initiating their clinical training in the Sheila C. Johnson Center (SJC), our in-house multidisciplinary clinic that services patients from central Virginia and across the Commonwealth seeking diagnostic or treatment services from speech-language pathologists, audiologists, counselors, and/or literacy specialists. SJC is where our CSD graduate students learn core clinical competencies. 
The program is specially designed to meet the needs of students who already have a background in communication sciences and disorders (Blue Track curriculum) as well as those who do not (Orange Track curriculum). Explore tracks in the program overview section, below.
During the last semester of their graduate program of study, students are engaged in a full-time "internship" five days per week while also completing their national Praxis exam and comprehensive examinations. The internship semester can be completed in the practice setting of the student's choice (health care, education, private practice) in almost any geographic location in the United States. 
Every class and every clinical assignment is aimed at producing clinicians who are prepared for (1) the entire Scope of Practice in Speech-Language Pathology, and (2) the entire continuum of care, from infancy through geriatrics, across medical and educational settings. Our courses and clinical practica emphasize hands-on learning and making clinical decisions through evidence-based practice. We are in the business of creating professionals for the modern workplace.