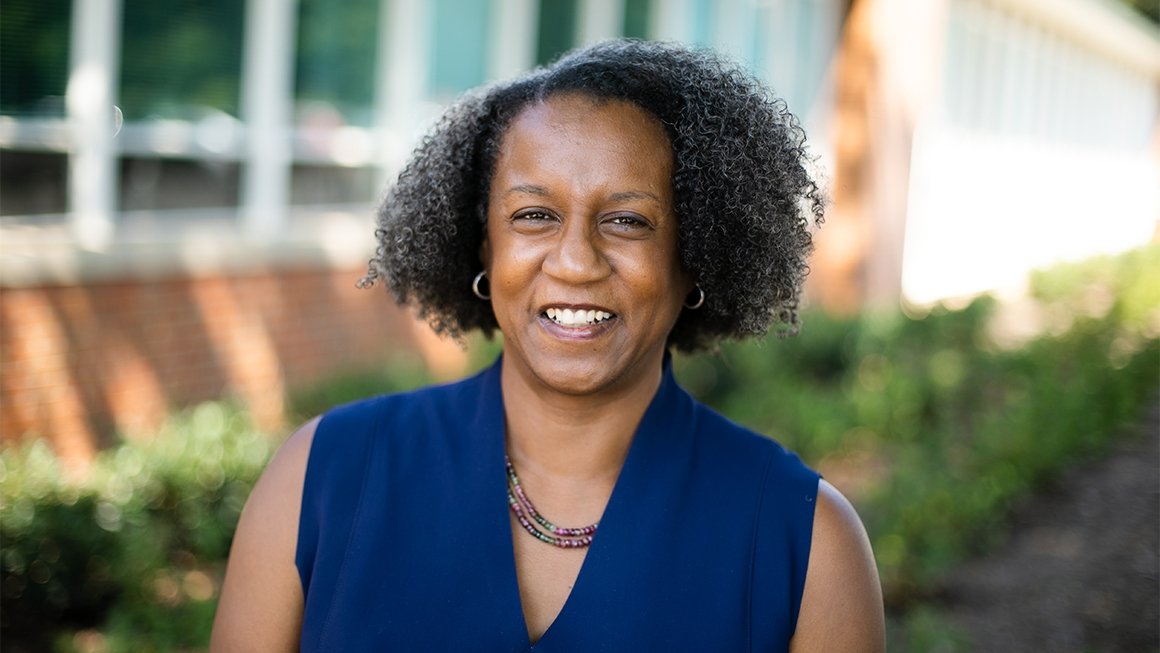 Q&A: Dean Stephanie Rowley Reflects on Her First Year
Q&A: Dean Stephanie Rowley Reflects on Her First Year
One year into her tenure as dean of the School of Education and Human Development, Stephanie Rowley shares what she's learned so far – and what's coming next.
In July 2022, the UVA community welcomed Stephanie J. Rowley as the new dean of the School of Education and Human Development.  
A UVA alum, Rowley earned both a master's degree and doctorate in developmental psychology from UVA's Graduate School of Arts & Sciences before embarking on an academic career dedicated to teaching and mentoring. She returned to UVA after serving as provost, vice president for academic affairs and dean at Teachers College, Columbia University. 
One year after her return to Grounds, we spoke with Rowley to learn about what she has learned, the challenges and surprises she's encountered so far, and what she hopes to accomplish in her next year as dean. 
Q: When you first stepped into the role, you said your main priority was to get to know the UVA EHD community. What have you learned so far? 
How much time do we have? I could probably talk for hours and still barely scratch the surface. 
I learn something every day from the incredible research coming out of our labs and centers. School mental health services, autism diagnosis, heart failure, youth empowerment – there is always something new to discover. Our own Catherine Bradshaw chaired a university-wide committee on how to meet the research goals laid out in UVA's strategic plan, so I know there is much more to come. 
I think the most important thing I've learned this year, though, is that this is a community that takes care of people. In every conversation I've had about our values and what we hope to achieve in the future, there's a through-line of supporting human well-being – not just academic or financial success, but holistic physical, mental, emotional, and social well-being. 
In November, after the tragic deaths of Devin Chandler, Lavel Davis Jr. and D'Sean Perry, I learned how compassionate and resilient this community truly is. I knew coming in that EHD was a community of carers – people who are devoting their lives to helping others. But experiencing the depth of that commitment up close, and the ways it shows up in the smallest daily interactions, is truly awe-inspiring.  
Q: What is something unexpected or surprising that you have encountered in this role? 
One pleasant surprise has been the amount of support and collegiality I've received from other deans and faculty across Grounds, and even members of the wider Charlottesville community. 
Being away from Charlottesville for so long, I wasn't sure what to expect – I thought it might be more of a challenge to find my place here again. But my connection to this place came right back, and I think that's because at every turn I've had people reaching out to offer advice, or collaboration, or just to say hi and "welcome back." It has really helped me feel at home here. 
Q: Looking back at your first year, what is one of your favorite memories? 
Do I really have to pick just one? One of the best parts about being dean is how many celebrations and special moments I get to be a part of across the entire school. It's a unique perspective that I'm continually grateful for. 
I'm going to cheat a bit and choose two. First, attending the Hunter Student Research Conference. Seeing the breadth of the research that our students are working on – at every level, from undergraduate to doctoral – was remarkable. Knowing that the conference is completely student-run just made it even more impressive. We had a record level of student participation this year, and even President Ryan stopped by to check out the presentations – so that was fun. 
I also have to mention the Teacher Education Pinning Ceremony that we held this year to celebrate our graduating teachers. With student teaching and final courses, the last months of a teacher education program are always hectic. It was so special to pause for a moment and come together to recognize the joy and honor of becoming an educator. The energy in the room that day was incredible! 
"I knew coming in that EHD was a community of carers – people who are devoting their lives to helping others. But experiencing the depth of that commitment up close, and the ways it shows up in the smallest daily interactions, is truly awe-inspiring."
Q: You have said that addressing the teacher shortage is one of the most pressing problems in education today. What is UVA EHD doing to help?  
I do believe that the ongoing teacher shortage will be one of our biggest challenges in the next several years. Not only for EHD – this is a complex problem that will take coordinated effort from education schools, school leaders, legislators, and community members to address. I also want to highlight that we're not only experiencing a shortage of teachers, but of school counselors, early childhood educators, and other practitioners and support staff that are critical for the success of our education system. 
With that said, EHD does have a unique role to play. For one thing, researchers from our labs and centers are examining issues like school climate, recruiting teachers of color, financial incentives, and teacher retention -- uncovering new knowledge that pushes conversations forward and helps guide leaders and policymakers. 
We are on the ground, too, developing and growing partnerships with our local schools and educators. The Buford Lab School project is one exciting example of how partnerships can create change, but the day-to-day collaboration from our community members, like those who serve as clinical supervisors and mentor teachers, is the heart of our work.  
Continuing to recruit and graduate excellent teachers and practitioners who are not only prepared, but passionate and excited about their work will always be a core responsibility of ours. Having those robust local partnerships is essential to accomplish that goal. We couldn't do what we do without our partners, and I'm looking forward to finding even more ways we can work together in the future. 
Q: Building partnerships with local educators and school systems is clearly important to you. What about outside of classrooms – what role does EHD play in supporting the broader health and wellness of the community?  
Local schools are among our largest partners, but EHD students, faculty, and alumni are embedded in so many areas throughout our community. I am a huge advocate for the value that folks in allied health professionals provide, such as athletic trainers, speech-language pathologists and physical therapists.  
We are always looking for new ways to support the health and well-being of everyone in the Charlottesville and surrounding communities. For example, this year our athletic training students  created and tested an emergency action plan at a local park, and researchers from the Supporting Transformative Autism Research team offered autism trainings for local emergency responders.  
Q: Where is your favorite place to eat out in Charlottesville? 
My favorite place to eat is The Ridley. The food is always great and I love to see the plaque commemorating the life of Walter N. Ridley, the first African American to receive a doctorate from UVA and one of our most esteemed alum. Warren Thompson, The Ridley's owner, started the restaurant to offer a space for open-minded students to gather and exchange ideas. So my goal is to share great meals and big ideas with others there as often as possible. 
Q: What are you focusing on heading into your second year? 
After a year of learning and countless conversations with students, faculty, staff, alumni, and community members, we are deep into a strategic planning process. I'm looking forward to sharing those school-wide priorities soon. We also have some exciting plans on the horizon related to support for incoming teacher candidates. I can't share more quite yet, but I feel sure it's going to be a fun and fulfilling year. 
No matter what happens, a commitment to diversity and dialogue will remain at the forefront of everything we do. I'm fortunate to have a wonderful leadership team, and we will all continue to focus on making sure that our school is a welcoming place where everyone knows – and feels – that they belong.