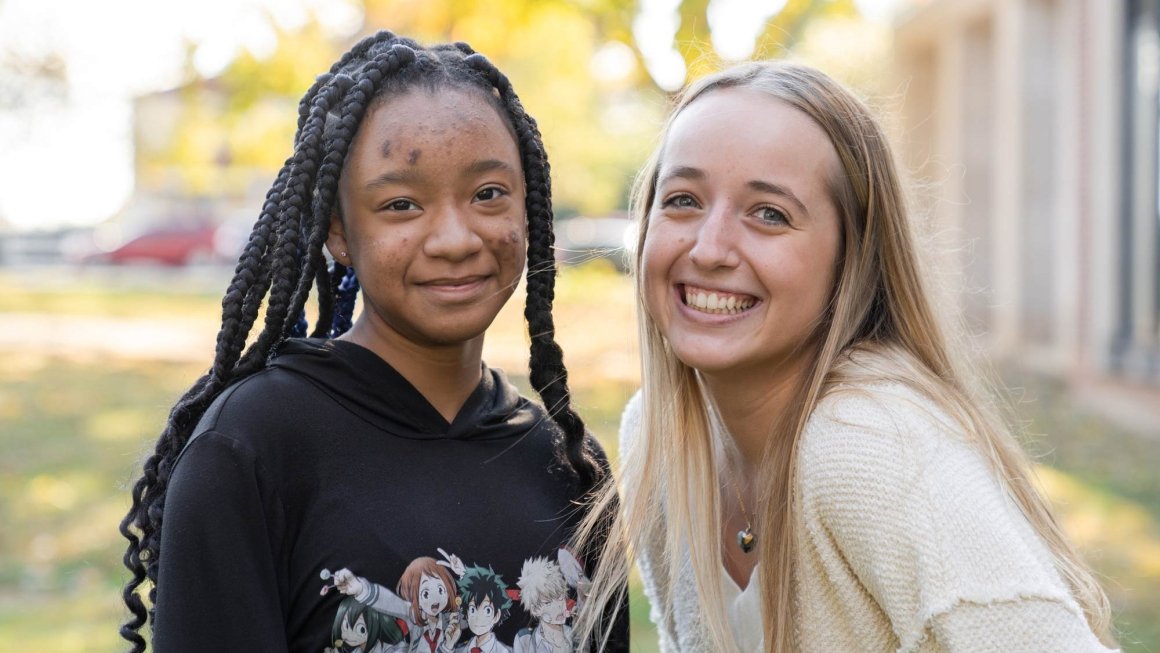 From Mother to Daughter to 'Little Sister,' Mentoring Success in UVA Program
From Mother to Daughter to 'Little Sister,' Mentoring Success in UVA Program
The Young Women Leaders Program pairs UVA students with middle school "little sisters" for mentoring relationships. Leslie Greer Fendley, a Burley Middle School counselor, encouraged her daughter, Ella, a UVA student, to become a mentor.
When Ella Fendley was a seventh grader at Burley Middle School, she saw some of her classmates hanging out with college students, and she thought it was "so cool."
The college women seemed so mature at the time, Fendley remarked recently with a laugh.
Now Fendley is one of those college students, and she's hanging out with a new generation of middle schoolers. The University of Virginia third-year student is a mentor in the Young Women Leaders Program, a longtime service of UVA's Maxine Platzer Lynn Women's Center and School of Education and Human Development.
For Ella Fendley, mentoring at Burley Middle School is a family affair. Her mother, Leslie Greer Fendley, a UVA alumna, has been a liaison to the program since its early years and at Burley Middle for about 15 years. She helps choose the middle school students for the program.
She nominates about a half-dozen girls each year, mostly seventh graders, and they have the option to stay in the program another year. The students who might benefit most are those often struggling to make connections with others or not involved in any extracurricular activities. School counselors also seek to create a good mix of participants.
With years of positive experiences in mind, Leslie Fendley encouraged her undergraduate daughter to join the program as a big sister. Ella remembered that it looked fun when she was a middle school student, and thought it would be rewarding. She applied to the program.
"This is what mentorship is all about," Ella Fendley said. "We learn from each other. It's a reciprocal process. I learn a lot from what we do that I can apply to my own life."
It took time and patience to create the relationship with her "little sister," Khaydence, she said. "At first, all you see is that you're in different phases of life."
Along with a range of group activities, the big and little sisters always spend time one-on-one each week to get to know each other. Last year, one of the top things she and Khaydence liked doing together was coloring, Fendley said. The seventh grader was quiet at first, but they would chat about what was happening in their lives, how school was going or what they did on their birthdays.
This year, they're more comfortable with each other, and with the group, too.
Khaydence said she likes having Ella as a "big sister," saying she's nice, so she came back to the program this year. She likes the program, too. "It's fun," she said. "We do activities and other things to get to know each other. We get to talk about things."
For her big sister, being able to continue this relationship with her little sister has been "really special."
Ella Fendley has noticed Khaydence voluntarily speaks up more often now and shows more confidence. She's also become friendlier with the other girls in the program.
She has enjoyed watching her little sister grow – seeing her more comfortable in her own skin – and growing their relationship together. "We have a caring relationship," said Ella Fendley, who also sometimes drives Khaydence home, along with other girls in the program, and regularly communicates with Khaydence's mother.
When it comes to the group discussions they have each week, Fendley said, "We let questions come up naturally. You want to meet them where they are. You don't push," she said. "It's a talkative group this year. The conversation flows."
Ella Fendley and the other UVA mentors have also gotten closer and created their own social circle, she said, spending time together beyond the weekly schedule.
From the school's perspective, Leslie Fendley said the curriculum and services provided are wonderful.
"I am so thankful for the consistency of the program," she said. "It teaches students how to make connections and forge longer-term bonds. It's good for adolescents because of the group component." For the social skills, it's invaluable, she said.
As a school counselor, she can help with logistics or information about absences.
Leslie Fendley also likes being able to see her daughter weekly, brief though it may be. It has brought them even closer together than they already were, she said.
Ella Fendley said she likes being able to share this experience with her mother.
When the school bell rings at the end of the day and the weekly session begins, however, the school counselors step out of the way, the UVA students and the kids get together, and some serious fun happens.
At the same time, the positive experiences they create and leadership skills they practice may help them for their whole lives.
Young Women Leaders Program
The Young Women Leaders Program pairs UVA students with middle school "little sisters" for mentoring relationships.
News Information
Published
Media Contact
Anne E. Bromley
Author
Anne E. Bromley
Email
Research Center or Department
Phone
News Type
Student Experience
News Topics