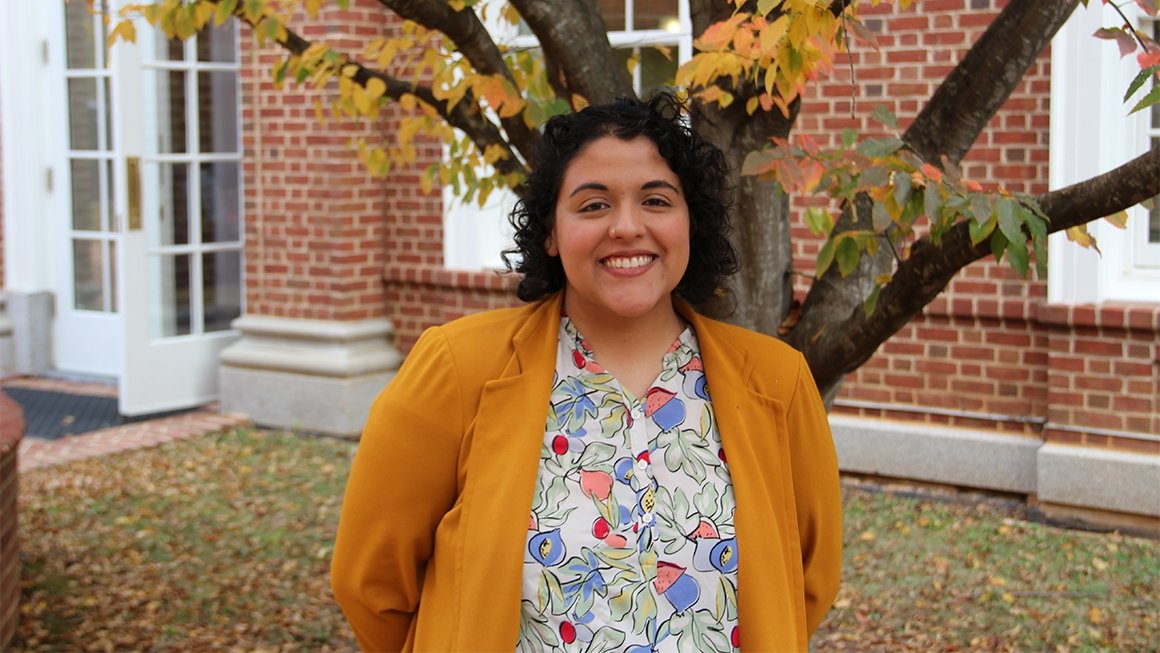 Alumni Spotlight: Emily Uosseph, Science Education M.T.
Alumni Spotlight: Emily Uosseph, Science Education M.T.
As a science teacher, Emily Uosseph loves helping young people understand the natural world and find their full potential through education. She credits the skills she gained at UVA and the ongoing support from program faculty for helping her thrive as a new teacher during the pandemic.
Q: What first made you interested in pursuing a career as a teacher?
While an undergraduate at the University of Virginia, I enjoyed volunteering in the greater Charlottesville community. I knew I loved interacting with the community but wasn't sure what I wanted to do as a career after graduation. In the meantime, I ended up taking a job as a teaching assistant at Monticello High School. I had the privilege of working with students who are identified on the autism spectrum and supporting them with social skills, academics, and their overall success in high school. In that experience, I learned that I could empower young people to overcome the barriers in front of them to find their full potential through education, which set me on the course to becoming a teacher.
Q: Why did you choose to enroll 
at UVA
EHD for your Master of Teaching degree?
In my role as a teaching assistant, I was able to support many different classroom teachers and I immediately knew teaching was no easy job. I told myself if I was going to be a teacher, I would need proper training to do it well. It was easy for me to make the decision to come back to UVA, having experienced the high quality of the faculty there in my undergraduate. Also, being able to complete my master's in a rigorous one-year program meant I'd be able to come back to the classroom quickly.
Q: You were a recipient of the 
Robert Noyce scholarship
, which provides funding to support K-12 teachers with strong STEM content knowledge to teach in high-need school districts. What impact has the scholarship had on your experience?
Even though I had already decided that I wanted to be a teacher, I knew I couldn't do it without financial support. To say the least, I wouldn't be where I am today without the Noyce scholarship. The Noyce scholarship has continued to support me post-graduation through the program coordinator and my professor, Frackson Mumba, who is constantly checking in on me, sending me support, and offering me opportunities to continue my professional growth. I have always felt prepared in my role as a teacher because of the wisdom and support from Dr. Mumba during and after the program.
Q: How did you find your current position, and what is your day-to-day work like?
I completed my student teaching at Albemarle High School and was able to reconnect with my mentor teacher and other staff at the high school to transfer from Journey Middle School, where I taught during the COVID years. Honestly, there are no two days alike as a high school teacher. Each day I facilitate learning with diverse learners on topics in biology and ecology, alongside a student intern from UVA and an English Learner teaching assistant.
Outside of the classroom, I could be collaborating with my colleagues or attending student events. I feel privileged to enjoy a variety of experiences and connections that come with being in a space with young people every day.
Q: How did your experience at UVA help prepare you for your role?
The Science Education Master of Teaching program at UVA is a highly rigorous, instructionally focused curriculum that exposed me to the kind of work it takes to be an effective educator. Your first few years of teaching will be the hardest, and mine happened to coincide with the pandemic! Without the skills I gained at UVA, such as curriculum planning, time management, and a toolbox of instructional strategies, surviving teaching through the pandemic would have felt far more daunting than it already was.
Q: What do you love most about being a science teacher?
Teaching post-COVID is completely different from what many of us remember schooling to be like, and I am honored that I have this opportunity to grow alongside young people in navigating this new experience. Some days when I'm teaching, I think about how lucky I am to witness young people interact with scientific concepts that help them understand the beauty and nuances of our natural world. It gives me so much hope for our future knowing that these young people are going to be the ones to lead us.
Q: What advice would you give to someone considering a career in teaching?
If you are considering a career in teaching, the only advice I have for you is to make sure you're doing it for kids. Be ready to love and support any young person who walks through your door.
Science Education M.T.
Learn more about UVA's master of teaching program in science education.
News Information
Media Contact
Laura Hoxworth
Email
Research Center or Department
Curriculum, Instruction & Special Education
Phone
Featured Faculty
News Type
News Topics