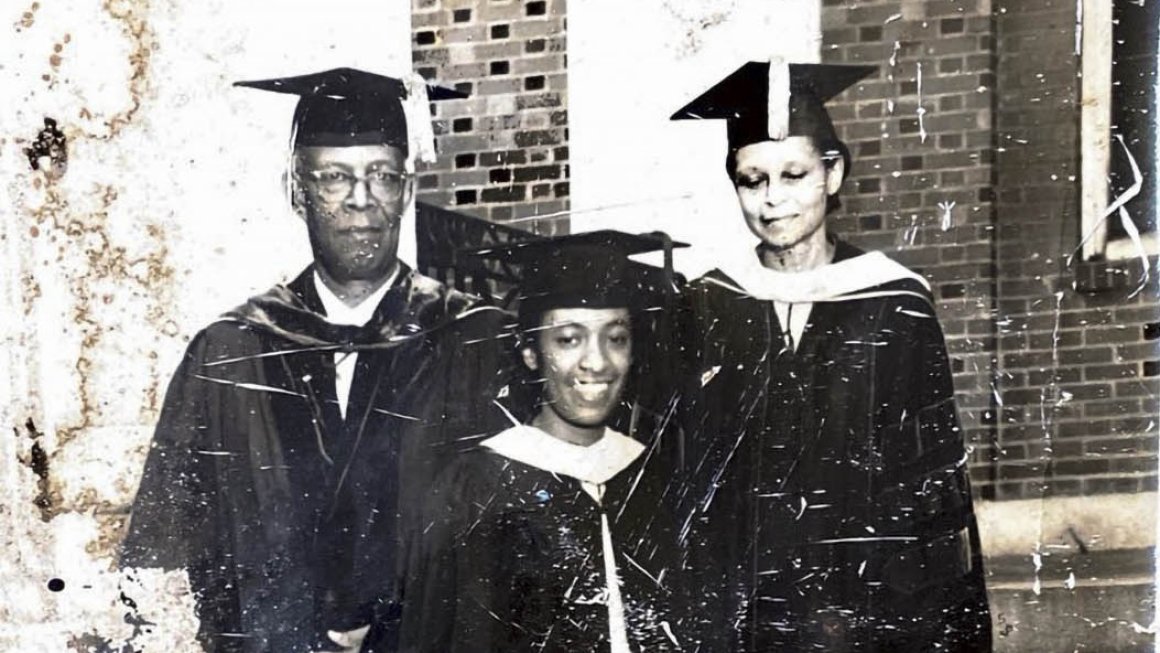 Uncovering the Legacy of UVA's First Black Woman Graduate
Uncovering the Legacy of UVA's First Black Woman Graduate
Margaret Thornton is leading a push to recognize the life and accomplishments of E. Louise Stokes Hunter, who earned her doctorate in education from UVA in 1953.
Soon-to-be triple 'Hoo Margaret Thornton was perusing the latest issue of her University of Virginia alumni magazine last summer – highlighting the "Retold" project, which celebrated the 50th anniversary of women being admitted as undergraduates at UVA – when one sentence caught her attention: "E. Louise Stokes Hunter (Educ '53) becomes the first Black woman to earn a UVA degree."
In her 15 years at UVA, Thornton had never heard of Hunter. So she did what we all do when confronted with curiosity: She started Googling.
Less than a year later, Thornton's search has led to a renamed student research conference, an ongoing funded research project and a campaign to elevate Hunter's legacy at UVA.
Hunter completed her doctorate in education from the School of Education and Human Development in 1953, just a few months after the University's first Black graduate, Walter N. Ridley. She then spent a long career as a professor at Virginia State College (now Virginia State University), where she was known for her mentorship of Black students, particularly Black women studying math.
Until recently, however, not much else was known about her among the UVA community. Hunter died in 1988.
Thornton, who also attended UVA for her bachelor's and master's degrees – plus her principal's certification – is set to earn her Ph.D. from the School of Education and Human Development on May 21 after successfully defending her dissertation, a case study of high school principals who are undertaking de-tracking initiatives, which aim to reverse racial and socio-economic disparities in advanced courses.
Her research focus and her interest in Hunter are connected by a common thread: education equity.
"I just think Dr. Hunter is an incredible role model, not just for Black women, but women in general," Thornton said. "She overcame a lot of oppression not just to get her own education, but to make her life about educating others. At a time when so many doors were closed to women and to people of color, that she persisted and showed others how to persist is really incredible."
RENAMING THE HUNTER STUDENT RESEARCH CONFERENCE
Not long after beginning her research, Thornton found an opportunity to elevate Hunter within the UVA community. After the UVA Board of Visitors voted in 2020 to drop "Curry" from the name of the School of Education and Human Development, organizers knew they would need to reconsider the name of the school's annual student research conference, created in 2010 as the Curry Research Conference.
Thornton, who served on the conference planning committee, brought the idea of renaming it for Hunter to the table.
With help from staff members at Virginia State University, Thornton got in touch with Hunter's family, who supported the name change. A team of students on the conference's planning committee worked closely with faculty advisers through a thorough renaming process, ultimately deciding to name the conference in honor of Hunter.
Alexa Miller Quinn, a fourth-year doctoral student and the head of this year's student planning committee, said the decision was not taken lightly. "The committee was interested in honoring someone from an underrepresented population whom we hadn't honored before," she said. "It's a symbol, but I think it's a powerful one."
The 2021 conference took place online in March, offering virtual paper, poster and works-in-progress sessions on topics including teacher turnover in early childhood education, ACL reconstruction outcomes, equity and social justice competencies among principals, professional development for rural computer science teachers, post-stroke language recovery and more.
The opening session was devoted to honoring Hunter and sharing why the committee chose to name it after her. Several members of Hunter's family attended, and her granddaughter, Yvette White Washington, gave an opening address where she shared memories and thoughts on her grandmother's legacy.
"My grandmother was a trailblazer when it came to being a role model for women … balancing a family and a career while working in a scientific and technical field," she said.
UNCOVERING DETAILS OF HUNTER'S LIFE
Thornton's interest in Hunter, however, grew beyond the conference renaming. With support from the school's Center for Race and Public Education in the South, Thornton also started a larger research project to catalogue as much information as possible about Hunter's life.
E. Louise Stokes Hunter – her first name was Ella, but she always went by Louise – grew up in Petersburg and excelled in school from an early age. "She always said she was teased by her friends and classmates for being so studious and scholarly," Washington said.
She would go on to attend Howard University for her undergraduate degree, Harvard for her Master of Education, and UVA for her doctorate.
Thornton is interviewing everyone she can find who knew Hunter – her family, former students, friends – and also digging into archives, such as Hunter's student records.
The project has already uncovered new information about Hunter's groundbreaking achievements. "We now believe that not only was Dr. Hunter the first Black woman to graduate from UVA, she may have been the first Black woman to graduate from Harvard," Thornton said. "She earned a Master of Education in 1925, and this is the earliest the Harvard archivists have been able to confirm a Black woman graduated from Harvard proper and not the women's institute of Radcliffe."
At UVA, Hunter's doctoral dissertation focused on helping high schoolers transition to collegiate mathematics. She met her husband, John M. Hunter, on the faculty at Virginia State, where they both taught for many years and developed a reputation for their compassion and mentorship.
After being initiated into Alpha Kappa Alpha Sorority, Inc. at Howard University, she and three other Alpha chapter initiates chartered Delta Omega chapter, the first graduate chapter on the East Coast and the fourth chapter of the sorority. She continued to be an active member of the sorority throughout her lifetime. This was a source of great pride and service to her community until her death in 1988.
Thornton hasn't set an end date for the project yet, but she is working with the Center for Race and Public Education in the South to publish a website that will catalogue details on Hunter's life and accomplishments.
"I'm trying to write a biography of her life," Thornton said. "The dream would be to have enough information to write a book – but at least to have this website, so that folks can learn more about her and continue the research. She was a big name in academia at the time, so I'm sure there's a lot more that will come to light."
HONORING HUNTER'S LEGACY
Even more than her impressive academic accomplishments, Hunter is remembered for her strong belief in education and her careful and compassionate mentoring of students throughout her career.
Hunter and her husband took pride in preparing their students, both academically and otherwise, for the obstacles they would face during segregation, Washington said. The professors were known for offering guidance and support of all kinds, even opening their home to students in need of a place to stay.
Only later in life, Washington said, did she and her brother, D. Hunter White, come to understand the significance of her grandparents' influence. "Growing up in a household with two great scholars such as my grandparents … I never really recognized them for being the trailblazers and history-makers that they were," Washington said. "They were just our grandparents."
She said her family is gratified that the Hunter Student Research Conference will now honor Hunter for years to come.
Thornton hopes it is just the beginning.
"I really think we should be shouting Dr. Hunter's story from the rooftops, both at the School of Education and Human Development and the larger University," she said. "We know that UVA was founded specifically to educate the 'sons of the South,' as Jefferson said, and the University recently recognized that slavery was at the core of our founding as an institution. I think Dr. Hunter's story in the face of this prejudice and systemic racism shows incredible courage and also intellectual curiosity. She was dedicated to her students and mentoring them to go as far as they could in life. She really embodied the best ideals of the School of Education and Human Development, even in the face of so much racism and sexism."
News Information
Research Center or Department
Center for Race and Public Education in the South
News Type
News Topics