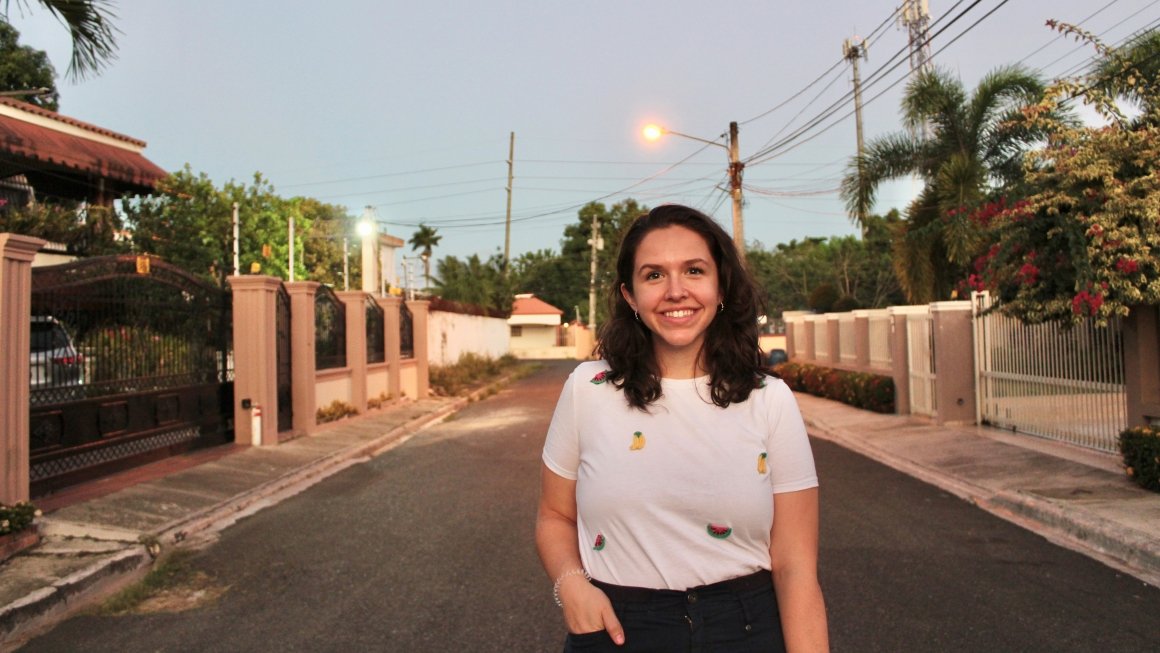 Student Profile: Katie MacDonald
Student Profile: Katie MacDonald
For Katie MacDonald, an elementary school teacher in the Dominican Republic, earning her Master of Teaching from UVA has created new opportunities to impact the educational system in her community.
Teaching has always been more than a job for Katie Macdonald. By following a passion for helping others, she has built a career around making an impact – not only for individual students, but for her entire community.
MacDonald, a student in the online Master of Teaching program at the UVA School of Education and Human Development, is an elementary school teacher in San Francisco de Macoris, the third-largest city in the Dominican Republic.
Born and raised in Chesapeake, Virginia, by two teachers, MacDonald was initially hesitant to follow her parents' footsteps into education. But through volunteer work with English learners in high school and college, she couldn't deny her own call to teaching. "Once I saw the need, as well as its alignment with my interests in culture and supporting those who have been missed or unseen, that's where things really shifted," she said.
In 2017, MacDonald graduated from Virginia Tech with an undergraduate degree in human development with a focus in education. She felt that she needed time in the classroom before pursuing master's work, so she took an internship with TeachBeyond, a faith-based nonprofit that supports education around the world. For five months, she taught English to adults and worked in the after-school program with preschool-age children in San Francisco de Macoris.
While she only intended to stay for the internship, after returning to the states, MacDonald felt drawn back to the Dominican Republic. On a visit to her old school, she remembers walking into a classroom where elementary school students were brainstorming creative ideas of what to do with a cardboard box.
"They're making these rocket ships and towers, creating their own stories to explore and engage with the content," she said. "And when I saw these kids, and watched the faculty who had this unified vision that created an atmosphere of acceptance and exploration... sometimes you just have this intuition. That was the moment for me where I said, 'Yeah, I'm going to go back as a full-time teacher.'"
In 2020, MacDonald moved back to the Dominican to serve as a lead second grade teacher. Through a pandemic, virtual classes, power outages and language barriers, she has taught the same group of students from second through fourth grade. Despite the challenges, MacDonald knew she had found her calling working with elementary students.
She decided it was time to pursue a master's degree to deepen her knowledge of education. Several friends recommended that she look at UVA for high-quality programs, but MacDonald was also looking for something purposeful, a program that she felt shared her teaching philosophy.
While exploring programs, MacDonald came across a research paper featuring work from UVA faculty about improving educational systems in Latin America. Right away, she knew UVA was the right place for her. "It drew me in to see a team from UVA make the investment to learn first-hand how educators from these countries experienced their educational systems," she said. "I was like, that's exactly the type of conversation that I want to be having. It just seemed like a really beautiful fit."
MacDonald describes her coursework as "incredibly applicable."
"I will do reading and the very next week, we'll see that apply into the classroom, or I will see it transfer into a conversation I have with a student," she said. "There is not a day that passes where I'm not able to use something that I have learned from class."
But the most impactful part of the experience, she said, has been the support and encouragement from faculty and staff. "Being welcomed in with such a learning attitude, and just the type of availability that these professors have, completely advocating for me every step of the way, has blown me away," she said.
Whether it was a professor downloading Whatsapp to help her navigate pandemic-related internet outages, or meaningful feedback on assignments, MacDonald said the program has been more than a transfer of knowledge – it's a team effort; a community supporting and learning from one another and working with a shared purpose.
Recently, MacDonald's school hosted a conference for local teachers. Thirty-seven teachers – from public schools, private schools, homeschool and tutoring programs in different cities across the island – showed up to attend seminars on classroom management, student participation, and more. With the knowledge gained from her coursework at UVA, Macdonald led the seminar on assessment.
The experience opened up a new avenue for creating impact in her community. "The teachers here want to know how to do their jobs well, but they just don't have access to the training," she said. "Being able to share these resources with other teachers, who will share them with other teachers – suddenly it doesn't just impact this school, it impacts all the schools around us."
MacDonald plans to stay in her current role for at least one more year. After that, she's not sure where her career will take her. But wherever she lands, it will be somewhere she can continue her calling to improve lives through education.  "Whether it's here, or back in the states, or somewhere else, to be in a community where there's a need, and I can be a hand that reaches out – that's where I want to go," she said.