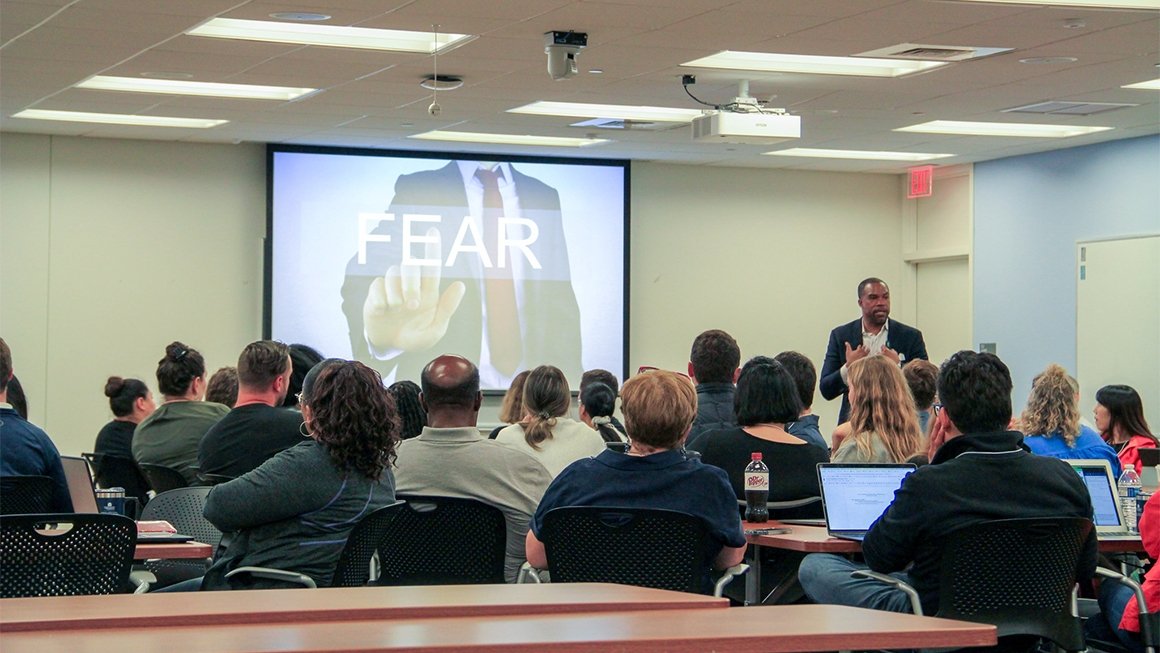 Rising Education Leaders Gather on Grounds for Learning, Community
Rising Education Leaders Gather on Grounds for Learning, Community
For the first time post-pandemic, a core part of UVA's Administration and Supervision program – the annual in-person summer residency – was back in full swing in June.
Photo: Superintendent of Suffolk Public Schools John B. Gordon III leads a professional development workshop for residency attendees.
Dozens of students from the UVA School of Education and Human Development's Administration and Supervision programs gathered on Grounds last month for the return of a beloved annual tradition: the summer residency. 
After several years of online programming due to the pandemic, followed by a shorter in-person schedule last year, this year's residencies offered a three-day itinerary packed full of classes, professional development sessions, a tour of the university's Memorial to Enslaved Laborers, and countless opportunities to network and bond with classmates and faculty. 
Both the master's and doctoral programs, which enroll working professionals who live all around the country, are largely delivered online for greater flexibility and accessibility. But program leaders say the in-person component that the residencies provide is invaluable. 
"The in-person residencies are an important and intentional part of the program experience for both our master's and doctoral students," said associate professor Michelle Beavers. "They bring an element of connection that deepens the academic experience." 
Each student attends several classes, which are often built around discussions and activities that are better suited to an in-person setting. 
Master's student Leslie Jones recalled one exercise where she and her classmates each reflected on their personal reasons for pursuing educational leadership, then wrote their visions on poster paper and displayed them on the walls of the classroom. "For me, it was an important moment to walk around the room, to read my colleagues' visions and to see collectively what we value," she said. "Just little moments like that – it may not sound like a big deal, but they do have an impact."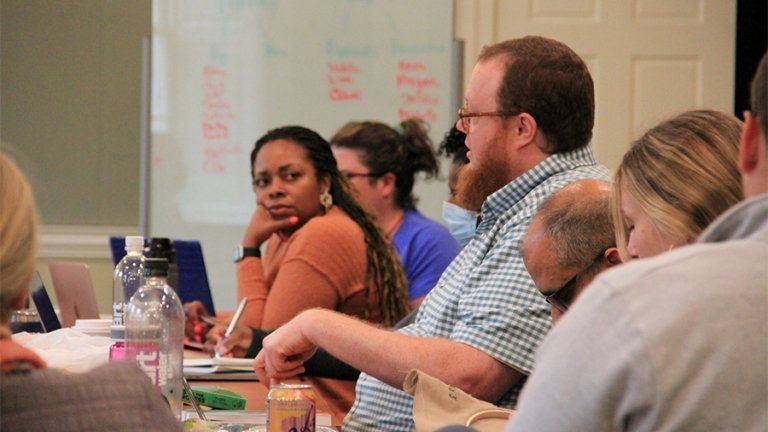 Students and faculty alike also mentioned the unique benefits that come from the unstructured down times – the moments to chat with a professor over coffee and breakfast or connect with classmates at a casual happy hour event. 
"There is an incredible energy when we bring all of these emerging leaders together in the same room," said professor David Eddy-Spicer. "I relish that opportunity to get to know them better and to learn more about their personal passions and goals." 
Many students noted the opportunities the residencies provide to connect with – and learn from – those in other cohorts, as well. Claire Silva, who earned her master's in Administration and Supervision from UVA and is now working on her doctorate, said she enjoyed meeting with the master's students her cohort is mentoring – and also learning from the cohort ahead of hers about how they navigated challenges and structured their work.  
"We were able to get to know everyone on a more personal level," she said.  
Montell Brown, a dual-degree student working toward both his law degree and his master's in Administration and Supervision at UVA, described it as "climbing up the ladder, and then reaching back down and pulling others up with you." 
"The residency is structured in a way that allows that to take place, and it builds community within and among cohorts," he said. 
In addition to enhancing the academic experience, students said the community within the Administration and Supervision program is helpful for their current and future careers. Brown recalled attending a recent equity symposium in his school division where he knew both classmates and professors from UVA. Whatever challenges he encounters in the future, he said, he probably knows a classmate or professor from UVA with relevant experience who he can lean on for advice or support. 
"The network is truly helpful in my current position, and I can see it being helpful in the future too," he said. "I'm able to leverage that network when I have a question, or an issue that I don't know how to approach, or when I'm trying to consider other perspectives."  
The central goal is to build better leaders who can use their skills to support student and teacher success. Master's student Alesandra Bakaj said her experience in the program has already given her both the knowledge and confidence she needed to build relationships and successfully advocate for change within her school system.  
"I've formed relationships with board members and people that I don't think would have happened without this program," she said. "I think my colleagues appreciate me saying, not only here's why I have these ideas – but here's where I can back it up with research and data." 
Ultimately, she said, "The work that I've been able to do in this program has meant that students and teachers are doing better." 
M.Ed. in Administration & Supervision
Learn more about the part-time Administration & Supervision master's program at UVA.
News Information
Media Contact
Laura Hoxworth
Email
Research Center or Department
Education Leadership, Foundations & Public Policy
Phone
News Type
News Topics