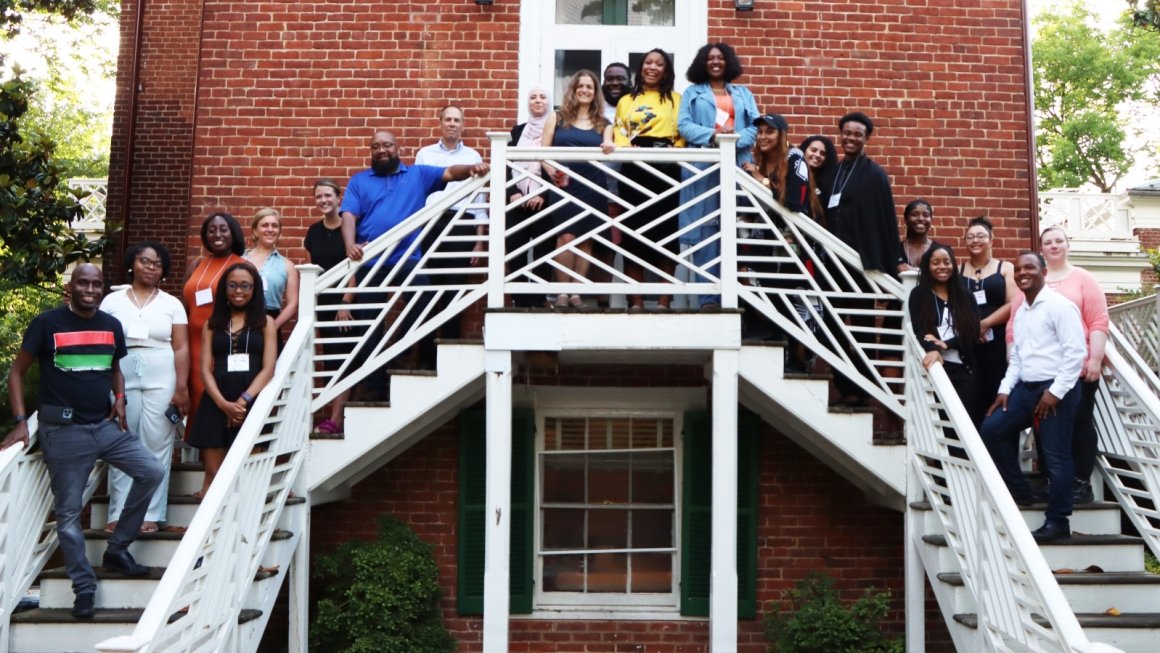 Reimagining the Undergraduate Summer Research Program
Reimagining the Undergraduate Summer Research Program
Summer research programs are a longstanding tradition in higher education. Each summer, universities across the country invite undergraduate students into a host of internships, fellowships, and training programs designed to introduce them to academic research and encourage graduate school enrollment. Many aim to recruit students who tend to be under-represented in their fields of study such as students of color, students from families with low-income or first-generation students.  
For nearly 20 years, the Institute of Education Sciences has funded these programs in the education field, and UVA has offered one since 2008.  
Then COVID happened.  
With in-person programs shut down, faculty took the opportunity to reimagine what the summer research program could be – and the Open Doors Summer Research Program was born. After a virtual launch in 2021, this summer introduced a hybrid model: two weeks on-Grounds at UVA followed by two weeks of virtual programming. 
But it's not just the hybrid model that sets this program apart. Through a different approach to institutional collaboration and a holistic perspective of student development, Open Doors sets out to break down barriers and introduce a new kind of summer research experience. 
TRUE INSTITUTIONAL COLLABORATION 
Sara Rimm-Kaufman, a UVA professor and leader of the School of Education and Human Development's undergraduate summer research initiatives, had found success in recent years collaborating with North Carolina Central University on a smaller scale. When COVID caused the team to reflect on the program, "we realized we could improve the quality of student experiences if we also worked closely with faculty at other universities," she said. 
That became the foundational concept behind Open Doors – a true partnership between UVA and local Historically Black Colleges and Universities, or HBCUs. UVA professor Jim Wyckoff and Rimm-Kaufman reached out to faculty at Norfolk State University and Virginia State University and asked if they wanted to build something together.  
Derrick Lanois, a professor at NSU and a faculty mentor for Open Doors, said he wanted to participate in the program because of how UVA faculty approached their potential partners. "They came as collaborators and partners and allowed NSU and VSU to really shape the program," he said. "We were all equal partners in the conversation."  
Eight faculty and administrators from NSU and VSU met with the UVA team, which was led by Wyckoff and included faculty, postdoctoral researchers, and a Ph.D. student. In its inaugural year, the program was coordinated by Brian and Abigail Kayser from UVA EHD. Several other areas across UVA got involved and provided funding as well, including the UVA Office of Diversity, Equity, and Inclusion; the Carter G. Woodson Institute; and the Frank Batten School of Leadership and Public Policy.  
"We made a point to include as many different actors as possible from different schools," said Naseemah Mohamed, a postdoctoral researcher at UVA and the coordinator for the Open Doors. She credits the purposeful collaboration as a critical piece of the program's success.  
Working together, the cross-institutional team began by envisioning what they wanted students – or emerging scholars, as they are called throughout the program – to gain. Hashed out through many discussions, they arrived at a program built around four student-focused goals: research experience, a deeper understanding of graduate school, personal growth, and mentorship. 
HOLISTIC STUDENT DEVELOPMENT 
One critical element of the program is helping scholars develop the skills they need for success in graduate school – such as choosing research topics, crafting research questions, and effective academic writing. "This is an opportunity for students to get writing and research experience before they go off to grad school and are thrown in the deep end," Lanois said.  
Amaya Woods, a psychology major at VSU who plans to pursue a Ph.D., was interested in attending Open Doors for the practical skills and hands-on experience. The experience was helpful, she said, to "learn what research actually entails."  
Throughout the program, students develop these skills by doing. Brief lectures and presentations are interspersed with workshops and collaborative work sessions. By the end of the program, each scholar completes a literature review, a personal statement, and a final presentation of their work.  
Ayana Conway, a faculty mentor from VSU, said witnessing students' rapid skill development is invigorating. "Being able to literally come back the next day and see the growth – that's exciting," she said.  
But it's also about personal growth, explained Meya Mongkuo, a Ph.D. student at VSU and a graduate coordinator for Open Doors. "This is a very immersive, intense experience," she said. "It's not just about writing and research, it's also about your social-emotional health, too."  
In addition to the intensive work on writing and research skills, several sessions are specifically designed to help students explore their own identities, cultural capital, personal strengths and areas of growth. The intent of the program is not to help students build a resume, leadership explained, but to help them find clarity and confidence in who they are.  
Mongkuo, whose participation in the first year of Open Doors led to her landing a faculty adjunct position, was thrilled to be able to facilitate the experience for undergraduate students. "[The program] really has opened a door for me, and I'm excited to see how it opens the door for everyone else," she said. 
AUTHENTIC NETWORKING 
Mentorship is another core part of the program, deliberately facilitated through weekly one-on-one meetings with faculty and graduate mentors. UVA doctoral students with the Virginia Education Science Training (VEST) fellowship program serve as mentors, leading workshops and sharing their personal experiences. 
But faculty, mentors, and students alike said that the relationships truly grow in the informal moments: like sharing meals and dorm rooms or chatting between classes. Sitting in a room with them together, the mutual respect and care was palpable.  
When the topic of mentorship came up, Woods lit up. "Yeah, that's one of my favorite things about the program. I wasn't expecting to be so close with all of the other interns," she said. "Or with you," she added, glancing to her left at Mongkuo. 
Mongkuo smiled. "I'm really glad to be close with y'all too." 
Building professional networks is valuable for career growth, of course. But true mentorship, Lanois said – particularly for students of color and those who are first-generation or low-income – instills a sense of confidence. "As they go into this process … there's no place for doubt," he said. "I don't have to question why I'm here, if I'm capable of being here." 
Mohamed recalled one particular conversation with a student who was surprised to learn that she could become a professor even with a diagnosis of attention deficit disorder. "That was shocking for her," Mohamed said. "What has been wonderful is to disrupt some of the erroneous assumptions that students have about what it means to be a researcher, what it means to be in graduate school. 
"To see students, with their eyes wide - that's the most exciting part for me." 
News Information
Research Center or Department
Virginia Education Science Training (VEST) Fellowship Program
Featured Faculty
News Type