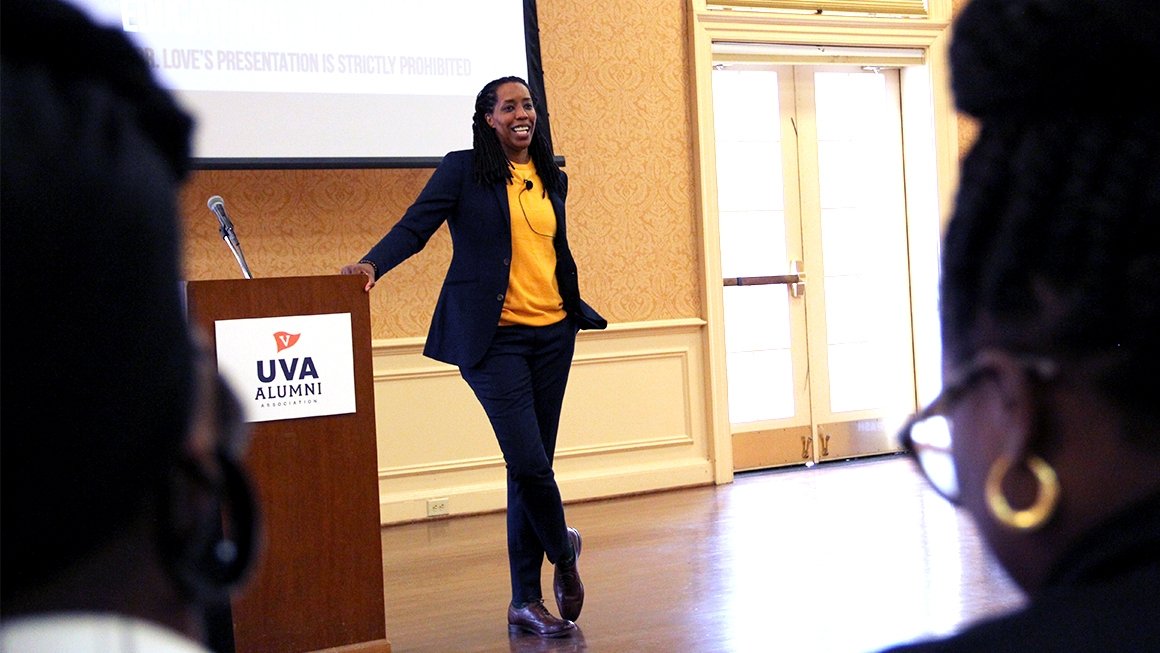 The Pursuit of Educational Freedom: Bettina L. Love Delivers 2023 Ridley Lecture
The Pursuit of Educational Freedom: Bettina L. Love Delivers 2023 Ridley Lecture
The award-winning author and professor spoke to the UVA EHD community about Black joy, what it means to be an abolitionist teacher, and how to fight injustice within schools and communities.
On Thursday, March 2, author, professor, and activist Bettina L. Love delivered the 2023 Walter N. Ridley Distinguished Lecture at the UVA School of Education and Human Development.  
Love is an award-winning author and the William F. Russell Professor at Columbia University Teachers College. Her writing, research, teaching, and educational advocacy work meet at the intersection of disrupting education reform and strengthening public education through abolitionist teaching, Black joy, and anti-racism. 
The annual lecture was created to honor the legacy of Walter N. Ridley, the first African American to graduate from the University of Virginia. When he graduated in June 1953 with a doctorate in education from the School of Education and Human Development, Ridley became the University's first Black graduate and the nation's first African-American to receive a doctorate degree from a white southern university. Throughout his life, he was committed to the education of Black college students and making a positive impact on society. 
"It was an incredible honor to host Dr. Love and to hear her inspiring words to our community," said LaRon A. Scott, associate dean for diversity, equity and inclusion at UVA EHD. "Her work both as a scholar and an activist honors Dr. Ridley's legacy and we were thrilled to welcome her to UVA EHD." 
Love's talk, titled "We Gon' Be Alright, But That Ain't Alright: Abolitionist Teaching and the Pursuit of Educational Freedom," began with broad reflections on the past 70 years of education in America, which Love said has consistently and systemically failed Black children to the detriment of us all. 
"When you don't educate Black and brown children to their highest potential, this country loses," Love said. "This history – that is a living history – is all of our histories." 
Mostly, though, Love's passionate and engaging lecture was a call to action to her fellow educators. 
"We are in a revolutionary situation right now in the field of education," she said. "We are actually on the foreground of trying to save democracy as educators. So what are we going to do? Because the fight is right here." 
Love urged those in the audience who are concerned about equity to be co-conspirators in the pursuit of educational freedom. She encouraged everyone in attendance to adopt abolition as a value – defining abolitionist teaching as the quest to not merely reduce harm in schools, but to eliminate it entirely. 
"Abolitionists want to eliminate what is oppressive – not reform it, but remove oppression by its roots," she explained. "Abolitionists seek to understand the conditions that normalize oppression and punishment to uproot those conditions. Abolitionists seek to build conditions that create institutions that are safe, loving, address inequality and harm, and center humanity." 
Finally, Love's lecture was a celebration of Black joy and resilience. 
"The good news is that Black folks are amazing," she said. "We organize, we strategize, we march, we protest, we keep going. What's radical about us is that we keep loving. We keep fighting. What's radical is that we keep dreaming." 
After the lecture, Love answered questions from the audience and hosted a book signing. 
Emma Montgomery, a second-year Master of Teaching student, attended the lecture with her Social Studies in Elementary Education class. During the Q&A portion of the event, Montgomery asked Love what advice she would give to new teachers. 
Love advised Montgomery and her peers to slow down – to focus first on learning from mentors and getting a lay of the land. 
"There were so many amazing parts of Dr. Love's lecture," Montgomery said. "I think her advice to slow down was extremely valuable and particularly relevant as we often study and talk about all the things we, as teachers, want to do when we have our own classroom. I am already using this advice in my internship. I can do much more practical equity work when I live today with a vision for the future." 
To close out the lecture, Love offered a final invitation to the audience. "Won't you celebrate with us," she said, "because every day something has tried to kill Black people – and oh baby, it has failed."
News Information
Media Contact
Laura Hoxworth
Email
Research Center or Department
Office of Diversity, Equity and Inclusion
Phone
Featured Faculty
News Type
News Topics