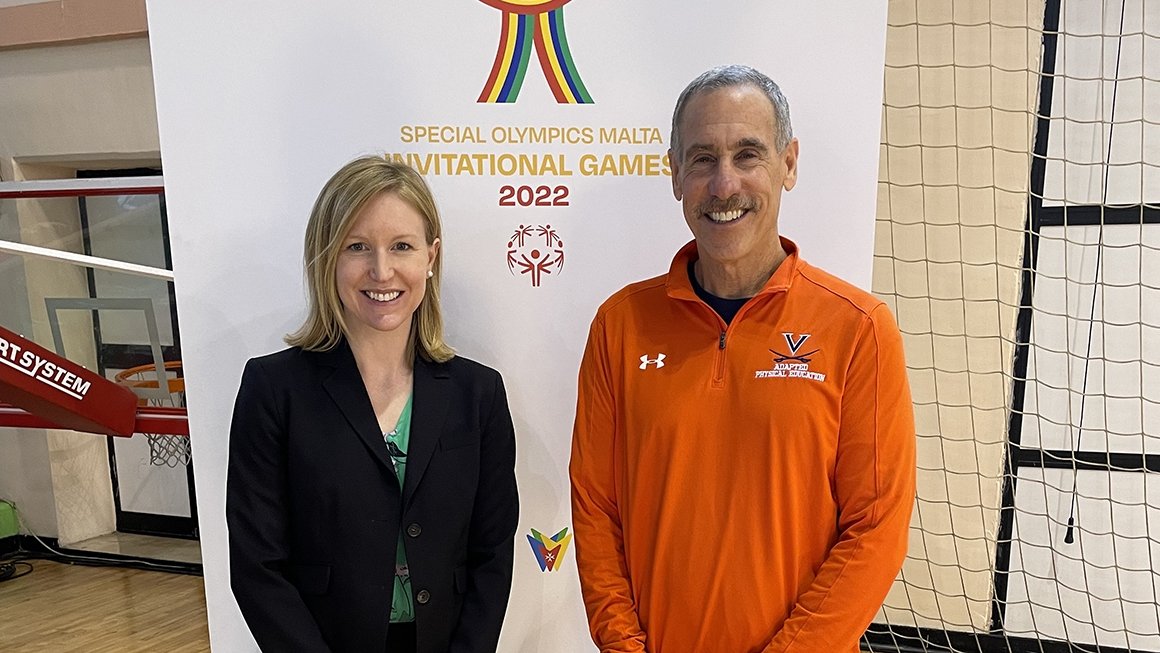 Professor's Life, Career Shaped by Four Decades With Special Olympics
Professor's Life, Career Shaped by Four Decades With Special Olympics
UVA professor Martin Block's connection with Special Olympics International has touched nearly every area of his life, including family, students and his research.
Contributed photo: Professor Martin Block's efforts on behalf of the Special Olympics in Virginia has allowed him to participate in scholarship and research around the world. Here he stands beside a U.S. Department of State representative at the U.S. Embassy in Malta during the 2022 Europe-Eurasia Special Olympics Games.
Martin Block attended college in North Carolina in the 1970s, with a deep love of athletics and a longtime desire to become a physical education teacher.
That love and desire led him into a four-decade relationship with the Special Olympics.
"My mom and dad suggested I be a doctor, but I always wanted to be a P.E. teacher," said Block, who is now a professor and director of the kinesiology for individuals with disabilities program at the University of Virginia's School of Education and Human Development. "Their suggestion, though, planted something in my head that maybe I should think about doing something just a little different."
The youngest of three, Block spent much of his youth playing sports. When he went off to college, he began volunteering with a nearby school for the deaf, his first time working with individuals with disabilities.
"I had a blast," Block said. "Then I wanted to try working with more children with disabilities. I worked with kids with intellectual disabilities and with kids with physical disabilities. And each time the experience was just a blast. I really, really loved it."
In 1979, Block was a senior in college. His next volunteer gig, working with the local chapter of the Special Olympics, affected his life in ways he never imagined at the time.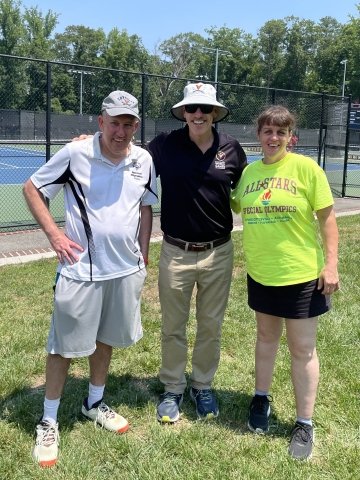 "So much of what I've been able to do and the opportunities I've had have come from Special Olympics," Block said. "I feel like Lou Gehrig: I'm the luckiest man on the face of the Earth."
Special Olympics Around the World
The joy Block found in working with children with disabilities led him to Ohio State University to study adapted physical education. With his master's degree in hand, he moved to Northern Virginia to teach at a school for individuals with disabilities and run its Special Olympics program.
"Just randomly, someone from Special Olympics International in Washington happened to come to one of our events in Prince William County, where I was working with kids with severe disabilities," Block said. "He invited me to meet with other people around the country doing the same type of work."
That connection led to Block writing a new Special Olympics curriculum for children with severe disabilities and being encouraged to pursue his doctorate at the University of Maryland. Eventually, Block joined the faculty at UVA and continued his career looking to improve ways children with disabilities could engage in sport through adapted physical education.
As the faculty coordinator of the disabilities graduate program in the Kinesiology Department, Block also helped prepare future adapted P.E. teachers. His involvement with Special Olympics International allowed him to connect his scholarship around the globe.
"Through Special Olympics, I met a guy from Poland, who would invite me to come lead a workshop on adapted P.E. or disability sports every three or four years in places like Poland and most recently in Malta," Block said.
The connections and invitations kept coming. His work expanded across Europe to include Greece, Portugal and the Czech Republic, where he collaborated with like-minded professors. At a national physical education conference, a friend from Special Olympics introduced Block to Aija Klavina from Latvia, who eventually came to UVA to earn her doctorate with Block in 2007 and went on to serve as the president of the European Federation of Adapted Physical Activity.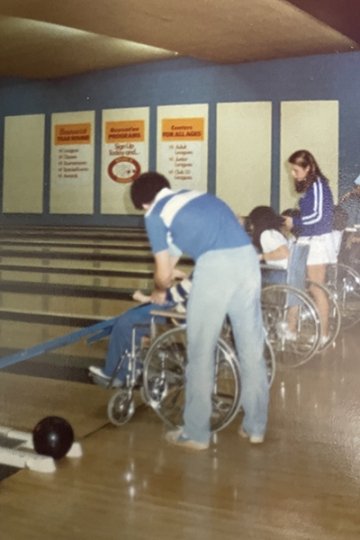 "Aija told me about the master's program in adapted P.E. she attended in Belgium, and she suggested I reach out to them to join the program," Block said.
He did, becoming a visiting faculty member of the European Master's Program in Adapted Physical Activity from 2000 to 2015, traveling to Belgium each spring to teach a course.
In 2019, Block hosted many of his international colleagues at UVA when the International Symposium on Adapted Physical Activity was held on Grounds. The symposium is a bi-annual conference that brings researchers together to work on equity and access to physical activity for individuals with disabilities.
Most recently, his connections with Special Olympics International have taken him as far as China, where he was invited to the Beijing Sport University to serve as a member of the international advisory committee to the China Research Center on Sports for People with Disabilities.
"All of this was because of my connections with Special Olympics," he said.
Including Individuals With Disabilities
Block has spent more than 40 years coaching a variety of Special Olympics teams. In 1979, his first volunteer assignment was as a bowling coach. His early volunteering work was mostly done in an era where individuals with disabilities were separated from mainstream education through special schools and organizations.
In the early 1990s, Block became involved in what was called the inclusion movement, an effort to successfully and safely include children with disabilities in general education.
Special Olympics, which for many years only offered separate sports programs, has embraced the inclusion movement with its unified sports and unified school model; half of a team comprises athletes who have disabilities and half of them do not, and they play together.
"With the unified model, the hope is for the whole school to better understand and be more accepting of disability," Block said. "We wanted children to have access to general education classes, more opportunities to interact with peers without disabilities, more true social inclusion. And Special Olympics was one of the ones who called for the inclusion movement."
In 2007, Block started a volleyball Special Olympics program to provide a community service opportunity for his daughters, both of whom were volleyball players. Block also saw this as a great opportunity to provide experiences for UVA students.
What started with a handful of Special Olympic athletes and UVA students has grown to 15 to 20 athletes and a similar number of UVA volunteers each fall. In 2010 he took over the local Special Olympics tennis program, providing even more opportunities to volunteer every spring. 
"I would say that we have easily had over 200 UVA students volunteer with Special Olympics, either as coaches or players, with their unified sports program," he said.
Even after all those hours of volunteering with all those partners, Block has no plans of slowing down.
"I still get a kick out of interacting with the Special Olympic athletes, some who are now adults who I knew back in elementary school. And I still really enjoy introducing UVA students to Special Olympics," he said.
Block hopes to see the local Special Olympics continue to expand unified opportunities. They now offer unified volleyball and boccie, but he thinks more are just around the corner.
"I can see adding unified pickle ball and bowling in the coming years," he said.
News Information
Media Contact
Audrey Breen
Email
Research Center or Department
Featured Faculty
News Type
News Topics