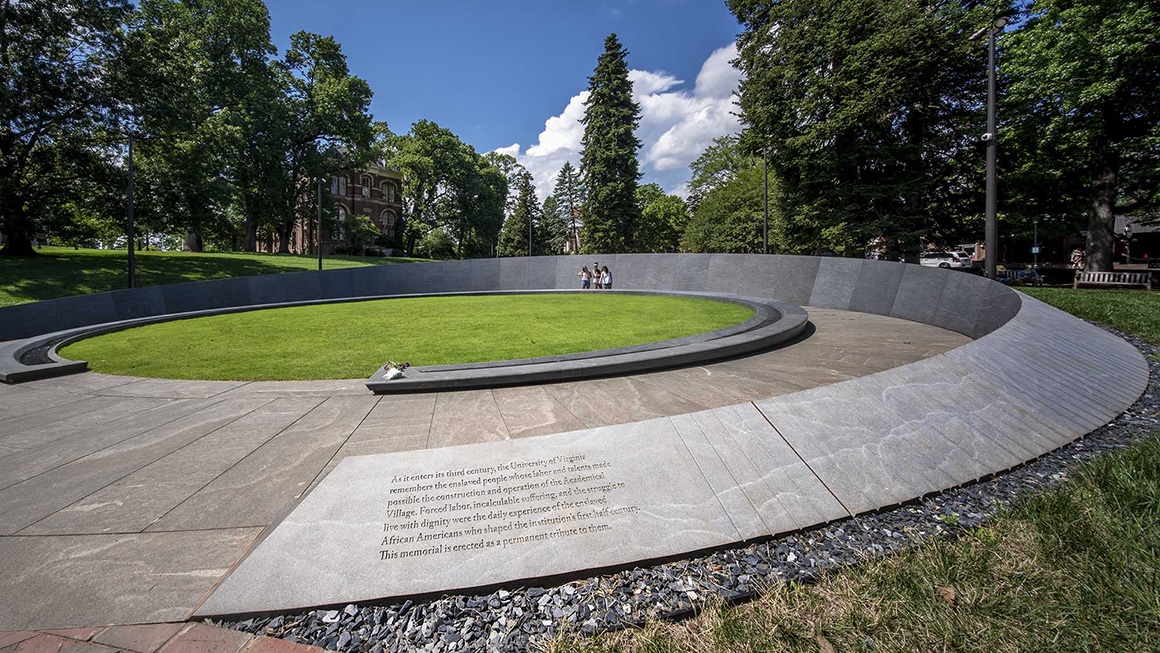 "The Past Is Very Much Alive": How Historical Ties to Slavery Impact Higher Education Today
"The Past Is Very Much Alive": How Historical Ties to Slavery Impact Higher Education Today
New funding supports ongoing research on how universities are reckoning with their histories of slavery – and how those histories affect students today.
Photo: The Memorial to Enslaved Laborers at the University of Virginia. Photo by Sanjay Suchak, University Communications
To understand the present-day racial climate in higher education, we must first look to the past. 
Juan Carlos Garibay, an associate professor at the UVA School of Education and Human Development, is passionate about issues of diversity, equity, and social justice in higher education. His latest endeavor, Project SHARPE – The Slavery Histories and Reparations in Postsecondary Education Project – explores how universities' legacies contribute to the experiences of students of African descent and documents how institutions are engaging with those histories. 
The project began with an exploratory study published in 2020 that surveyed Black students at one university about how they were affected by their school's history of slavery. 
The study, though small, found a range of effects. "We found that many students were impacted emotionally and psychologically, as well as behaviorally," Garibay said. Students reported sometimes having trouble focusing in class because they were thinking about this history of their university, choosing not to attend certain events, and even avoiding areas on campus with ties to slavery.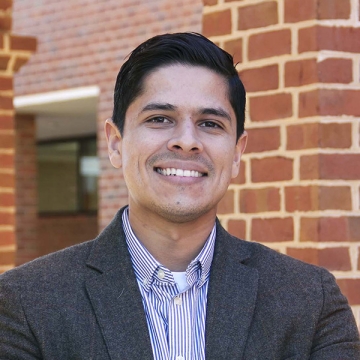 "The work that we're doing is showing how the past is very much alive in student experiences today," Garibay said. "The historical context of the university continues to shape how many students experience the campus, including their relationships with other students and faculty. These early findings are showing the power campus histories can have on people." 
The project also explores the other side of the equation: the institutions themselves. Specifically, what are they doing, if anything, to acknowledge and address their past involvement with slavery? 
Focusing on institutions founded before the Civil War, the research team, which includes Ph.D. students Danielle Lewis and Aaliyah Churchill, has tracked and categorized the many ways universities have confronted their histories with slavery from 2000-2020. To do so, researchers defined reparative actions broadly, identifying eight types – including research and truth-telling, memorialization, and payments to harmed communities. Out of 191 institutions, they found that 44 engaged in some type of reparative action. A sharp uptick in activity is visible around 2015, following the shooting of Michael Brown in Ferguson, MO, as well as the creation of the Universities Studying Slavery consortium, a group of institutions sharing best practices around reconciliation for past ties to slavery. 
Altogether, the data present an emerging picture of how institutions are grappling with past ties to slavery. "What we've noticed is there's a lot of really important work being done to address these histories on different campuses," Garibay said. "But there is still a lot of work to do as many campuses have yet to address their history, and for those that have, most have focused on just a few particular forms of reparative actions."  
The largest number of institutions, 43, engaged with their histories through research and truth-telling. Thirty-nine engaged in commemorative actions such as changing building names or installing statues or plaques. By contrast, only three institutions demonstrated efforts to prevent their involvement in current forms of slavery – such as human trafficking – by working with anti-slavery organizations or revising investment strategies, for example. 
The next question, Garibay said, is "Do those actions bring about lasting change?" 
That question remains unanswered. But with two new grants from the Spencer Foundation and the Russell Sage Foundation, the team intends to build on their initial findings. With the new funds, they are expanding the project in multiple ways – including bringing their student survey to 12 institutions and exploring the role of student activism.  
They also recently launched a website, including photos and data visualizations, to share their findings with the general public. "The idea is to share these tools and information to help those who are interested in these movements, as well as institutions who are engaged in this work," Garibay said.  
Ultimately, their hope is that higher education leaders will use this data to think beyond "checking a box" when it comes to addressing their histories of slavery, and to instead think more comprehensively about the issue and begin an ongoing conversation with their students and communities. 
And, critically, to understand that history never remains fully in the past. 
"Institutions can, when trying to address these particular histories, not only think about what happened in the past, but also the ways these historical contexts continue to impact their students, staff, and faculty today, particularly those of African descent- as well as the communities around them," Garibay said. "Our data are showing that some institutions are doing this much better than others."