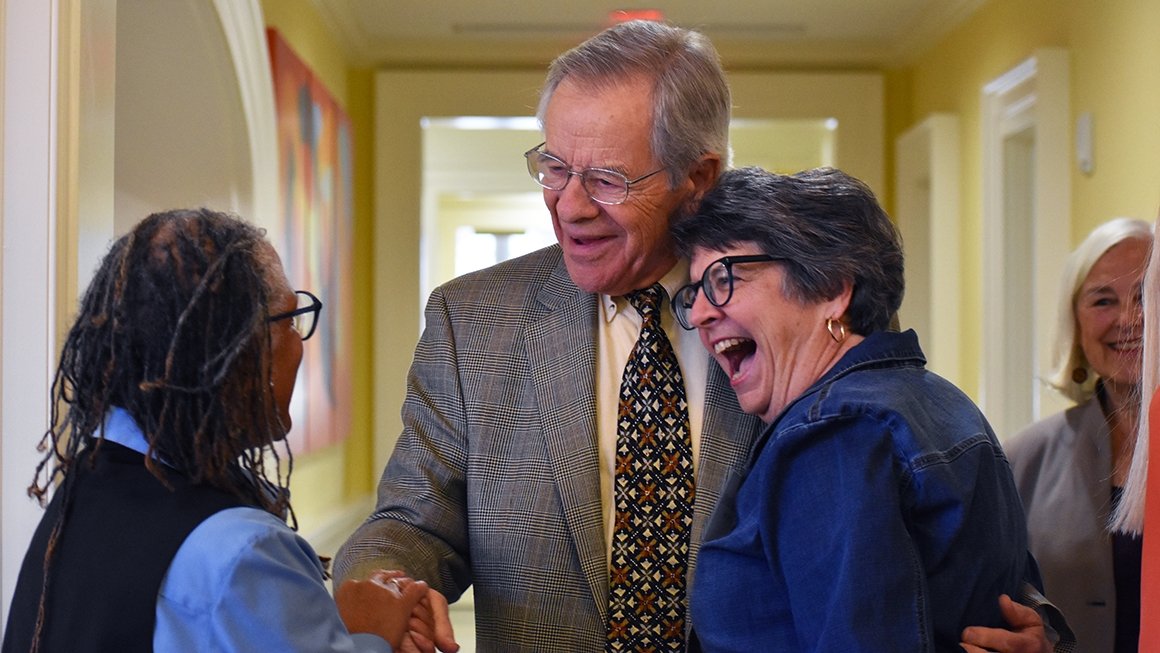 Higher Education Alumni Reunion Celebrates Legacy and Community
Higher Education Alumni Reunion Celebrates Legacy and Community
Six decades of Higher Education alumni gathered to celebrate the program's five founders and launch a fund supporting new community-building initiatives.
On Saturday, October 22nd, alumni spanning six decades gathered on Grounds to celebrate the Higher Education program at the UVA School of Education and Human Development. 
The two-day event, which included a welcome reception, sessions on current issues in higher education, and a banquet honoring the program's five founders, is believed to be UVA EHD's first-ever formal degree program reunion. 
The event was initiated by Vicky Triponey, who earned her Ph.D. in 1989 and now works as a higher education consultant after a distinguished 30-year career in student affairs administration. Triponey said the idea for the event was sparked in 2021, following a small gathering with founders Jay Chronister, Annette Gibbs, and Samuel Kellams, as well as administrative internship supervisors Ernie Ern and Ray Haas.  
"We walked into that room, and it was like we had never left," Triponey said. She and others wanted to share that experience with the rest of the alumni. 
Joining Triponey on the planning committee were program alumni Connie Gilman (Ph.D. '94), Tatia Daniels Granger (Ph.D. '99), Dennis Gregory (Ed.D. '87), Pat Lampkin (Ed.D. '86), Barbara Millar (Ed.D. '99), Larry Lee Rowley (Ph.D. '99), and Rich Tischler (Ph.D. '89). Together, they planned a full weekend of educational and social events that not only celebrated the program's past, but also set a vision for a future shaped by community and a shared commitment to serving students through higher education. 
HONORING THE PAST 
The central purpose of the banquet was to honor the five faculty emeriti who founded the program in 1969: Jay L. Chronister, Jennings L. Wagoner, Jr., Alton L. Taylor, Samuel E. Kellams, and Annette Gibbs. 
These five scholars and leaders built the program, originally called the Center for the Study of Higher Education, from the ground up. They each retired in the early 2000s, together serving more than 174 years on the faculty. "These were extraordinary people, and they left us an extraordinary legacy," Rowley said at the banquet. 
Gibbs and Kellams were both present at the reunion. Taylor was unable to attend in person but shared remarks via video recording. Family members of both Wagoner and Chronister, who have passed away, attended in their place.  
At the banquet, Rowley and Granger delivered humorous, heartfelt and personal tributes to each founder, detailing their contributions to the program and their enduring impact on the students they taught and mentored.  
Perhaps the most poignant tribute honored Chronister, who passed away earlier this year. In addition to leading the creation of the Center for Higher Education, Chronister also served as associate dean for almost half of his tenure at UVA. Granger, a former advisee of Chronister's, remembered him as a scholar, an athlete, a mentor, and a leader. She described his devotion to his family and his faith – and, of course, his Cavaliers. Chronister rarely missed a UVA football game.  
Granger also recalled how Chronister encouraged her interest in studying Black alumni at predominantly white institutions. "He helped me focus on a topic that was important to me, he encouraged me, and he found interest in it as well," she said. "That was really important to me." 
At the end of the banquet, Gibbs and Kellams each came to the podium to share a few words of thanks. "Knowing you folks and working with you has been, clearly, the professional joy of my life," Gibbs said.  
LOOKING TO THE FUTURE 
In addition to recognizing the program's past accomplishments, attendees also received updates on the current Higher Education program – including faculty accomplishments, curriculum, and student successes. Karen Inkelas, program coordinator, shared that eight alumni have gone on to serve as college or university presidents, among many other leadership roles at a large range of institutions. 
In lieu of a gift to the founders, the reunion's organizers chose to honor them by supporting the future of the program they cared so much about. Jennifer Cornell, director of development at the UVA School of Education and Human Development Foundation, formally announced the establishment of the Higher Education Founders Fund.  
The purpose of the fund is to build a community of practitioners and scholars at UVA committed to the ongoing improvement of the study and practice of higher education administration. Funds will be used by current faculty to support ongoing efforts to build community, such as receptions at national conferences, reunions, networking events and mentoring programs.  
"The Higher Education Founders Fund recognizes the contributions of the founders, while also celebrating the current and future relationships between alumni, current students, and faculty," said Cornell. "We will continue to raise funds that facilitate personal connections across the program's stakeholders. Ultimately we aspire to endow the fund to guarantee support for the interconnectedness of the UVA Higher Education community into perpetuity." 
CELEBRATING COMMUNITY 
As the weekend's events unfolded, a clear theme emerged: It's all about the people. 
A sense of camaraderie and joy was palpable. Throughout the weekend, many speakers and attendees – alumni, current students and faculty, and leadership alike – all noted the deep human connections at the core of the program. 
"The dedication and passion that existed in the faculty and the leadership in 1969 is alive and well in the community today," UVA EHD Dean Stephanie Rowley said during the event. "In addition to a world class academic program, the relationships that were formed, and the continued camaraderie within this group is truly what sets the experience apart." 
Triponey said that while she learned countless lessons from the founders and her time at UVA, one lesson in particular helped carry her through her career. "What I learned is you can't do this work in higher education, unless you do it together," she said. "I continue to be just so proud to be a part of this community." 
For more information or to contribute to the Higher Education Founders Fund, contact Jennifer Cornell at [email protected] or (804) 240-8180. 
News Information
Featured Faculty
News Type
News Topics