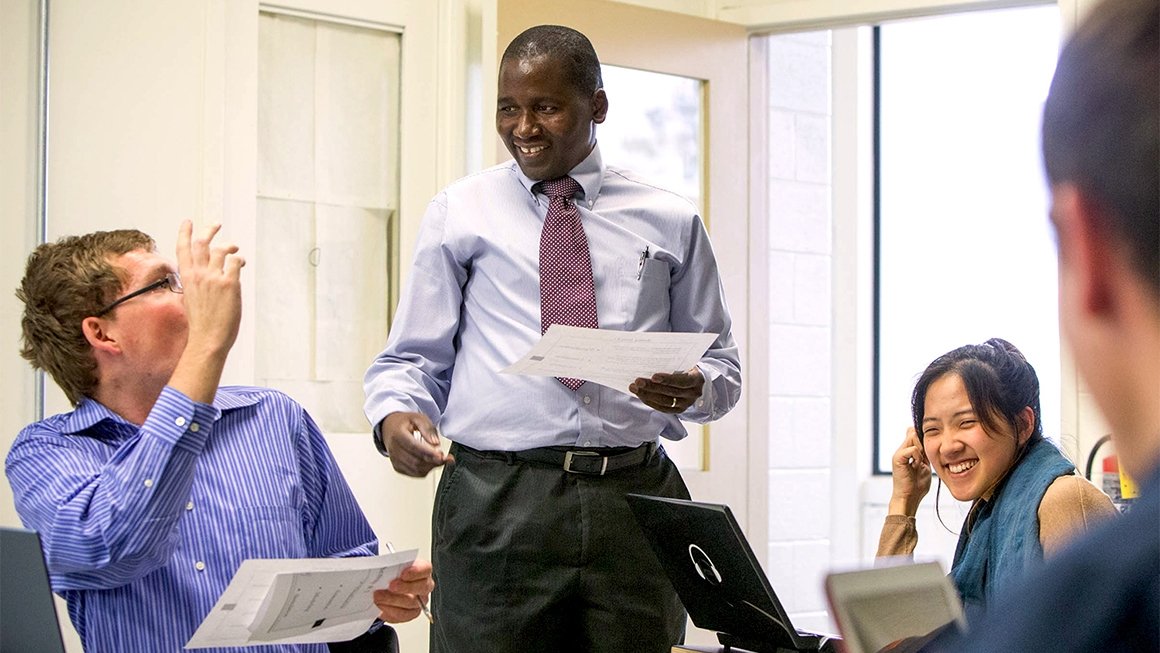 With Fulbright Award, UVA Professor Will Bring Science Education Model to Zambia
With Fulbright Award, UVA Professor Will Bring Science Education Model to Zambia
Frackson Mumba, an expert in engineering design-integrated science education, will spend 10 months researching and teaching at Copperbelt University in Kitwe, Zambia.
Frackson Mumba, an associate professor at the University of Virginia School of Education and Human Development, has been selected for a Fulbright U.S. Scholar award for 2023-24. Mumba will spend 10 months researching and teaching at Copperbelt University in Kitwe, Zambia.  
Mumba will conduct research on integrating engineering design – a problem-solving process that emphasizes open-ended inquiry and encourages students to iterate and learn from failure – into science education. Mumba will support faculty at Copperbelt University as they integrate design engineering practices into science education courses, as well as measure students' understanding of engineering design, pedagogical knowledge, and how they integrate engineering design into their classrooms during student teaching.  
In addition, he will also teach research courses and lead grant-writing workshops for early-career faculty and graduate students. 
"Over the last decade, Frackson's commitment to the advancement of science education has made an incredible impact on how science is taught in Virginia and beyond," said Catherine Brighton, senior associate dean for academic programs and student affairs. "We are thrilled to see his leadership recognized by the Fulbright program and look forward to the many opportunities that this partnership will create." 
The Fulbright award builds on nearly a decade of work at UVA EHD. Since 2015, UVA EHD has trained more than 100 teachers in engineering design integrated science teaching. "We've created a model of how to integrate engineering into science education, and we have the research outcomes to show that this model works," Mumba said. "It is effective in helping students learn science and engineering design skills." 
Extending this research to Zambia will allow Mumba to explore this model in a new context. It will also be a homecoming of sorts for Mumba, who was born in Zambia and moved to the United States for graduate school. 
"It's been on my mind to apply for a Fulbright for a long time," he said. "But I wanted to develop this model, measure its efficacy, and produce evidence that it works." 
Mumba said he is looking forward to developing existing partnerships and collaborating more closely in the future. He also anticipates bringing knowledge from Zambia back to UVA – particularly around teaching engineering design integrated science to English language learners. Located in Southern Africa, Zambia has a population of nearly 20 million people, about 73 ethnic groups, and seven national languages. 
Mumba credited a supportive environment for cross-disciplinary collaboration and global outreach at UVA for making his work possible. "We have been successful in integrating engineering design in science teacher education here at UVA because of our collaboration with engineering faculty," he said. "And because of that success, we now have this opportunity. I'm very grateful to UVA and the School of Education and Human Development for the resources and support I have had here."
The Fulbright U.S. Scholar Program is the U.S. government's flagship international educational exchange program. Mumba is among more than 800 U.S. citizens who will teach and/or conduct research abroad for the 2023-2024 academic year through the Fulbright Program. 
News Information
Media Contact
Laura Hoxworth
Email
Research Center or Department
Curriculum, Instruction & Special Education
Phone
Featured Faculty
News Type
News Topics