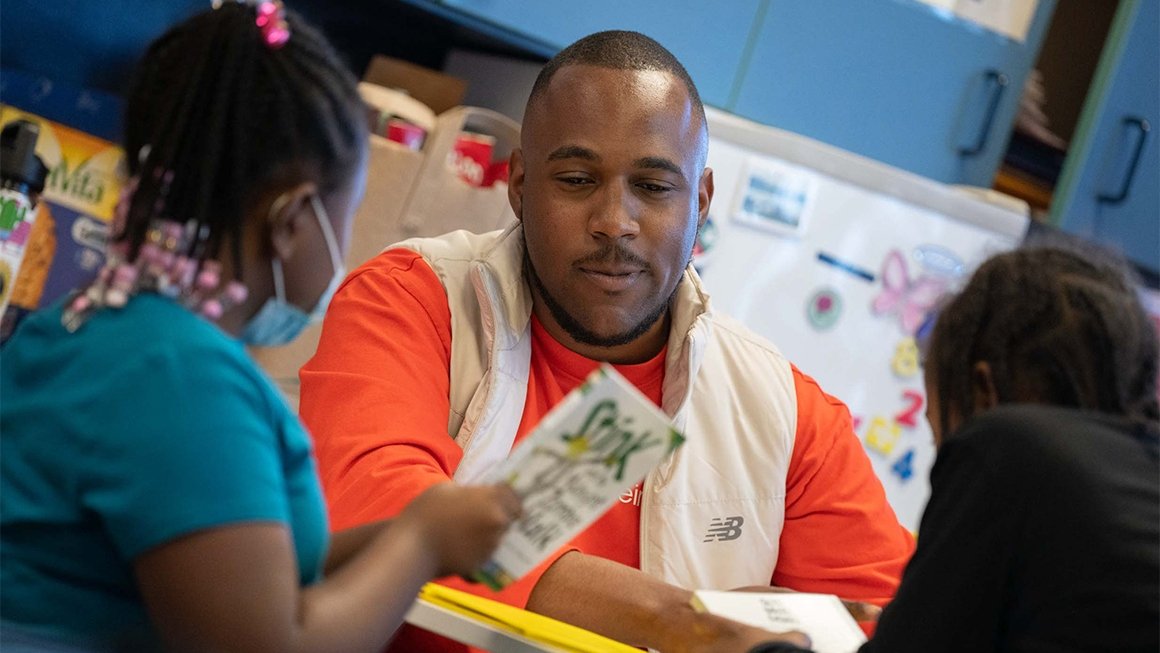 Class of 2023: Quana Dennis
Class of 2023: Quana Dennis
Quana Dennis forged a path to a UVA degree, touching lives every step of the way. Now he is headed for another classroom – only this time, he will be the teacher.
A friend, a mentor, a teacher – and so much more. That is how the people in Quana Dennis's life describe this incredible student, who in just two years' time at the University of Virginia has accomplished so much.
Here is just a partial list:
Inaugural Piedmont Scholar.
Inaugural member of President Jim Ryan's Student Advisory Council.
Orientation leader.
Co-director, Community Engagement Agency, UVA Student Council.
Peer advisor, Office of African-American Affairs.
Member, Fourth Year Trustees.
And don't forget being a first-generation student, one who is about to earn a bachelor's degree in elementary education from the School of Education and Human Development.
Student Teacher
Somehow, Dennis managed to squeeze even more activity into his final semester at UVA. This spring he returned to his childhood grade school, Burnley-Moran Elementary School, to student teach full-time.
He looked right at home in the hallways of his old school one day in February, where his third-graders were finishing up a book club reading "The Iron Robot."
Nine-year old Genady Muguma, a refugee from the Democratic Republic of the Congo, said he likes having Dennis as a teacher because he helps him with writing and math. Dennis often can be found sitting at a low table in the back of the classroom, quietly helping students with their studies. Lead teacher Mary Johnson said Muguma often gravitates to that table.
"I feel like for him to see another person that looks like him is really important," she said. "His family was in a pretty difficult situation before they came to the United States, so for him to see another African American male in a role where he's used to seeing people that look like me all the time, and he's like, 'Wow, I can go to him for help, too. And he's in this class and he's being respected just like the teacher in this classroom' – I think is really powerful for him."
A Mentor
This past year, Dennis also helped another student, this one at UVA. Nate Assefa is a first-year scholar who was planning to reach out to the Office of African-American Affairs to get connected with a mentor. But Dennis beat him to the punch, emailing him first to see if he could help.
Assefa could not have gotten a better match.
Both Dennis and Assefa are University Achievement Award winners. The award covers all tuition and fees and is given to Virginians who demonstrate outstanding leadership and character while overcoming personal hardship.
Assefa's parents moved to the United States from Ethiopia when he was a boy, and he is their first child to go to college in the United States. So having someone like Dennis in his corner came in handy when he had questions about life at UVA.
"I don't have any siblings or family that came to UVA, so it was more of an adjustment for me," he said. "I was just looking for any sort of help in getting accustomed to UVA culture and just the college as a whole."
Assefa said he was worried he would overwhelm Dennis with all of his questions, but that fear was misplaced. "Quana was more than welcoming and was inviting me to ask even more questions," he said. "It was a very comforting sign."
The two get together as much as they can and are "constantly texting," Assefa said.
He's more than grateful for the friendship.
"I think it just provides a very strong, older presence for younger students like me who might not know much," Assefa said. "I think over time it's genuinely become a true relationship in my life that I value. I feel I can come to Quana with whatever might be concerning me, whether it is my personal life, academic life or anything."
Coming Full Circle
As previously mentioned, Dennis was in the first class of Piedmont Scholars in 2021. The award covers full in-state tuition and fees and is given to students who transfer from nearby Piedmont Virginia Community College as third-year scholars and are selected as recipients of UVA's University Achievement Award.
His journey as a Piedmont Scholar has been so stellar that Mark Luellen, UVA's vice president for advancement, invited Dennis to share his experience with UVA's Board of Visitors during its March meeting.
"Since his first day on Grounds, Quana has immersed himself in the UVA community and has quickly emerged as a student leader," President Jim Ryan said in introductory remarks. "I will let him share his own story in just a moment. But for now, I will tell you just how fortunate we are to have him at UVA."
Dennis told the board assembled at the Rotunda that when he decided he wanted to transfer to UVA, he was prepared to take out student loans. "Then, on August 9, 2021, I received an email that changed my life," he recounted. "I was notified that I had been selected to be one of the inaugural Piedmont Scholars."
Dennis told the board he was "in disbelief and overjoyed" to have been selected and that, once at UVA, his curiosity "blossomed into something amazing."
He was determined, he went on, to seize every opportunity he could find and to also "give back to my community and to uplift incoming students."
Dennis also shared his post-graduation plans with the board.
"On February 14, 2023, I received a phone call from the head administrator at St. Anne's-Belfield School, right down the street," he said. "I was offered a position as a full-time teaching fellow." Dennis said the position covers full tuition and fee as he pursues his Master of Education in curriculum and instruction at the UVA School of Education and Human Development.
What's Next?
"The value that he places on education and the work that he has put in to earning his degree is notable," Autumn Graves, head of school at St. Anne's-Belfield School, said. "He does not take it lightly. He cares deeply. He loves kids. He lights up when he sees them.
"There's a thing that people in my business, we can tell who's got the right heart and spirit for this work. It's not always about 'What are all your credentials and your degrees?' I can see it."
After he walks the Lawn on May 21 as a member of the Class of 2023, Dennis will not stray far from the University he says he loves. He will live on the Range next year as a graduate student, after being selected to move into one of the 52 rooms.
"Being a member of the Range community provides me with an opportunity to continue to give back to the University community," he wrote in his application. "I served on Lighting of the Lawn in 2021-2022 and 2022-2023. I've seen the impact that residents of the Range community had while opening their residences to colleagues, families, and friends. I would certainly continue that tradition."
---
This story was originally published by UVA Today.
Class of 2023 Graduation Profiles
We invite you to get to know a few members of the UVA EHD Class of 2023 as we celebrate the accomplishments of the entire class.
News Information
Published
Media Contact
Jane Kelly
Author
Jane Kelly
Email
Phone
News Type
Student Experience
News Topics