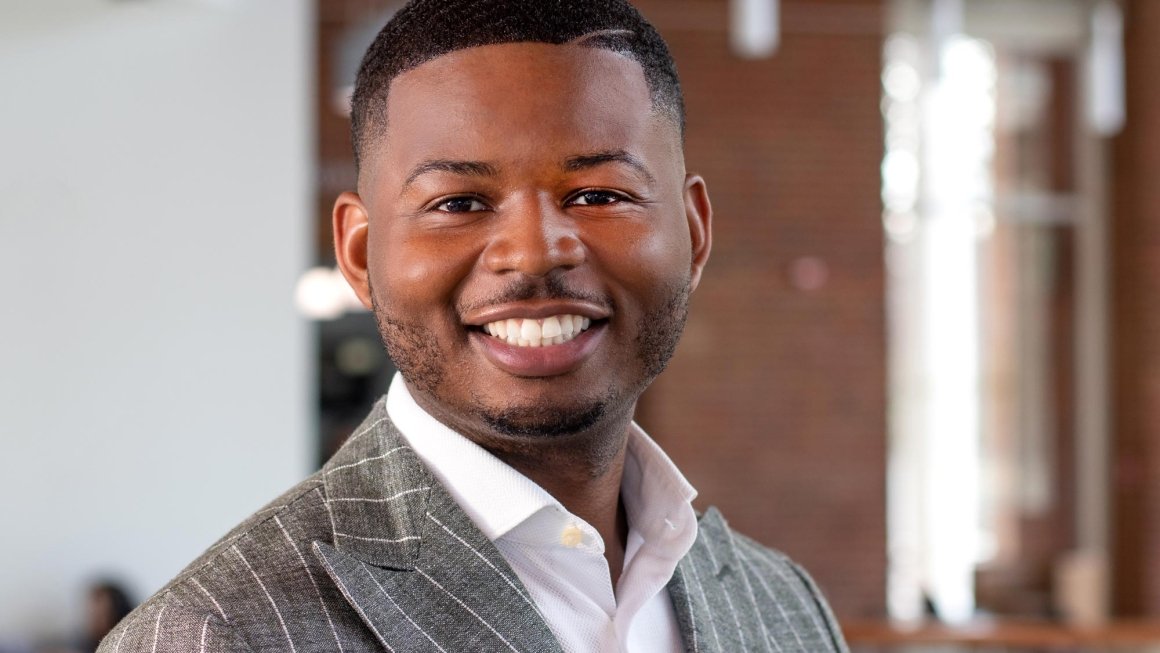 Class of 2022: After Law School, Mathis Returns to Higher Education to Improve It for All Students
Class of 2022: After Law School, Mathis Returns to Higher Education to Improve It for All Students
With a law degree in hand, Mathis's passion for making higher education an equitable experience for all students brought him to the UVA School of Education and Human Development, where he will graduate with his Ph.D. this May.
Christopher Mathis took his mother's philosophy of education to heart when he decided to pursue a doctorate after completing his law degree. Graduating this spring with a Ph.D. in higher education from the University of Virginia School of Education and Human Development, Mathis will join his two older siblings in celebrating the highest levels of academic success.
"My mother was my first teacher," Mathis said. "She instilled in us in a very young age that, for people who look like me and just people in general, education is your ticket out."
But more than fulfilling his own educational goals, it is perhaps Mathis' passion for making higher education an equitable experience for all students that reflects his mother's lesson the most.
The Mathis siblings' love of education was born around the dinner table and was inspired by their mother, Marilyn Mathis, a special education teacher. Christopher was born in Johnston, South Carolina but moved with his parents and two siblings to North Augusta, South Carolina, where he spent most of his childhood and where his mother spent her career teaching, both in the classroom and at the dinner table.
"My mother and my extended family were among the first people to teach me the art of scholarly debate at our kitchen table, as we gathered for our weekly Sabbath dinners and solved the world's problems," Mathis said. "Those debates gave me the tools and the confidence to take a position and advocate for it."
With this love of education and scholarly debate firmly instilled, Mathis graduated from Oakwood University with a mathematics education degree and a longstanding desire to attend law school. It was at the University of South Carolina School of Law that he distilled his passion for educational equity into a focus of better understanding how universities run and how they can create opportunity for all students.
In law school, Mathis became enamored with the research being done by his mentor, Professor Eboni Nelson. Mathis served as research assistant for Nelson, who is now dean and professor at the University of Connecticut School of Law, on her research on expanding access to higher education for minoritized populations.
"I became enthralled with research," Mathis said. "You can make an immediate difference through research. You can write something, see a tangible result from it and then sit in policy meetings as an expert, sharing your insight.
"Watching Professor Nelson, I knew I had to get a Ph.D. to do effective, groundbreaking research."
Mathis knew that he wanted to study higher education and paired with his legal background, work to find ways to increase access to higher education and discover ways the law can become an avenue for that access.
"Chris' commitment to educational equity and access is palpable," Dean Eboni Nelson said. "I am so very proud and thankful that he has decided to direct his considerable talents as a teacher and scholar to the important work of improving higher education for minoritized students. Many will benefit from his impactful contributions both inside and outside the classroom."
Joining the doctoral program in higher education at the UVA School of Education and Human Development, Mathis was immersed in the research he sought, with his own scholarship shaped by faculty and fellow students alike. Juan Garibay, assistant professor in the higher education, program is one of them.
"My advisor, Juan Garibay, exposed me to impactful scholarship that critiqued higher education in a constructive way and called it to be something better than what it is," Mathis said. "I am especially grateful for the ways he has exposed me to varying bodies of literature that always interrogated how higher education impacts minoritized groups, but most importantly, helping me understand the broader implications of my research agenda."
Garibay was equally grateful to have Mathis as a partner in his research.
"Having Christopher as my first Ph.D. student in the program was a true blessing," Garibay said. "He brought a wealth of knowledge to our research project focused on university histories of slavery through both his experiences having attended Oakwood, an HBCU, and two Southern Universities with histories of slavery, as well as his legal expertise. It been such a joy mentoring him, coauthoring several publications with him, and having him in our program."
Mathis also tributes the other doctoral students in the School of Education and Human Development as instrumental in making him a better scholar, specifically, Miray Seward, Edward Scott and the organization they founded, the Black Scholars Writing Group (BSWG).
"Not only has it led to scholarly collaborations and publications, but they are also so integral to my own success and the success of other minoritized students," Mathis said. "From how to approach a topic, to thinking out loud about topics, having access to quality support and scholarly discourse really strengthened my own scholarly voice, my own approach to research and my own world view.
"Iron sharpens iron. They called me to be better," Mathis said.
"It's been such a pleasure to have Christopher as a part of our scholarly community," wrote Scott and Seward in an email. "Since the beginning, Christopher was one of our most engaged members and has continued to further BSWG's vision over the last three years. He is a great friend, inspirational colleaguge, and an excellent scholar. His work will undoubtedly continue to have a major impact on the field, and we can't wait to see what he continues to achieve."
During his studies, Mathis learned to critique in a careful and methodical way, especially in courses taught by professors Stanley Trent and Derrick Aldridge, adopting a nuance and framework for his own work. He also credits his fellow scholars in helping him create something that impacts not just him but others around him, including other minoritized students looking to go to law school.
His methodical scholarship and passion to create something that can serve other minoritized students came together in a new ranking system of public law schools he developed. His project, An Access and Equity Ranking of Public Law Schools, is a tool specifically designed to help aid Black and Latinx students choose a law school that fits their needs.
"My ranking seeks to fill a gap [left by traditional rankings like U.S. News & World Report] to help future law students decide which law school may be best for them in conjunction with other factors," Mathis said. "When making such a consequential decision as choosing a law school, Black and Latinx students should have as much information as possible."
Mathis' rankings combine 12 factors, including the representation of Black and Latinx students as compared to majority students and as compared to the state population, the proportion of full-time law students who are women as compared to men, faculty demographics, financial data, and graduation rates. Mathis worked with his advisor, Juan Garibay, and Tim Konold, professor at the UVA School of Education and Human Development, to design the algorithm pulling the publicly accessible data to create the rankings.
According to Mathis, his rankings, which were published this spring in the Rutgers University Law Review, show a disproportionate representation of universities that cater to Black American at the top. The top 5 schools in his rankings are public Historically Black Colleges and Universities and there is a significant gap between those and the remaining 80 or so schools.
"Beyond those top five institutions, there is an underwhelming commitment to ensuring spaces are accessible to Black & Latinx students," Mathis said. "Also, while I know and recognize I have grouped Black and Latinx students together for this study, I am fully aware that they have different experiences. The literature suggests they share a similar experience of disenfranchise in law school."
Mathis hopes his rankings tool is not only beneficial to students but can be a helpful tool for the schools of law on the list, as well.
Currently, Mathis is serving as a visiting assistant professor of law at the University of Iowa College of Law and an affiliate fellow at the American Bar Foundation, where his collaborations with fellow law faculty and opportunities to speak to practitioners or legislatures about how to draft inclusive law are especially fulfilling. His passion for making higher education an equitable experience for all students is the driving force behind all of his work.