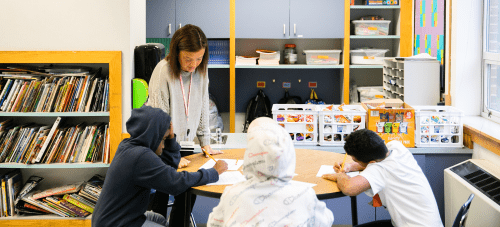 Special Education: Professional Learning
Special Education: Professional Learning
This Certificate in Applied Behavioral Analysis produces compassionate, motivated educators with a deep understanding of how to identify and address individual children's behavioral needs.
At a Glance
Program Results
Professional Learning
Certificate –  Applied Behavioral Analysis
Career Outcome
Board Certified Behavior Analyst, behavior coach, or behavior support specialist after fulfilling all requirements of the Behavioral Analyst Certification Board (BACB)
Program Type
Location
Estimated Length
1-7 semesters
Application Deadline
Fall entry:
March 1 (priority deadline)
July 1 (final deadline)
About This Program
Applied behavior analysis (ABA) is a​ systematic approach to influencing socially important behavior through the identification of reliably related environmental variables and the production of behavior change techniques that make use of those findings.
Common services provided through ABA may include, but are not limited to:
Conducting behavioral assessments
Analyzing data
Writing and revising behavior-analytic treatment plans
Training others to implement components of treatment plans
Overseeing the implementation of treatment plans
Behavior analysts provide services to clients with a variety of needs including, but not limited to:
Organizational functioning (e.g., staff performance, management, and pay structure interventions)
Skill deficits (e.g., communication, adaptive behavior), and
Problem behavior (e.g., aggression, self-injurious behavior).
Important Notice: This certificate program does not satisfy initial teaching licensure requirements. If you are seeking an initial teaching license, visit our Become a Teacher page.
Students interested in obtaining a M.Ed. in Curriculum & Instruction can take these courses as an area of focus.