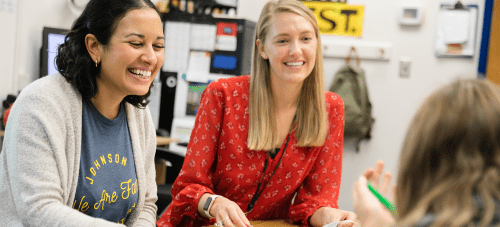 Special Education: Professional Learning
Special Education: Professional Learning
The Special Education – General Curriculum course series is designed to help educators develop the critical skills needed to teach students with disabilities. Online courses, a 15-credit certificate, and the opportunity to pursue endorsement.
At a Glance
Program Results
Professional Learning
Professional Development
Certificate – Special Education – General Curriculum
Add-On Endorsement - Special Education - General Curriculum
Program Type
Location
Estimated Length
1-5 semesters
Application Deadline
Varies per professional learning option
About This Program
The Special Education – General Curriculum online course series is designed to equip licensed elementary, middle, and high school teachers with the knowledge and skills necessary to address the distinct learning needs of students with disabilities. This course series will provide teachers with research-based strategies to support these students in the general curriculum settings.
This flexible course series offers a range of opportunities, including:
Professional Development: Educators may opt to take one or more courses, without completing the series, to learn more about working with students with learning disabilities, or earn master's level credits. Students interested in obtaining a M.Ed. in Curriculum & Instruction can take these courses as an area of emphasis.
Certificate: Educators, administrators, and students holding an undergraduate degree from a regional accredited institution (or international equivalent) may complete the 15-credit course series to receive the Special Education - General Curriculum graduate certificate.
Prerequisites For Obtaining An Add-On Endorsement:
Teachers holding any other endorsement, including K-12 or preK-12 endorsements, are not eligible to add the special education endorsement through this course series.
Requirements for Add-On Endorsement Candidates: 
Hold a baccalaureate degree from a regionally accredited college or university and hold a license issued by the Virginia Board of Education with one of the endorsements listed under Prerequisites For Obtaining An Add-On Endorsement (above).
15 required course credits
Cover letter to VDOE requesting endorsement
Fee to VDOE
Official UVA transcripts (directions)
45 instructional hour teaching practicum with students with disabilities in the general curriculum, OR one year of successful full-time teaching + form (Report on Experience Form in the VDOE Teaching Licensure application) filled out by the appropriate school official noting successful completion. For those opting for the practicum route, a practicum will be embedded into the methods courses (EDIS 5230 and/or EDIS 5060).