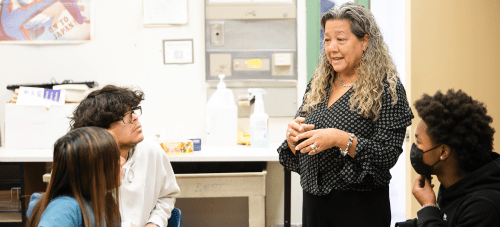 English as a Second Language: M.T. - Master of Teaching
English as a Second Language: M.T. - Master of Teaching
This part-time, online program of study allows you to earn licensure with endorsement in English as a Second Language (PreK-12).
At a Glance
Program Results
M.T. - Master of Teaching
—English as a Second Language
Initial licensure in Virginia with an endorsement in English as a Second Language preK-12.
Best Suited To
Paraprofessionals who want to earn their professional teaching licenses
Teachers with a provisional license who need to convert to a professional license and want to earn a master's degree while doing so
Recent college graduates who have determined that working in an ESL setting is the right career move
Program Type
Location
Application Deadline
Spring entry: November 1
Summer entry:
February 1 (priority deadline)
May 1 (final deadline)
Fall entry:
March 1 (priority deadline)
July 1 (final deadline)
About This Program
Our programs reflect the depth of our commitment to diversity, equity, and inclusion as we work together with our students toward actualizing a more just society. By drawing upon the expertise of experienced educators and community partners, we prepare teacher candidates to honor and grow the assets and resources that students bring to classrooms and schools. We lead with integrity, committed to student, family, and community success and well-being. We are equity-oriented teacher educators, collaborators, and innovators.
This program is ideal for working professionals seeking a flexible licensure program. All coursework is in an online, asynchronous format. 
Candidates typically take 1-2 courses per semester but will work with an advisor to develop an individual plan of study to meet their needs.
The Teacher Education office will work with candidates to identify school placement experiences that fit their needs. Candidates who are already working in schools may be able to meet the program requirements in their place of employment. 
In accordance with Virginia regulations, candidates may have the option to substitute one year of teaching on a provisional license in lieu of student teaching. 
The M.T. program is an initial licensure program. Teachers who already hold a professional license and wish to add an English as a Second Language endorsement can do so through one of our other offerings: