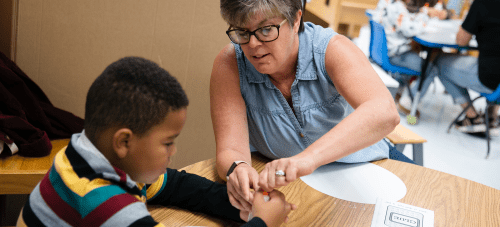 English as a Second Language: Professional Learning
English as a Second Language: Professional Learning
This flexible online course series is designed to develop PreK-12 teachers who are confident and well-versed in quality ESL instructional practices. Online courses, an 18-credit certificate, and the opportunity to pursue an ESL endorsement.
At a Glance
Program Results
Professional Learning
Professional Development
Certificate - Teaching English Language Learners in PreK-12
Endorsement - English as a Second Language PreK-12
Program Type
Location
Estimated Length
1-6 semesters
Application Deadline
Spring entry: November 1
Summer entry:
February 1 (priority deadline)
May 1 (final deadline)
Fall entry:
March 1 (priority deadline)
July 1 (final deadline)
About This Program
As U.S. classrooms become increasingly diverse, the need for teachers of second language learners continues to grow. Teachers of English learners have exciting opportunities to work with students from a wide array of cultural and linguistic backgrounds.
This course series is designed to be flexible, so you can select exactly what you need. Focus solely on classroom practice, study linguistics to help prepare for testing, or mix-and-match to meet your individual goals. All courses are offered online, and discounted tuition is available for preK-12 educators in Virginia.
These courses can fulfill a range of requirements, including:
Professional development and recertification: Educators may opt to take one or more courses, without completing the series, to learn more about working with English learners or earn master's level credits. This can be used toward licensure renewal.
Certificate: Students may complete a 6-course graduate certificate in Teaching English Language Learners in PreK-12 Education.
Endorsement: The Virginia Department of Education (VDOE) sets the requirements for licensure with an endorsement in English as a Second Language preK-12. Teachers with a current Virginia teaching license who wish to add an ESL endorsement may take courses in this series to prepare them to add the endorsement, whether through the full course series or the ESL Praxis exam. Teachers should consult with a UVA advisor to plan the best pathway for them. 
For students who may desire to pursue a master's degree, this course series can also contribute to one of two degrees offered by the School of Education and Human Development: the M.Ed. in Curriculum & Instruction or the M.T. in English as a Second Languge.
Questions about which courses to take? Reach out to the contact at the bottom of this page for guidance.