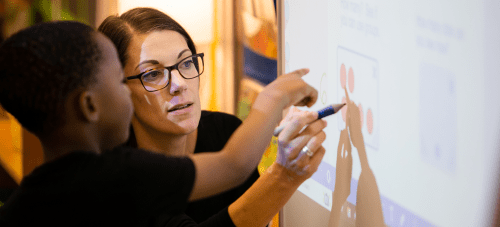 Curriculum & Instruction: Ed.S. - Education Specialist
Curriculum & Instruction: Ed.S. - Education Specialist
Experienced educators enroll in this program to further develop their leadership skills in curriculum and instruction.
At a Glance
Program Results
Ed.S. - Education Specialist
Curriculum & Instruction
Program Type
Location
Estimated Length
1 year (full time), 2 years (part time) 
Application Deadline
Spring entry: November 1
Summer entry:
February 1 (priority deadline)
May 1 (final deadline)
Fall entry:
March 1 (priority deadline)
July 1 (final deadline)
Credits
30
About This Program
The Ed.S. in Curriculum & Instruction degree prepares experienced educators to become teacher leaders, curriculum specialists, and/or instructional coaches in K-12 schools and districts. This degree can also prepare individuals for leadership roles and work at community colleges, museums, foundations, and other for-profit and non-profit organizations. 
The program is personalized and flexible. Advisors meet with students to design a program of study that complements students' professional goals. 
Students may choose to enroll in the educational specialist program to extend and deepen their personal knowledge of professional practice, to enhance their skills for new responsibilities, or to become more adept in addressing persistent problems of professional practice. 
Students in the Ed.S. program will:
Analyze major issues in professional education practice related to curriculum and instruction
Integrate new professional knowledge and skills in personal professional practice. 
Design platforms for extending their own educational practice and the educational practice of others
Develop and strategically apply skills to address the complex realities and challenges facing diverse students, schools, families and communities.
Enhance professional skills (leadership, communication, problem-solving, and interpersonal skills) in the effort to improve schooling.
Demonstrate proficiency in written, oral, and non-verbal communication.