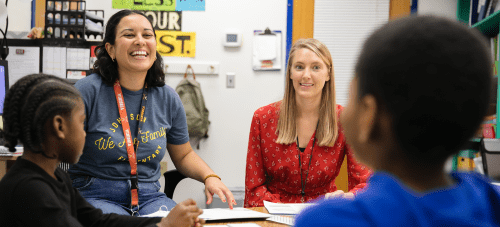 Counselor Education: M.Ed. - Master of Education
Counselor Education: M.Ed. - Master of Education
The M.Ed. in Counselor Education program prepares you to become a school counselor in the K-12 setting. Graduates are leaders, advocates, collaborators, and systematic change agents in schools.
At a Glance
Program Results
M.Ed. - Master of Education
Counselor Education
Career Outcomes
School Counselor
Program Type
Location
Estimated Length
2 years
Application Deadline
Apply by January 5 each year for fall start
Credits
61
About This Program
Program Mission
Our vision is to train the next generation of justice-oriented school counseling leaders and system disruptors. We hope to do this through our mission to develop justice-oriented, culturally responsive school counselors who can lead, advocate, and dismantle systems of oppression while addressing the mental health, academic, and post-secondary needs of preK-12 students.
The M.Ed. in Counselor Education degree prepares you to become a counselor in both public and private schools with the support of a diverse and accomplished faculty. 
This CACREP-accredited program teaches you how to become a leader, an advocate, a collaborator and a change agent – with an emphasis on promoting equity, access, and justice as a K-12 school counselor. 
With teamwork built into the curriculum you will get the opportunity to collaborate with your classmates in a supportive and close-knit environment. Plus, student diversity in Charlottesville and the surrounding school systems grants excellent internship learning opportunities in both urban, suburban, and rural settings. 
In response to the growing mental health needs of K-12 students, the M.Ed. in Counselor Education program at UVA is thrilled to announce the launch of the School Mental Health Leadership (SMHL) Track. See Program Overview below for full description of SMHL track (limited grant funding is available to some students enrolled in this track). 
The M.Ed. in Counselor Education program aims to prepare:
Graduates who can demonstrate professional, personal, and cultural self-awareness and knowledge about how it influences their service delivery; 
Graduates who have developed the skills to lead and advocate for systemic change, including addressing barriers to students' academic success and social/emotional development;
Graduates who respond to school and students' mental health and educational needs with developmentally appropriate, culturally responsive counseling skills and interventions;
Graduates who can design, implement and evaluate components of a comprehensive school counseling program;
Graduates who promote equitable student achievement, college access, and career readiness; and
Graduates who apply and adhere to ethical and legal standards in working with students and all other educational stakeholders.