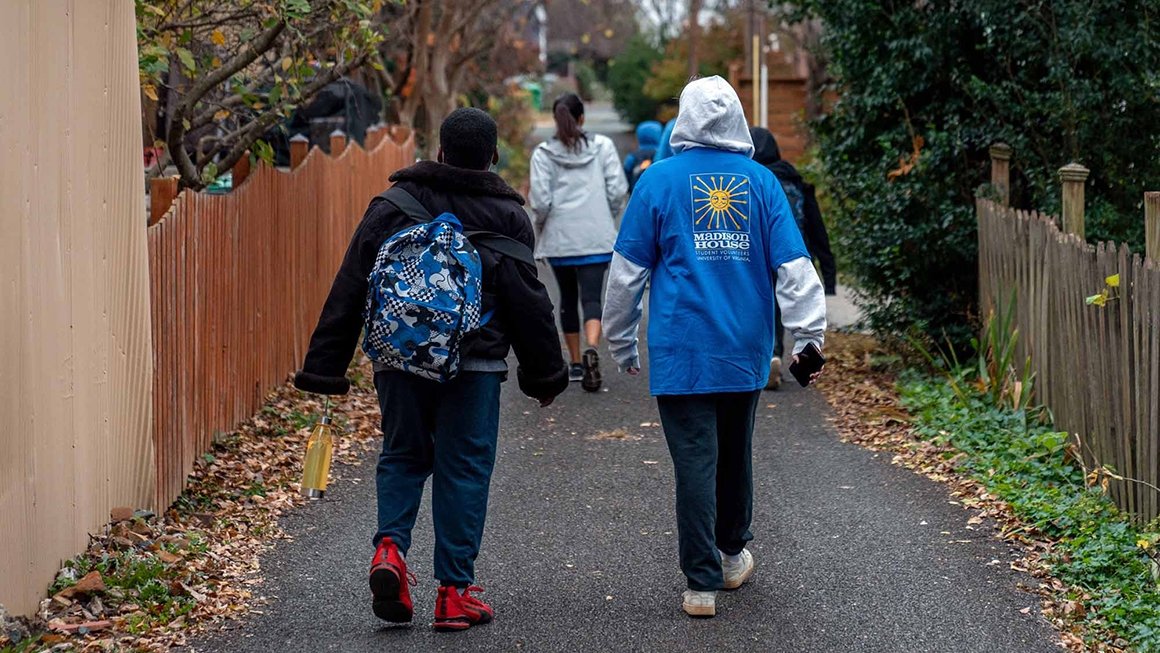 With Shortage of Bus Drivers, UVA Students Walk Children to School
With Shortage of Bus Drivers, UVA Students Walk Children to School
Student volunteers are helping walk young children to Clark Elementary School, joining the "walking bus."
These little kids have a lot of energy at 7 a.m.!" exclaimed third-year University of Virginia student Rachel Moore.
Moore is one of dozens of UVA students helping Charlottesville elementary school children walk to school safely because of a shortage of bus drivers. To cope with the shortage, the Charlottesville City Public Schools expanded their walking zones, meaning students living within a half-hour walk from their school would no longer have bus service.
That has meant long, dark slogs for some youngsters, and that's why University students stepped in to assist with a program called "Walking Buses."
Tuesday through Thursday mornings, they join Clark Elementary School teachers who lead the "walking bus" from a nearby apartment complex. The trek of just under a mile crosses a couple of busy roads on the way to the school. The school students are powered by their own two legs and steered by holding hands.
"Responding to this kind of community need for the 'walking bus' is an example of how we want Madison House to be as a volunteer center," said Rose Cole, director of community engagement for Madison House, the University's student volunteer clearinghouse. One of Madison House's faculty partners, associate professor of music Bonnie Gordon, who works with UVA's Equity Center, let Madison House know there was a need. In this case, they "humbly jumped in," Cole said, noting that Gordon had joined some Charlottesville teachers who were already walking children to school and home again.
Warner Howard, a special education teacher, said the Madison House volunteers provide additional sets of eyes on the children, especially the younger ones. The walk also gives the kids another social outlet in their world.
The UVA volunteer list has grown to about 55 students, with six to 10 volunteers signing up for mornings from Tuesday through Thursday, according to Hannah Rollins, a graduate student who oversees the Walking Bus program for Madison House. They walk with children who range from preschool to fourth grade.
On a recent morning, one group of eight children and another of 10 sported colorful backpacks with images of "Paw Patrol," Snoopy and rainbow unicorns. Moore and other volunteers talked about how they do their best to be friendly and supportive. She said the older children seem excited about having college students along for the walk.
"Sometimes they're talkative. Sometimes they just want to get to school," said Moore, a youth and social innovation major in the School of Education and Human Development.
The children are getting to know the dogs along the walk. They've been waving to a spry, furry dog who stands at the door and barks at them and found out its name is Willow.
"It's good to get into the community and outside the UVA bubble and routines," said Ava Seccuro, a third-year media studies major who said she loves kids. "It puts me in a good mood for the rest of the day."
Third-year student Kelly Shirer said spending time with the elementary schoolchildren "reminds me, that was me at one point in my life."
"Everyone is trying to make the most of the situation," added Sarah Menchavez, a third-year year global studies security and justice major. And walking provides exercise – "not a bad thing," she said.
Second-year student Safiya Hasan, also a youth and social innovation major, heard the call for volunteers through a course, Foundations for Community Engagement, that Cole teaches. Hasan said she wanted to help reassure the children, especially those who are refugees and Muslim, by seeing a young woman like her wearing a hijab, as she's Muslim herself.
"I hope it gives the children a small sense of familiarity as they navigate a new country," she said. "Having to adjust and being a refugee, it seemed unfair that they had to face this, too. It pushed me to get involved," she said.
Some of the schoolchildren don't speak much English or the same languages amongst themselves. The refugees from Afghanistan and Syria may speak Pashto, Dari or Farsi, for example.
"In Charlottesville, there's not a lot offered to Muslims here," said Hasan, whose Indian family has been American for a couple of generations now.
"I hope as the program continues, we can make more connections and become smiling faces that will set the tone for their day."
If more students express interest in volunteering with the Walking Buses, Madison House would consider expanding the program.