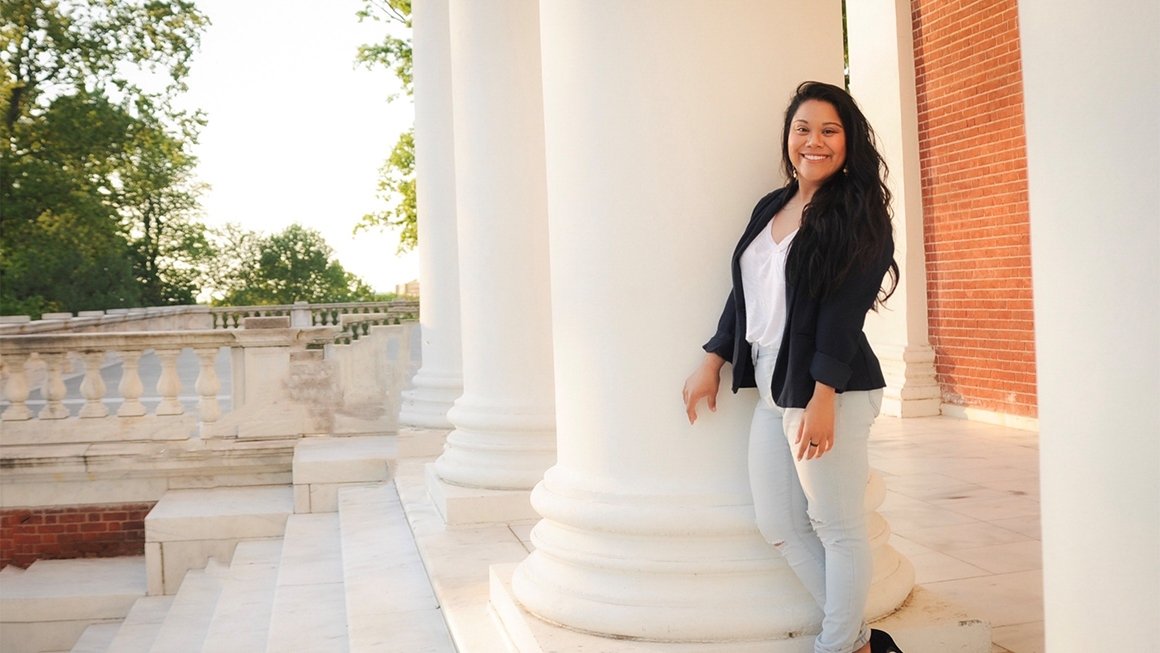 Q&A: Alumna Bridget Drain, Outstanding Special Education Teacher Award Winner
Q&A: Alumna Bridget Drain, Outstanding Special Education Teacher Award Winner
In June, alumna Bridget Drain was one of 11 teachers in the country to receive the Outstanding Special Education Teacher Award from the National Association of Special Education Teachers.
For Bridget Drain, being a special education teacher is more than a career. It is a calling. 
Since earning her Master of Teaching degree from the UVA School of Education and Human Development in 2021, she has already made her mark on the profession. In June, she was one of 11 teachers in the country to receive the Outstanding Special Education Teacher Award from the National Association of Special Education Teachers.
Here, Drain shares more about her teaching journey so far and her advice to aspiring teachers.
Q: What made you want to pursue a career in education? What drew you to special education in particular?
In college, I began coaching youth lacrosse, and my experience working with children and watching them grow and improve was so rewarding, I just knew it was something I needed to pursue as a career. From there, I was naturally drawn to teaching. Special education in particular was a deeply personal choice for me because I grew up with ADHD. I wasn't exactly the model student, despite how hard I tried. I could just relate to students who struggled with things that were out of their control. I understood what it felt like to have to work 10 times harder to achieve the bare minimum, and I wanted to be involved in helping students understand the mechanics of their brains and utilize their strengths instead of focusing on their deficits. 
Q: Why did you decide to enroll in at UVA?
I was working as a 5th grade general education teacher at a private school, and as much as I loved the students and families, I knew I wanted to pursue special education. There just weren't opportunities for me to do that at my current placement, so I began to research reputable special education teaching programs. UVA specifically stood out to me, because at the time they offered a dual endorsement program that would allow me to receive a master's in both special education and general education.
Q: How would you describe your experience at UVA?
Inspiring. I was learning from such passionate professors who had such a deep love for what they were teaching. They believed in what they preached and they approached their teaching with patience, compassion, and understanding. They taught us the way they wanted us to go out into the world and teach. As a woman of color, and one of just a handful in my program, I grappled with feelings that I didn't quite belong. Additionally, I had to work about 4-5 jobs to cover the cost of my program. I had professors who took me under their wing, who provided me opportunities to help with research, or grading, babysitting, or pet-sitting so that I could cover rent and other expenses. As a wild, disorganized kid with unrelenting ADHD in elementary school, I wasn't exactly beloved by my teachers (thank goodness for my amazing saint of a mother who always believed in me). So to be treated like I mattered by so many of my teachers during my time at UVA was something I will never forget.
Q: What is one particularly impactful part of your time at UVA?
The people 100 percent. My cohort was also made up of some of the most wonderful individuals who inspired me to consistently be my best (two of whom will be my bridesmaids at my wedding next year). It was incredible for me to experience this learning journey through the lens of so many perspectives: from veteran teachers, career changers, secondary teachers, all the way to teachers who had never taught before. Everybody carried within them such a drive to change the world and build inclusive communities for their students. Even now, I am blown away by what my cohort has accomplished out in their own classrooms. I am so proud of all of them and always cheering them from afar. 
Q: What would you like people to know about what it's like to be a Special Education teacher?
Being a SPED teacher comes with unique challenges. Your kids are vulnerable and oftentimes are fully aware of how different they are from their peers. It requires a specialized skill set, an incredible amount of patience, and high emotional intelligence. Any "extra time" you have will almost always be spent re-regulating students, working on documentation, leading meetings, planning, and then teaching. However, when your kids reach their potential and you begin to see things click…nothing beats that feeling. When you empower your kids and watch them learn to love their brains and see their worth, it's the most life-affirming experience. At the end of the day, you are these kids' advocate and you are teaching them skills and strategies they will use for the rest of their lives. That is pretty incredible. 
Q: What is one thing you've learned in your career that you want to tell aspiring teachers?
Get involved in the things you are passionate about. Teachers tend to burn out so easily because we take on the entire weight of the world. It's hard to say no to those extra responsibilities and tasks put on us, but I encourage teachers to seek out those particular things that fulfill them where they can really make an impact. Maybe it's coaching, running a club, heading a committee, volunteering, attending professional development, mentoring, etc. Do something that allows you to grow and serve the greater community your students inhabit. Don't just say yes to say yes. Enjoy what you do because when your kids see how much you love what you do, they'll model that behavior. For me, co-leading the equity committee at my elementary school and coaching youth lacrosse are the things that bring me joy. 
Q: How do you feel about receiving the NSEAT award?
Deeply honored. It is such an honor to be awarded for something that I put my whole heart and soul into. I lay awake at night thinking about how I can improve on things, or how I can more effectively run meetings, complete documentation, inspire my kids, etc. My students and my incredible co-teachers are always on my mind, and it feels amazing to have those efforts recognized. It's even more impactful because the person who nominated me is somebody I very much respect and admire. My nominator is somebody who has guided me through SPED, answered all my questions, read through all my drafts, supported my decisions, and has always had my back. It made me feel very seen, because she really acknowledges me for where I am headed and not what I haven't yet accomplished.
Q: What are your plans for the next few years?
I would really like to get involved in leadership in special education through the Virginia Department of Education and continue to mentor UVA interns. I absolutely loved my experience with my first intern and I am already excited for my new ones this year. I am getting married in June 2024 to the most supportive and incredible man, so I will leave Charlottesville within the next couple of years and continue to grow in my own practice as an educator. I'd like to become board certified through NASET and lead professional development in my areas of strength. Hopefully I will some day pursue an Ed.D. and continue to serve as an advocate for equity in education. 
Master of Teaching in Special Education
Learn more about the Master of Teaching program in Special Education at UVA.
News Information
Media Contact
Laura Hoxworth
Email
Research Center or Department
Curriculum, Instruction & Special Education
Phone
News Type
News Topics