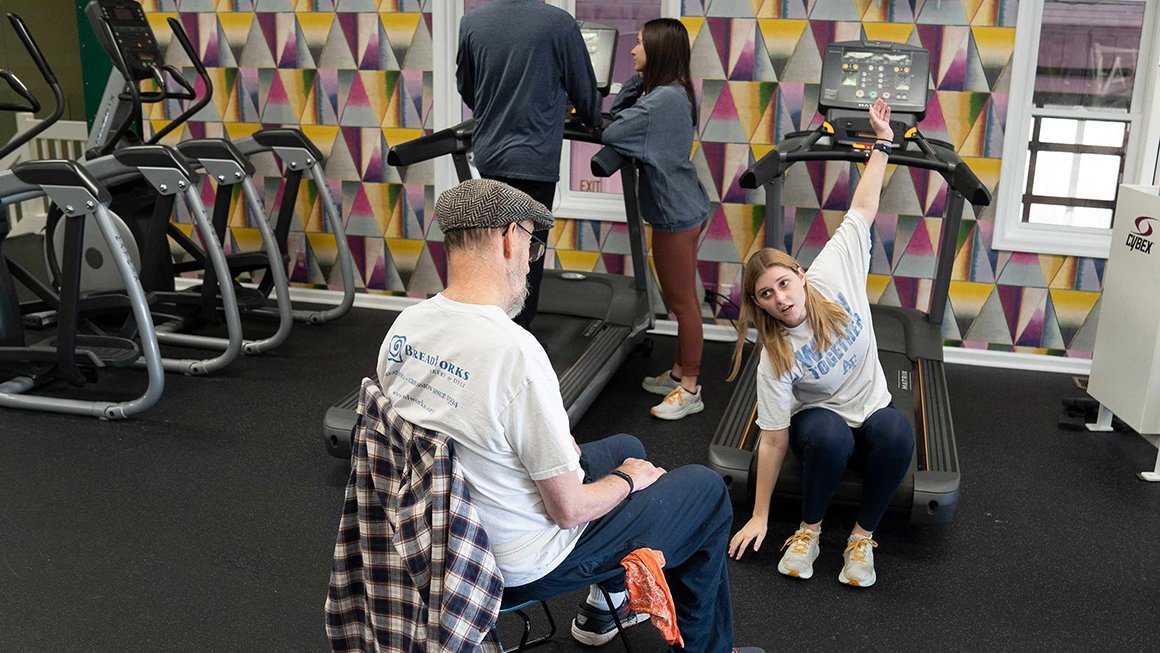 Interns Find Friendship in Work Spaces
Interns Find Friendship in Work Spaces
Kinesiology students at the Fried Center for Advancement of Potential say both clients and colleagues add to their learning experience.
It may be better to give than to receive, but a group of University of Virginia kinesiology students have found their joy in doing both at a center that assists adults with intellectual disabilities.
The School of Education and Human Development undergraduates are interns with the Fried Center for the Advancement of Potential in Albemarle County. They work primarily with residents of nearby Innisfree Village, a community of adults with intellectual disabilities,  known to staff at Innisfree and the center as "coworkers."
The center is adjacent to Innisfree, located deep in the rolling foothills of the Blue Ridge Mountains, far from the bustle of town and Grounds.
"The first time I was out here I was in awe. It's such an uplifting environment to work in," said Amanda Glatt, one of 10 student interns working with the center.
That environment includes more than nature's beauty, although there is plenty of that. Clients provide a large amount of uplift.
"They come in with positive attitudes and they really enjoy working with us. They really love the interaction," Glatt said.
"We spend a lot of time together out here, and you can't help but build close interpersonal relationships with the other interns and the coworkers," agreed intern Megan Jackson. "We have become good friends with each other and with them."
Former UVA Board of Visitors member Barbara Fried founded the center. She also chairs the Innisfree Village Board of Directors. Its goal is to help the nearby Innisfree community members improve their health and build strength through physical therapy and conditioning.
The center's clients include Special Olympics athletes and some staff and students from the UVA community. Interns help provide therapy and performance training through supervised exercise, adaptive sports education, diet and hygiene. In turn, they receive invaluable experience to benefit their future careers.
The goal of the Fried Center is to help those with intellectual, and oftentimes associated structural disabilities, "to achieve fitness for life and to advance their full potential," its website states.
"The idea was that the fitness level of disabled people could be impacted on a much greater extent than what was being done," said David Luedeka, owner and director of CKC Fitness Systems. Luedeka has designed the exercise system for the center and is the supervisor.
"We don't talk about it, but this population has lots of co-morbidities and lots of challenges," he said. "The studies show that people need 150 minutes of moderate exercise a week to improve their health. It doesn't say people with intellectual disabilities don't need to do that."
People with intellectual challenges may not be able to effectively exercise on their own or correctly carry out therapeutic exercises without help. That's where the Fried Center comes in. Interns work one-on-one and sometimes in larger ratios with each coworker.
Keila Strick, a former intern, said her experience at the center convinced her to get her Ph.D. in physical therapy and return to the center as a staff member.
"From the standpoint of interacting with people, [the coworkers] are pure joy," she said. "Everyone has a rough day, but even then, it's lighthearted, more enjoyable and more uplifting."
An in-person visit to Innisfree brings this enthusiasm to life.
On a recent midweek morning, several adults were in the Fried Center's gym. One walked on a treadmill, held by the steady hands of an intern. Another pedaled a stationary bike under a watchful eye. Others performed a variety of therapeutic maneuvers, from stretching to strength exercises.
They laugh and joke with the budding kinesiologists and enthusiastically greet strangers as if there were no strangers at all.
There is no sign of "gym jealousy," no sense of entitlement to a therapist's time or attention. There is no embarrassment at their abilities or lack thereof. No one shirks or slacks in their exercises. No one questions their coaches. It's like a dozen close friends at a workout party.
"It's hard to explain the difference it makes to you when one of the coworkers comes in and sees you and his eyes light up and he excitedly calls you by your name and is so happy that he remembered it, even though it's the wrong name," laughed intern Vita Fuentes. "You don't care because you know how happy they are to see you. It makes you feel good that you mean that much to them, and then you realize how much they mean to you."
Strick said the program gives student interns not only warm feelings, but real-life experience that most undergraduate intern programs do not.
"In most programs you don't get to do more than change pillowcases and wipe down tables until you're post-graduate," said Strick, who served as one of the program's first interns in 2016. "It gave me firsthand experience and convinced me that this is what I wanted to do."
"In the six years I've been teaching the [intern classes], I may have had one person who wasn't a good fit," Luedeka said. "They're caring and amazing and sacrifice a lot working this far off of Grounds and away from their friends."
The experience has inspired many UVA students to devote far more time and energy to center clients than they probably imagined they would. Siblings Ben and Helen Gaynes, for example, have volunteered at the Fried Center throughout their undergraduate years.
Ben Gaynes said that, as much as he's learned from the physical therapists on staff at the center who work with the interns, he learned even more from the clients.
"I hadn't truly interacted with the population of individuals with disabilities before, so I didn't know what to expect," Gaynes said. "But they are the best people to work with. They make all of us happy every time we work together and help us learn a lot about ourselves. I don't think there is a better experience I could have had in college than working at [the center] and it's something I'll never forget."
For their part, the interns are in nearly unanimous agreement that they love the program, working with their clients and being with each other. They're also sad that it will end when their internships come to a close.
"I feel very grateful that we have this opportunity," Fuentes said. "We can measure their progress over time and we get to see the difference. I feel like the other interns are my friends and so are the [coworkers]."
"It's going to be sad to leave because we won't have the opportunity to spend this much time with our clients, again," Glatt said. "It's great seeing how independent they are, how friendly."
Unlike corporate-run or commercial physical therapy outlets, there is no set time frame for an appointment. If more than 20 minutes is needed to help the client, more than 20 minutes is taken.
"If we need an hour or three hours with someone one day, we can do that," said Strick, who worked in traditional physical therapy centers before coming back to the center.  "You can see the impacts on the client and see the long-term benefits."
While the interns are unlikely to find jobs where they can spend as much time with their clients, they agree that working with the Innisfree residents provides a rare opportunity to see how important their occupations can be for individuals, especially those with challenges.
"They are an underserved population and we have had the opportunity to see how well they respond," intern Liz Wombacher said. "That puts us ahead of the rest of the world in understanding. When we leave and get jobs elsewhere, we need to spread that knowledge. It's up to us to catch the rest of the world up. We may be the ones to make a change."
News Information
Research Center or Department
News Type
News Topics