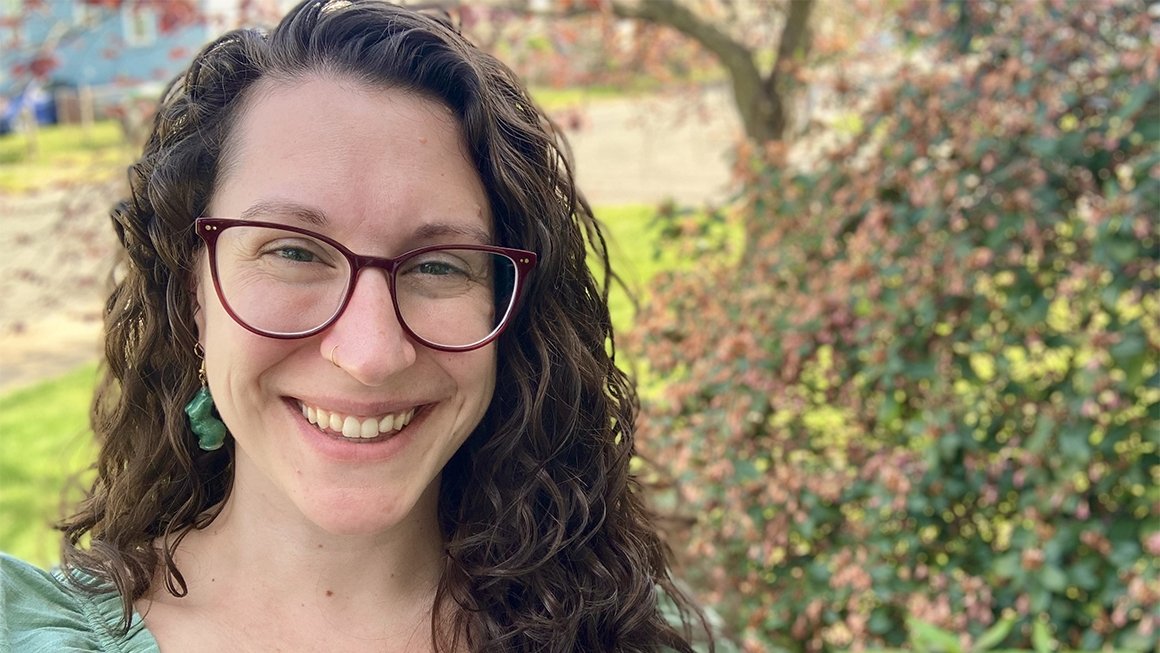 Class of 2023: Theresa Pfister
Class of 2023: Theresa Pfister
Theresa Pfister, graduating with a Ph.D. in Educational Psychology – Applied Developmental Science, focused her doctoral studies on the intersection of social-emotional learning and equity.
After working as a Peace Corps volunteer and an elementary school teacher, Theresa Pfister chose to pursue her doctoral degree to help bridge the research-to-practice gap through authentic partnerships with schools and districts. She is graduating in May with her Ph.D. in Educational Psychology – Applied Developmental Science. 
What inspired you to choose a career in education? 
My mother, who took me to the library every week to grab as many books as I could fit in my arms. My father, who, on my luckiest days, substitute-taught for my classmates and me. My older brothers, who shared their lessons with me every day when they got home from school. And my youngest brothers, who let me play teacher and sat still long enough for me to get through my made-up lessons. 
Why did you choose the UVA School of Education & Human Development for your program of study? 
Before my doctoral studies, I was an educator. I started my career as a Peace Corps volunteer in Ethiopia, then transitioned to teaching full-time at an elementary school in Brooklyn. From there, I shifted to the non-profit sector, supporting low-income students in their pursuit of higher education. UVA's School of Education and Human Development was one of a few programs that saw all my years in the field—rather than in a lab—as a source of strength. 
What is the most significant thing that has shaped your time here? 
The all-you-can-eat menu! Yes, it is quite difficult to say no at times, but the opportunities to expand your thinking, extend your skills, sample different projects, and write and write and write? Priceless. These experiences have helped me home in on the kind of work I do (and don't!) want to do next. 
What is one thing you learned during your studies that surprised you most? 
The stereotype about grad school is that it is the time of your life where you lose all sense of balance and boundaries. For me, it was the exact opposite. The pandemic, which hit during the second semester of my first year, demanded deep reflection and change. Supported by my advisors and community, these four years have helped me reimagine the life I want for myself and others: lives in which we are healthy, happy, and making a difference. 
Who is one person who has made a special impact during your studies and how? 
The most beautiful part of my time here has been my relationships; in particular, my colleagues turned lifelong friends. What started as a Feminist Book Club my first semester has grown into an inspiring and supportive community. I have witnessed this group of women share valuable insights and lessons learned, pick each other up after setbacks, and celebrate each other louder than we would ever celebrate ourselves. It is no exaggeration to say I would not have made it through these four years without this incredible group of humans. The field is infinitely lucky to have every single one of them. 
What will you be doing next? 
I will be working at WestEd's Center to Improve Social and Emotional Learning and School Safety. Here, I get the best of both worlds: to continue answering important questions via research while also developing crucial materials and trainings for educators and education leaders across the country. I'm excited to put my training to good use and continue learning from my new team about systems change, adult learning, and equity. 
Class of 2023 Graduation Profiles
We invite you to get to know a few members of the UVA EHD Class of 2023 as we celebrate the accomplishments of the entire class.
News Information
Media Contact
Laura Hoxworth
Email
Research Center or Department
Education Leadership, Foundations & Public Policy
Phone
News Type