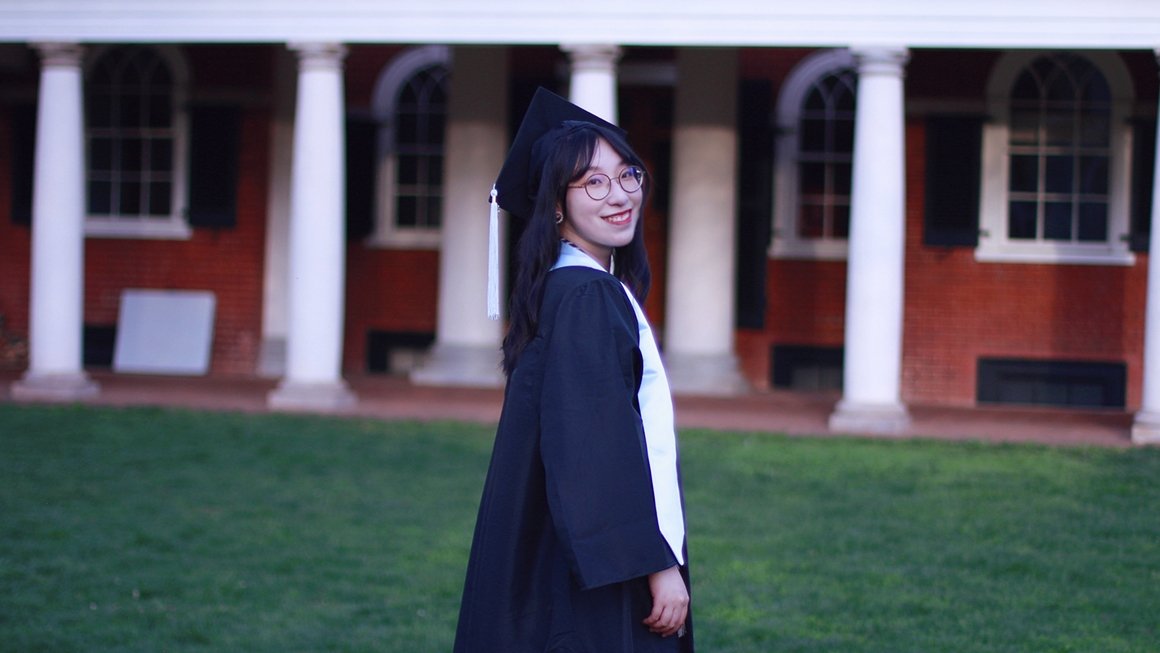 Class of 2023: Polly Wu
Class of 2023: Polly Wu
At EHD, Polly Wu discovered the perfect program that aligned with her interests in youth outside the traditional classroom setting: the Youth and Social Innovation major.
Originally from Shanghai, China, Polly Wu used her experiences as an international student to support other UVA students initiating a career in the U.S. as a career peer educator. This May, Polly is graduating with a bachelor's degree in Youth and Social Innovation.
Q. Why did you choose the UVA School of Education & Human Development for your program of study?
When I first arrived at UVA, I was deeply interested in education. But I knew that I didn't want to become a teacher. It wasn't until I took a community engagement class with Professor Levy that I discovered the Youth & Social Innovation major. This program offered a unique focus on youth programs outside of the traditional classroom setting, which aligned perfectly with my interests. I realized that this was exactly what I wanted to learn. So, I made the decision to transfer to the School of Education & Human Development to pursue YSI.
Q. Can you share a little bit about some of the things you have been involved in while at UVA?
During my time at UVA, I had the honor of serving as the Education School selection chair for the prestigious Raven Society. This role allowed me to lead the annual selection and initiation process and work closely with a diverse group of talented undergraduate and graduate students. Through this experience, I gained valuable insight into their unique experiences and contributions to the UVA community.
I also served as a mentor for the Hoo2Hoo network, where I led workshops focused on technology and professional development for students enrolled in online programs at UVA. This experience allowed me to share my knowledge and expertise with others while helping them achieve their academic and professional goals.
Q. What is the most significant thing that has shaped your time while you've been here?
One of the most significant things that shaped my time here would be working as a Career Peer Educator at the UVA Career Center. In my role, I served as an intern working with counselors to guide and coach students on career development. I presented in classes to introduce career services and skills to students from different demographic backgrounds. My identity as an international student allowed me to see the unique concerns that these students have for initiating a career in the US. Therefore, I advocated for the creation of career programs and resources which target this population. I took full pride in myself for the creation of a safe space during drop-ins for students from underserved backgrounds to talk about career development and address their concerns. 
Q. What is one thing you learned during your studies that surprised you most?
Your brain is still developing in your 20s. So, it is cognitively reasonable for it to feel hard to imagine your future. Learning about early adulthood can be incredibly inspiring and insightful, as I have the opportunity to both experience and gain knowledge on the topic simultaneously. 
While learning about this topic, I've had numerous "a-ha" moments, as I've come to understand the science behind some of the confusions and anxieties I've had about my own life. It's been truly enlightening to gain a deeper understanding of this transformative period of life.
Q. Do you have any thoughts about what you will be doing next?
I double majored in global public health, so I plan to further my education by pursuing a Master of Public Health at Columbia University. I hope to work on child development and well-being in low- and middle-income countries after my graduation.
Class of 2023 Graduation Profiles
We invite you to get to know a few members of the UVA EHD Class of 2023 as we celebrate the accomplishments of the entire class.
News Information
Research Center or Department
News Type
News Topics