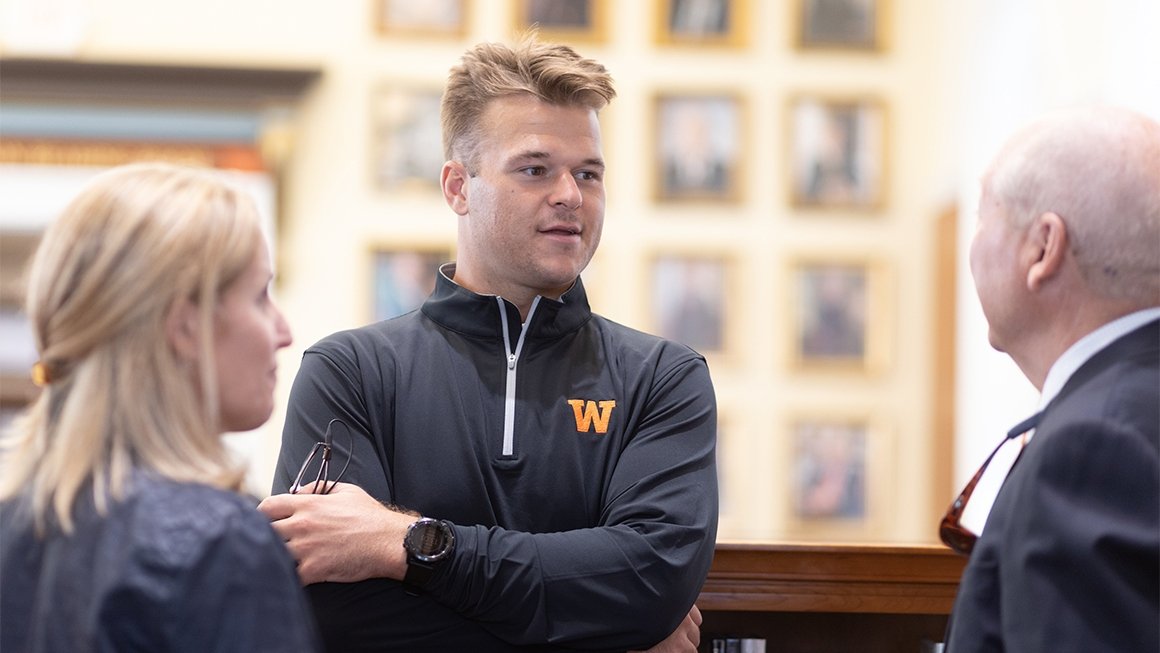 Class of 2023: Jackson Matteo
Class of 2023: Jackson Matteo
Former UVA offensive lineman Jackson Matteo, graduating with an Ed.D. in Higher Education, reflects on his 10-year journey from undergraduate student-athlete to head coach, mentor, and triple Hoo.
Jackson Matteo first enrolled at UVA in 2012, earning an undergraduate degree in sociology in 2016 and a master's degree in higher education in 2017. He graduates with his doctorate this month, officially becoming a triple Hoo. His doctoral dissertation investigates the impact of redshirting on Black football players at predominantly white institutions. 
What inspired you to choose a career in education? 
Because of my experiences in athletics and education, I am a firm believer that teachers, coaches, and mentors are uniquely positioned to have massive impacts on the young people around them – for better or for worse. I work in education because I believe that the knowledge and lessons that my teachers, coaches, and mentors bestowed upon me are too valuable to not be passed down to future generations. I love being able to build relationships with young people in an educational setting, and specifically, use football as the vehicle where I can guide young men through their high school careers. 
Why did you choose the UVA School of Education & Human Development for your program of study? 
As a student-athlete at UVA, I was granted a redshirt year upon my arrival which allowed me to pursue a master's degree during my final year of athletic eligibility. Christian Steinmetz came over to the McCue Center to briefly interview potential admits for the School of Education, and later I found out that I was a conditional admit. From the very beginning I realized that I had a special opportunity to learn from and work with Christian – I bought in so deeply to the goals she set forth for me because she was one of the first people in my life who expressed a genuine belief that I could do well in academic settings. Here we are now, seven years later. 
What is the most significant thing that has shaped your time here? 
Without a doubt, it is the unconditional support that I received from professors in and around the School of Education. Not once did I feel like I wasn't supported and poured into, or that I didn't belong. Making the transition from having most of my identity in athletics to embracing an academic identity came with a heavy dose of imposter syndrome, but I was able to make that transition because of the mentorship I received. 
What is one thing you learned during your studies that surprised you most? 
That everyone's life experiences shape their perceptions. When I was introduced to the concept of using different lenses to view topics, issues, or phenomena, I experienced a Jimmy Neutron brain blast. I leaned on this concept heavily throughout my graduate studies in applying critical race theory and Schossberg's transition theory to the transition experiences of Black Division-I football players during their redshirt-freshman year at a predominantly White institution. 
If you can, name one person that has made a special impact during your studies and how? 
No one has been more integral to my academic experience and the cultivation of my self-belief than my advisor, mentor, and close friend, Christian Steinmetz. I will never forget the first time she introduced the idea of an Ed.D., and my reaction to her suggestion: no way. Thankfully, every time I have thought 'no way' in the last six years, she has remained steadfast in her support. My life has forever changed because she saw something in me that I couldn't see in myself. 
What will you be doing next? 
I will continue to serve Woodberry Forest School, an all-boys, all-boarding private school, as their head football coach, assistant athletic director, and assistant learning specialist in their academic development center. 
Class of 2023 Graduation Profiles
We invite you to get to know a few members of the UVA EHD Class of 2023 as we celebrate the accomplishments of the entire class.
News Information
Media Contact
Laura Hoxworth
Email
Research Center or Department
Education Leadership, Foundations & Public Policy
Phone
News Type
News Topics