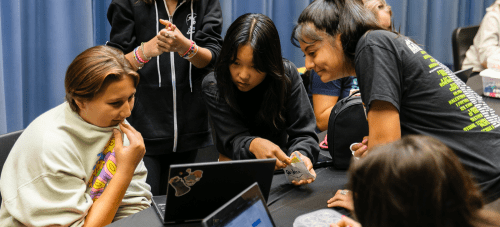 Gifted Education: Professional Learning
Gifted Education: Professional Learning
The online Gifted Education course series focuses on preparing teachers and administrators to address the characteristics and needs of gifted children. Online courses, a 12-credit certificate, and the opportunity to pursue Gifted Education endorsement.
At a Glance
Program Results
Professional Learning
Professional Development
Certificate - Teaching Gifted Learners in PreK-12 Education
Add-on Endorsement - Gifted Education
Career Objective
Teacher of gifted students, coordinator of gifted education programs, administrative positions
Program Type
Location
Estimated Length
1-4 semesters
Application Deadline
Spring entry: November 1
Summer entry:
February 1 (priority deadline)
May 1 (final deadline)
Fall entry:
March 1 (priority deadline)
July 1 (final deadline)
About This Program
The Gifted Education course series provides practicing and aspiring teachers with the skills and knowledge to identify and meet the needs of highly able students from diverse backgrounds. Topics in this course series include an overview of issues in the definition of giftedness, identification, curriculum, instructional strategies, program options, special populations and evaluation.
This flexible course series offers a range of opportunities, including:
Professional Development: Educators may opt to take one or more courses, without completing the series, to learn more about working with Gifted Learners or earn master's level credits. Students interested in obtaining a graduate degree can take these courses and apply up to 6 credits towards a Gifted area of emphasis in the M.Ed. in Curriculum and Instruction (provided the student has earned at least a B- grade)
Certificate: Educators, administrators, and students holding an undergraduate degree from a regional accredited institution (or international equivalent) may complete the 12-credit course series to receive the Gifted Learners in PreK-12 Education Certificate. Students may transfer a maximum of 3 graduate credits from another college or university towards the Certificate. For details about what credits may be transferred, please visit the College of Arts & Sciences transfer credit page.
Requirements for Add-On Endorsement Candidates
To learn more about the VDOE requirements for licensure in Gifted Education, you may review the Administrative Code here.
The key objectives for the Online Gifted Education course series at the UVA School of Education and Human Development are to:
Develop educators' understanding of the field of gifted education;
Prepare teachers and administrators to make research-based decisions in developing programs and curriculum for gifted students;
Prepare teachers and administrators to teach gifted students;
Increase educator appreciation of the wide range of giftedness and the issues in identifying and serving gifted students from diverse populations; and
Strengthen and enhance leadership capacity in the field of gifted education.