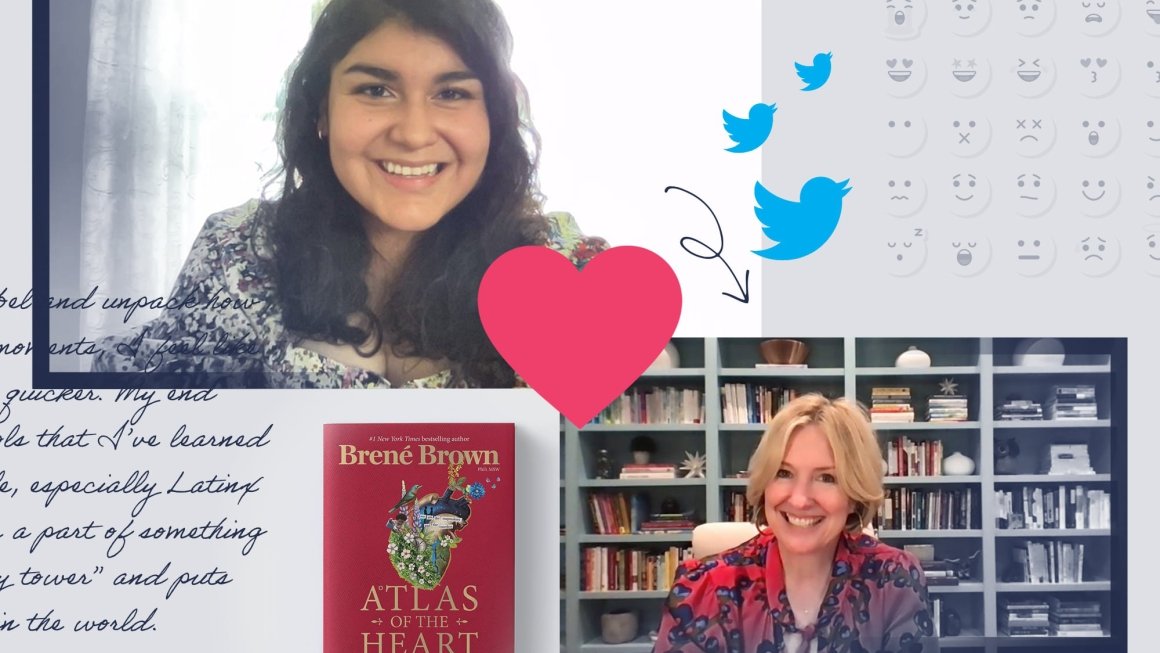 Q&A: She Works For Brené Brown. Here's What She's Learned About Human Connection.
Q&A: She Works For Brené Brown. Here's What She's Learned About Human Connection.
UVA EHD alumna Paola Sánchez Valdez wrote an essay for the famed emotions expert's latest book and makes a cameo in an HBO Max special released this month.
As a Youth and Social Innovation major in the UVA School of Education and Human Development, Paola Sánchez Valdez established herself as a leader and advocate for Latinx and undocumented students at UVA – founding multiple student organizations, participating in research, mentoring local youth, and more.
After graduation, she followed her passions for policy work and advocacy to the Virginia Justice Project for Farm and Immigrant Workers, part of the Legal Aid Justice Center, where she worked as a community organizer providing outreach and legal rights education to seasonal and migrant workers. She then worked as a legislative aid for the Virginia General Assembly before returning to school to earn her Master of Social Work degree from Columbia University. Her intention was always to pursue a career in policy – until an unexpected opportunity turned her life around.
Thanks to a chance connection on Twitter, Sánchez Valdez now lives in Houston and works alongside research professor and well-known emotions expert Brené Brown.
Brown, a social worker and academic researcher who studies shame, empathy, courage and vulnerability, became a household name in 2010 after creating TED talk on the power of vulnerability became one of the most-watched TED videos of all time. Brown has penned six bestselling books and hosts the popular podcasts "Dare to Lead" and "Unlocking Us."
Sánchez Valdez joined the team just in time to work on Brown's latest book, "Atlas of the Heart." Published in November, "Atlas" explores 87 emotions and experiences that define what it means to be human, mapping out a framework for cultivating meaningful connection. An accompanying five-part series was released this month on HBO Max.
We spoke to Sánchez Valdez about the thread that connects all her pursuits, her cameo on the HBO show, her advice for college students, and more.
Q. How did you land the job as a postgraduate researcher with the Brené Brown Education and Research Group?
A. Last spring, I was finishing up graduate school while working multiple jobs, all during a pandemic, and I was feeling very burnt out and overwhelmed. The constant grinding and hustling – I realized that I can't continue that way for the rest of my career. It's just not sustainable.
At the same time, I've always been in the policy world, and I started thinking that maybe I should try branching out. That's when I was introduced to the work of Brené Brown.
One day, I was on Twitter, just scrolling, and I saw that she was replying to people who were tweeting at her. I tweeted at her and asked if she had any tips on how to pursue a Ph.D. in social work – you know, the academy can be very inaccessible, and there are not a lot of Ph.D.-holders who look like me. I didn't think she would see it, but she did, and she direct-messaged me and was like, "Tell me more about yourself."
At that point, I was like, "Oh my gosh, is this really happening!" I told her my whole story, and I also slipped my résumé in there, because you never know. Shortly after she offered me the first position in her company as a postgraduate [Master of Social Work] fellow.
Every time we tell the story, we just look at each other, like, "Yup, we're going to tell the Twitter story." But it is really funny and awesome that life worked out that way. Social media is powerful.
Q. What does your job entail?
A. I help with research initiatives, whether it's for our training programs for licensed mental health professionals, or leadership trainings for CEOs and executives. Whenever we have a new project or training that needs to be evaluated, that's when the research team comes in.
On top of that, I'm also offered opportunities that are not research-based, like the HBO show. Or if I have an interest in something, I could easily say that, and they'll find a way to make it work. It's been a very holistic experience.
And then, of course, a large chunk of my beginning experience was working on "Atlas of the Heart." I have never read so many research articles in my life!
Q. In the book, you wrote a personal essay about your experience growing up as an undocumented immigrant for the section on "belonging uncertainty." At the end of the essay, you wrote that you belong to yourself. What did you mean by that?
A. Whenever I go back to Ecuador, my family will call me a "gringa," which just means a person from the U.S. But when I'm here in the U.S., I'm still an Ecuadorian immigrant. So in whatever space I'm in, there's always that feeling of not being 100% a part of the group.
I wrote that I belong to myself because I realize I may not ever feel 100% a part of the group, but if I have a grounded confidence in myself, and I know who I am and I know my values – and that's really big in Brené's work, knowing your values – I can know that I belong to any space.
In the essay, I wrote about my friend at UVA with whom I first shared my experience of being undocumented. Without that connection, I don't think I would have been able to do everything that I did at UVA. Writing my story for the book reminded me that in each one of those instances where I've felt different, or like I didn't belong, what has kept me grounded has been connection. Yes, I belong to myself, but I can't belong to myself without having the support of my community. Connection empowers us all.
Q. How were you involved with the HBO show, and what was that experience like?
A. After working on the book, I got invited to be part of the audience because I live in Texas, where it was filmed.
As social workers, we do a lot of role playing. It's how we teach folks how to navigate difficult conversations or show up bravely. I'm comfortable with role playing, so I got asked to do a role play with Brené on what "empathy misses" look like. Empathy misses are basically what empathy does not look like – what you should avoid doing. Things that a lot of people confuse with empathy.
The role play is about a co-worker going through a distressing situation. So I'm the distressed coworker, and Brené is the coworker that's trying to support me. It was really fun, and nerve-wracking for sure. I was definitely nervous, but I think that's when the work kicks in and I'm like, "This is my arena! I have to show up now more than ever."
But aside from that small cameo, what I really love to see is the research that I did – and that my coworkers have done for years – come to life on the screen in a way that anyone can understand.
Q. How does the work you're doing now with emotions research relate to your passions for community organizing and supporting Latinx youth?
A. One reason I love Brené's work so much is because she is a social worker, and she understands the systemic levels of oppression that a lot of my communities face. I'm still very passionate about creating environments where youth can show up and be themselves and get access to the resources that they need. And I think one of the first places we can start is with social-emotional learning.
To me, it all makes sense, because I feel like, especially in community organizing circles, we need this work more than ever. If we were all able to label and unpack how we're feeling in difficult moments, I feel like we could get to mobilizing quicker. My end goal is to take all these tools that I've learned and share them with people, especially Latinx communities. I want to be a part of something that deconstructs the "ivory tower" and puts something meaningful out in the world.
Q. I have to ask – what is it like working with Brené in person?
A. It has been so rewarding to see someone really walk the walk. It's the healthiest work environment, and the way that she centers the voices and experiences of employees of color has been incredible.
It's also been amazing seeing a woman in power carry herself with so much poise. I'll give you an example. At the South by Southwest premiere of "Atlas," she came out to do a Q&A after the show. And people brought up questions about Russia, about racism in the workplace, anti-Asian violence – very real topics. The way that she was able to answer so quickly, but also with empathy and an insightful response on how to move forward, was so inspiring and moving. She is definitely a role model for what I can be as a social worker.
Q. What's next for you?
A I think I need at least one more year of experience outside of an academic institution. But my goal is to go back to school, whether it is a Ph.D. in social work or maybe law school. Growing up, all I wanted to be was a lawyer, so that's still in the back of my mind.
My goal with all of this – working with Brené and hopping from the policy world to emotions research – is that I genuinely want to bring more mental health awareness and more psychosocial well-being awareness to my community. I'm always going to be advocating for my communities.
Wherever I choose to go next, this experience has added tremendous tools for my professional life. I think life will lead me where I need to be.
Q. What advice would you give to current undergraduate students?
A. My journey in social work has been far from traditional. I jumped from political advocacy work [as a community organizer for farm workers, then a legislative aide] to a field I barely had any experience with – emotions research. It's scary to put yourself out there and do something for the very first time, especially as undergrads. But your journey doesn't have to be linear. In fact, it's better if it's not. You'll be so surprised at the lessons each destination has for you.
What has helped me take big leaps in life is asking myself, "Does this opportunity align with my values?" By identifying your values, you're better able to refer to your authentic wants and needs, even when making the toughest decisions.
If you want to define or explore your values, check out our Living Into Our Values step-by-step exercise. This is an exercise we use in our Dare to Lead program for companies and executive trainings.
As undergraduates, if you have a concrete understanding of who you are, you already have a competitive advantage in the workforce.