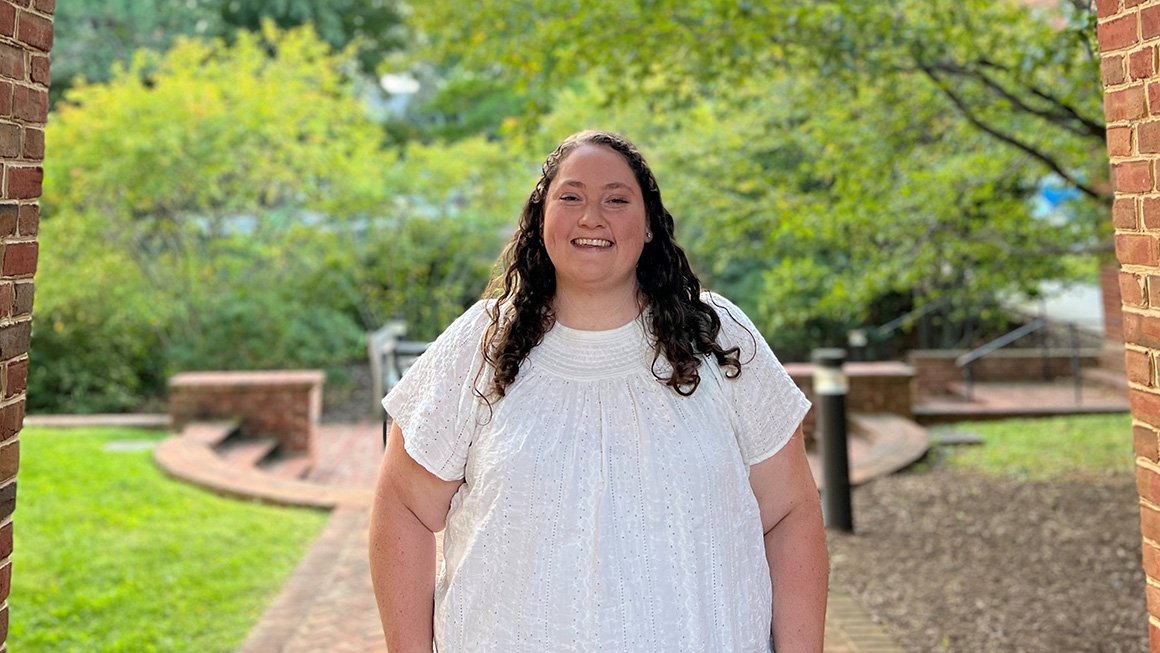 Q&A: Counselor Education Graduate Student of the Year Danielle Hutcherson
Q&A: Counselor Education Graduate Student of the Year Danielle Hutcherson
Hutcherson, a second-year counselor education student, received the award for her academic excellence, passion for counseling, and potential to make an impact in the field.
At a reception earlier this month, second-year counselor education student Danielle Hutcherson was honored with the Virginia School Counselor Association's 2022 Tamara E. Davis Graduate Student of the Year award. The purpose of the award is to recognize an outstanding graduate student who has demonstrated excellence in their program of study, displayed passion for entering the school counseling field, and who shows great potential. 
Hutcherson, who also earned her bachelor's degree from UVA, was nominated by UVA faculty who described her as warm, kind, and committed to serving students.
"Danielle consistently displays passion for becoming a school counselor," said Julia Taylor, associate professor of counselor education. "In addition to thriving in her field placements, Danielle has taken five additional courses in school mental health leadership and will graduate with close to 70 credits. Her undergraduate degree is in Youth and Social Innovation, and she has carried over polished advocacy skills, awareness of cultural, political, and socioeconomic factors that impact student success, and a deep passion to help youth succeed."
Taylor also noted her willingness to serve her fellow students and the field of school counseling.
"Danielle is an involved individual who continually aims to make a difference. For instance, she is the president of our student organization and makes enormous strides to engage students in social activities. Inclusion is important to her, and she wants our students to feel connected, particularly after an extended period of isolation from COVID. She has volunteered to assist with every event our program offers, from interview day to graduate student orientation. She is certain to carry these characteristics into her career and has already demonstrated remarkable potential."
We asked Hutcherson to share more about her experience and her hopes for the future.
Q: What made you want to pursue a career in school counseling?
A: I've always been interested in education and working in a school, but I knew I didn't want to be a teacher. During the 2020-21 school year, I worked as a virtual learning facilitator, so I helped a class of 5th-7th grade students complete their virtual schooling. Through that experience I got to help students with their academics, but I also got to talk with them and help them process the challenging times they were facing. I realized that I loved being able to meet students at the intersection of their academics, social emotional development, and personal lives, and I wanted to find a career that fit those interests!
Q: Why did you decide to enroll in the UVA EHD counseling program?
A: The incredible faculty we have in the counselor education program are who drew me to this program in particular. Every interaction I had with them throughout the admissions process confirmed that I wanted to learn from them and train under their supervision. I also went to undergrad at UVA, so Charlottesville has become home to me over the years. 
Q: How would you describe your experience in the program?
A: My experience in this program has been filled with a lot of growth, personally as well as professionally. Having the opportunity to learn from some of the best in the field has been really wonderful, and not something that I want to take for granted. It has certainly been challenging at times, but I've learned a great deal in this program about myself, the profession, and the world around me that I would not trade for anything. 
Q: What is one particularly impactful part of your time at UVA?
A: I would have to say that the network of support I have gained through my classmates and professors has been incredibly impactful during my time at UVA, and will continue to be for many years to come. Getting to learn from my peers and bounce ideas off of each other has prepared me to be a better school counselor and overall human.
Q: What would you like people to know about school counseling?
A: I want people to know that school counselors are not just extra bodies in the school building, responsible for signing students up for classes. Yes, that is one thing we do, but we are so much more than that. School counselors are academic as well as mental health supports for our students. We teach students coping skills, help with goal-setting, connect them with community resources, advocate for their needs, help process difficult family/home situations, teach social skills, establish support in and out of school for their mental health needs, and so much more! We are an incredibly valuable resource in schools for ALL students!
Q: How do you feel about receiving the VSCA award?
A: I was so surprised and humbled when I found out. It was unexpected, but I've felt very grateful and honored to receive the award. I've had so much support from my family, friends, classmates, and professors, and I can't thank them enough for the ways they have impacted me over the years. 
Q: What are your hopes for the next few years?
A: I hope to get a school counseling job at a high school in either the Charlottesville or Richmond area! My ultimate goal as a school counselor is to set my students up for success by establishing necessary supports emotionally/mentally and academically, helping them set personal and career goals, teaching them strategies for how to meet those goals, and advocating for their needs. My hope is that I'll be achieving that goal through my work with students!