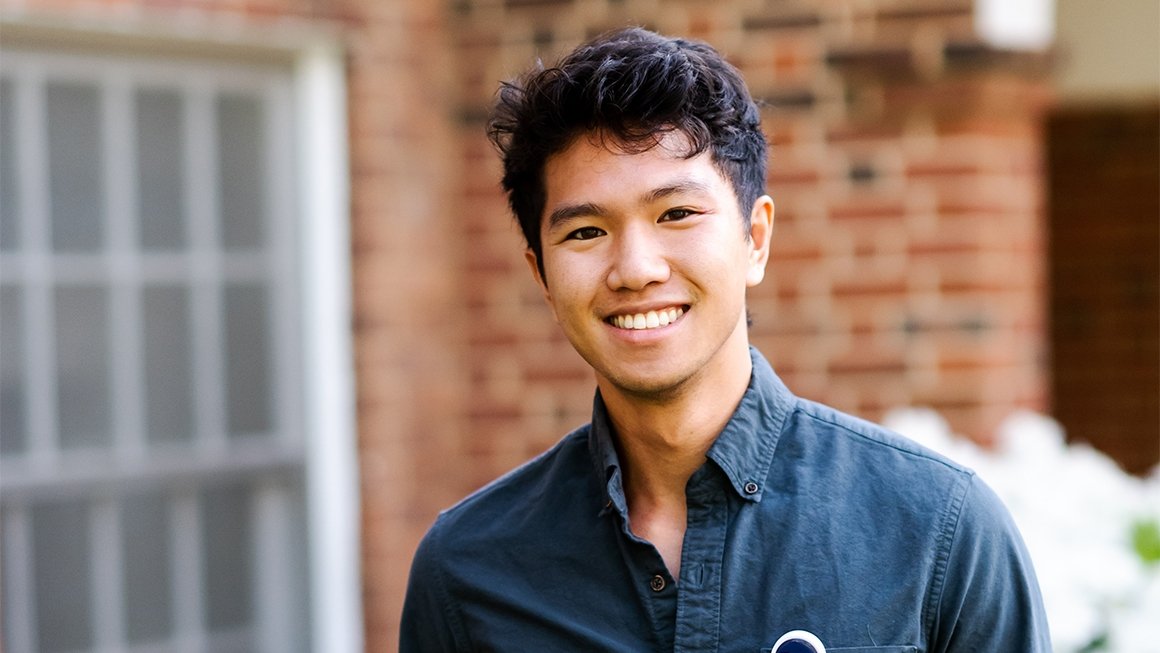 Alumni Spotlight: Jeison De Guzman, Kinesiology M.Ed.
Alumni Spotlight: Jeison De Guzman, Kinesiology M.Ed.
Seeing how exercise as medicine helped treat a close family member with cardiovascular disease inspired Jeison to pursue a career in medicine. An M.Ed. in Kinesiology with a concentration in Exercise Physiology gave him the knowledge and experience he needed to prepare him for medical school.
Q: What made you want to pursue a career in medicine?
This journey began after a close family member had a severe myocardial infarction. This life-changing experience made me seriously consider the possibility of pursing medicine as a career to one day save the lives of others like the cardiothoracic surgeon and his team did for my family member.
My first clinical experience was in the Appalachian mountains, where I worked with a patient with cerebral palsy who was struggling to walk. When we first started, she was unwilling to participate in her physical therapy program – pushing me, scratching me, and even hitting me at times. However, I was determined to help her succeed in regaining her function. I created individual exercises to target specific muscle groups that would help her gain strength and improve her balance. As I guided her through the treatment, she slowly began to trust me. One year later, I will never forget the big smile across her face as she successfully navigated an exercise ladder for the first time and warmly embraced me with a hug.
Soon afterwards I dipped my feet into research, which I must admit, I initially signed up for the monetary incentive. However, as I was instructed to drink bottles of beetroot juice and undergo various exercise testing, I became curious about the study. Doing a quick literature review, I found that beetroot juice contains a high content of nitrates, critical to the vasodilatory pathway. I became excited about the study and talked with the lead researcher, who graciously allowed me to join the research team. We found that males benefitted from beetroot juice supplementation, however surprisingly females had significantly worsened endurance performance.
Enticed by working with patients and conducting research, I became a volunteer at an orthopedic clinic and continued to work in clinical research examining the associations between exercise activity and diet/drugs in a multitude of patients including coronary heart disease, the pathology that led me to medicine in the first place. Witnessing the impact of the diet and exercise treatments on patients' health, I saw how vital research and patient care can be to improving clinical outcomes, which solidified my desire to become a physician!
Q: What interests you most about exercise physiology in particular?
I think like many others in the field, choosing to study exercise physiology is personal. Many exercise physiologists are drawn to the field because they are avid exercisers or professional athletes. What makes exercise physiology personal to me, however, was seeing first-hand how implementing exercise as medicine helped treat my family member. Hopefully, we can continue to grow the field through research and strategically use exercise as a treatment as it is effective, affordable, and accessible.
Q: Why did you choose to enroll in the Kinesiology M.Ed. program at UVA?
I decided to pursue a master's in exercise physiology because I wanted to further my clinical research experiences from my undergraduate work. I needed to take a gap year before applying to medical school because I started my pre-med courses late, and the accelerated master's gave me an opportunity to study a field that I was passionate about and was not taught in medical school.
Q: How did your experience in the M.Ed. program help prepare you for medical school?
The program is built around you. The master's in exercise physiology at UVA requires students to take difficult but interesting courses such as human and circulatory physiology, but students also choose electives. For example, I chose to take pathophysiology through the graduate nursing school to better understand my patients' diseases. You also have the option to choose which internships you want to do, with the only requirement that it must align with your future career aspirations. Options including working with varsity sports team at UVA, or in cardiac rehabilitation, etc. I was fortunate to link up with a physician who I shadowed for a semester -  observing surgeries, participating in grand rounds, and even learning how to tie surgical knots!
Finally, many of the professors are research enthusiasts and were happy to take on students to learn and even conduct their own research. I spent two years working on projects in ovarian and breast cancer, heart failure, and ST-elevation myocardial infarction populations. This culminated in me defending my thesis in which I conducted a meta-analysis determining the effects of cardiorespiratory fitness and adiposity on all-cause mortality. Overall, I believe I could not have made a better choice with my gap year as it adequately prepared me with difficult classes, incredible amounts of patient interaction, and meaningful research.
Q: If you had to choose one thing that had the greatest impact on you during your time at UVA, what would that be?
Without a doubt, my involvement in Club Tennis at the University of Virginia had the greatest impact on me. Club Tennis was more than chasing fuzzy yellow balls. After making the travel team my first year, I became very involved in Club Tennis, participating in multiple tournaments each year and was elected as a board member of the club. From studying and doing work between matches on tournament weekends to squeezing in a sedan for an 8-hour drive to Manhattan to watch the U.S. Open, each experience felt like a ball zipping from one side of the tennis court to the other side of the court leading to match point! Ultimately, my tennis team was a family to me. They were by my side (virtually) through the pandemic, supported and encouraged me as I studied for my MCAT, and cheered me on as I graduated. It is so vital to have a healthy work/study-life balance throughout life, and Club Tennis was key to my mental and physical well-being throughout my time at UVA.
Q: What do you love most about your chosen field?
I love that my role in research has led to lifestyle interventions, such as eating a healthy diet, exercising daily, and/or improving one's stress levels or sleep, that have profound effects on the quality and quantity of life of our patients. 
One of my favorite memories this year was working with a patient who enrolled in a research trial for pre-diabetics. I conducted her baseline testing, supervised her 72 training sessions, and completed her post-test 6 months later. We were both ecstatic with the results! Not only did she achieve a 50% improvement in cardiorespiratory fitness, but her A1c decreased from a prediabetic level to 5.5. I realized that medicine is a two-way street that requires effort from both patient and provider, and helping my patients achieve their goals is truly a fruitful experience. Next year as a medical student at the University of Maryland, I hope to bring my knowledge in exercise physiology to Baltimore and help prevent diabetes in underserved populations.
Q: What advice would you give to someone considering a career in exercise physiology?
The biggest advice I can give is to gain clinical experience. Exercise physiologists are always working with patients either by conducting stress testing or determining treatment plans for cardiac rehabilitation patients. It is crucial to work in many fields alongside your team of cardiologists, PIs, nurses, and fellow physiologists to understand what your career encompasses. Also, have fun! A career in exercise physiology is extremely rewarding because the benefits are abundant, and the risks are low. Patients often get better, and you spend large sums of time working personally with them and can see the positive change you make in their lives.
M.Ed. in Kinesiology
The M.Ed. in Kinesiology provides a unique blend of direct instruction, field and clinical practice, and research opportunities. Concentrations in Exercise Physiology and Kinesiology with Individuals with Disabilities.
News Information
Media Contact
Laura Hoxworth
Email
Research Center or Department
Phone
News Type
News Topics