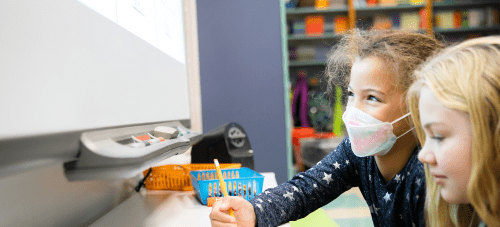 Instructional Technology: Professional Learning
Instructional Technology: Professional Learning
The Instructional Design & Technology Certificate is a stand-alone, graduate certificate for educational technology practitioners across a range of settings including K-12, higher education, government, corporate, and non-profit organizations.
At a Glance
Program Results
Professional Learning
Certificate - Instructional Technology and Design – Instructional Technology
Program Type
Location
Estimated Length
3-6 semesters
Application Deadline
Spring entry: November 1
Summer entry:
February 1 (priority deadline)
May 1 (final deadline)
Fall entry:
March 1 (priority deadline)
July 1 (final deadline)
Credits
18
About This Program
The purpose of the Instructional Design and Technology certificate is to prepare professionals across a range of settings that include PreK-12, higher education, corporate, government, and non-profit organizations to effectively design instruction and integrate technology to support learning and school or workplace performance.
Graduates of the certificate will:
Develop and lead all aspects of an instructional technology program within a school district, other educational agency, or business or government setting;
Design instruction and related courseware using a range of technologies, as informed by principles, theories, and research;
Design and plan online, blended, and technology-enabled instruction and develop multimedia instructional materials and products;
Plan, organize, and coordinate instructional technology across a school, district, or organization;
Evaluate the effectiveness and intended outcomes (both short- and long-term);
Leverage and design instructional technologies for diverse learner populations; identify critical ethical and legal issues; and prepare related written documents such as needs analyses, reviews, and data-based justification for instructional technology recommendations.
For students who may desire to pursue a master's degree, this course series can contribute to the M.Ed. in Curriculum & Instruction.
Important Notice: This certificate program does not satisfy initial teaching licensure requirements. If you are seeking an initial teaching license, visit our Become a Teacher page.