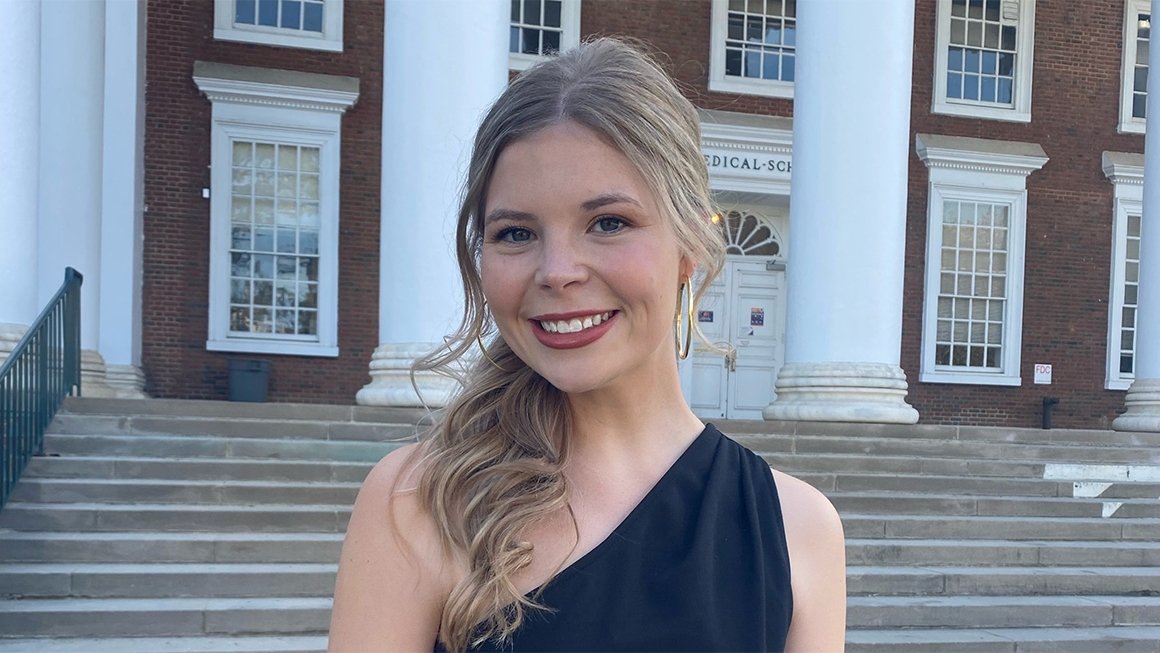 Class of 2023: Kennedy Wilkins
Class of 2023: Kennedy Wilkins
Kennedy Wilkins struggled to find her place as a first-year during COVID. But time spent caring for her grandmother helped her find both her home at UVA and her future career.
Kennedy Wilkins always envisioned herself attending the University of Virginia. As a first-generation student who watched both her older cousin and brother attend UVA, it was the only place she could imagine for her own college career. "During my high school years, I would come to UVA for football games and basketball games, and I really got to see the culture of the university," she said. UVA felt "like a second home." 
Driven and energetic, Wilkins graduated high school with her associate's degree, her UVA acceptance, and a plan: excel at UVA, graduate early, and go to pharmacy school. 
Things did not go as planned. First, Wilkins shadowed a pharmacist and realized it wasn't the right career for her, which left her feeling unsure about what to study. Then, of course, there was COVID. 
"My first year, I spent all day every day, basically, in my dorm," she said. "I did not get involved in any clubs, and I spent the rest of my time studying all day and all night, because I thought that that was the college mentality I was supposed to have." 
In December 2020, amid the ongoing pandemic, Wilkins returned to her parents' home to continue her classes online. At the same time, her grandmother's Alzheimer's disease was rapidly progressing. So Wilkins stepped up to become her grandmother's primary caretaker.  
Nothing about this scenario looked like the college experience she had imagined. But Wilkins appreciated the chance to help her family and spend time with her grandmother. And, as part of her caretaking, Wilkins observed her grandmother's speech therapy sessions. The therapists worked with her grandmother on memory and cognition, helping her retain important information. While Wilkins had considered speech therapy as a career, "I didn't realize [before then] just how versatile the field was," she said. 
"Even though my grandmother had such progressive Alzheimer's, her speech therapy sessions did positively impact her communication outcomes, and she was able to feel more confident when she was interacting with different people." 
When in-person classes opened back up, Wilkins returned to Grounds with a new passion for speech therapy and a determination to find her place at UVA. She enrolled in the Speech Communication Disorders major and joined NSSLHA, the National Student Speech-Language Hearing Association.  
Right away, Wilkins knew she was on the right path. She loved the community she found within the UVA School of Education and Human Development. "All the professors are so passionate, and it's just a great environment to see that I'm going into a field where so many people are as passionate about it as I am," she said. 
After taking a course in American Sign Language (ASL), Wilkins started volunteering as an ASL tutor, which confirmed her love of working one-on-one with people. She also began working as a research assistant in UVA EHD's Imaging and Communication Outcomes lab, where she has learned about how cleft palate impacts communication outcomes. 
Wilkins lights up as she talks about her passion for speech therapy. She's fascinated by human anatomy and loves how she can relate everything she learns to her life. Mostly, though, she loves the way it allows her to connect with other people. "I love to get out and interact with people," she said. "And I like being in a field where I feel like I'm constantly making an impact directly on people's lives." 
In her final year at UVA, Wilkins served as president of the Deafness Education and Awareness for Students, a student-run organization that strives to raise awareness about Deaf culture and American Sign Language. She also served as president of NSSLHA, a position that is typically filled by a graduate student. 
The beginning of her college experience may have looked nothing like what she imagined. But in the end, she said, it led her to exactly the right place. After graduation, Wilkins plans to attend graduate school to become a speech-language pathologist. She's not quite sure yet which path she wants to take within the field, but she knows that her degree gives her lots of options. 
When asked what advice she would give to new students, Wilkins said she would encourage patience – that new students should give themselves time and grace to persevere through challenging experiences and find the right path. "If you don't know what you want to do with your career, that's totally okay," she said. "You never know what opportunities this university will give you." 
Class of 2023 Graduation Profiles
We invite you to get to know a few members of the UVA EHD Class of 2023 as we celebrate the accomplishments of the entire class.