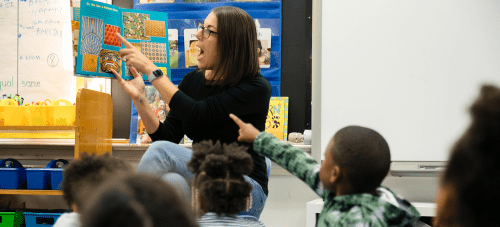 Reading Education: Ph.D. - Doctor of Philosophy in Education
Reading Education: Ph.D. - Doctor of Philosophy in Education
Graduates of the School of Education and Human Development's Ph.D. in Reading Education program are prepared for careers in university settings or research organizations.
At a Glance
Program Results
Ph.D. - Doctor of Philosophy in Education
Reading Education
Program Type
Location
Estimated Length
3-4 years
Application Deadline
December 1
Credits
72
About This Program
The primary purpose of the Ph.D. in Reading Education degree is to develop educational scholars who wish to conduct original research and interpret and communicate the results of such research as authors, university faculty, and governmental or research agency officials.
This is a research-based, full-time program that is offered in Charlottesville only. The program includes coursework, a research apprenticeship, and practical experiences that prepare graduates to:
Produce original research that contributes to the knowledge base of reading and/or to teacher education in general
Become experts in reading education and in evidence-based practices that inform that area
The program requires a minimum of 72 credits. Students must complete 54 hours of coursework that includes reading program area courses, research methodology courses, and up to 3 credits of research apprenticeship per semester but does not include internship and dissertation credits.
At least 36 course and apprenticeship credits must be completed after admission to the program. Students can apply up to 12 credits of dissertation work towards the total of 72.
Students entering the doctoral program with a master's degree can apply up to 24 hours of credit to their doctoral program, provided that the program area and Associate Dean agree that the courses are comparable to substitute for specific courses required in the reading doctoral program.
Students will ordinarily complete the program in 4 years of full-time study, or 3 years of full-time study beyond a master's degree in reading.