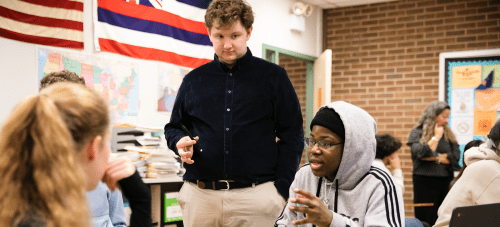 Language Education in Multilingual Contexts: Ph.D. - Doctor of Philosophy in Education
Language Education in Multilingual Contexts: Ph.D. - Doctor of Philosophy in Education
Students engage in research that plays a key role in advancing knowledge and serving the needs of multilingual students and their teachers in the Commonwealth of Virginia, the nation, and the world.
At a Glance
Program Results
Ph.D. - Doctor of Philosophy in Education
Language Education in Multilingual Contexts
Program Type
Location
Application Deadline
December 1
Credits
72
About This Program
This program provides opportunities for students to pursue research interests related to teaching and learning in preK-12 second language, foreign/world language, and bi/multilingual educational settings.
Students in this program have rich research and teaching experiences at UVA and become part of a national network of new-generation researchers. They become researchers on day one of the program and continue to partner with faculty in research and teaching experiences that prepare them to succeed in their careers as educational scholars.
Students attend classes, work on mentored and collaborative research, and engage in a range of teaching and supervisory roles. They build theoretical, methodological, and empirical expertise through coursework focused on language education as well as hands-on research with faculty researchers in multilingual preK-12 school contexts.
Career Opportunities include:
University settings – conducting research in research intensive universities, teaching and/or conducting research in all types of higher ed institutions
School districts - directing programs or conducting professional development in preK-12 second language, foreign/world language, and bi/multilingual educational settings
Government educational agencies – developing language policies and programs
Non-governmental agencies (NGOs) – conducting research and/or professional development