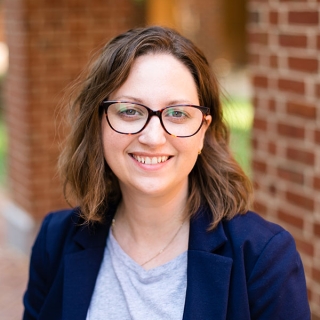 Stephanie Walker
Stephanie Walker
Senior Instructional Design and Technology Specialist
Biography
Stephanie Walker works with the CASTL tech team as an instructional designer and technologist supporting projects that have online learning components and needs. Prior to her tenure at UVA, she worked at Virginia Commonwealth University where she worked with the School of Social Work's academic programs to help lead initiatives that created and supported innovative, technology-rich, and inclusive student-centered learning opportunities. She also collaborated closely with faculty in that school to support their efforts in teaching and learning innovation. 
Walker's work and interests have always centered around student support and development. Her early work overseeing the tutoring programs for VCU's Learning Center and Athletic Department developed her interest in pedagogies that empower all learners and center peer-led learning. Since then, she has enjoyed exploring new pedagogical approaches that challenge traditional learning environments and power dynamics within the virtual and physical classroom in her teaching and development work with faculty. Her research interests lie along the intersections of inclusive design for learning, critical pedagogy, play-based learning, technology, and user-centered design.  
When not working, Walker spends her time with her partner chasing after their two children and two mischievous cats. She loves reading, drinking tea, and lounging in hammocks on sunny days (preferably all at once).
 
Education
B.A., James Madison University
M.A., Virginia Commonwealth University